Program
Core Bible Study Program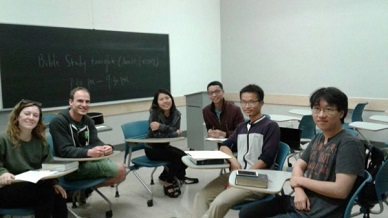 "So Jesus said to the Jews who had believed him, "If you abide in my word, you are truly my disciples, and you will know the truth, and the truth will set you free."  John 8: 31-32
God's Word creates life.  When you study and adhere to His Word, His truth will change your life.  Jesus' words are his actions just like God created life in the beginning.  His Words are living and active to create new life in you.
Many struggles you encounter such as pain, confusion, disability, shame, stress, betrayal, insecurity and more may be the issues out of your control.  The Word informs your brokenness and confirms the joy in Jesus Christ.  In fact, your brokenness compels you to go deeper into the relationship with the Lord and find eternal peace and rest in Him.
Through the YD's Core Bible Study Program, you will learn the essential topics of the Bible and the book of Romans 1 to 8 to deepen your relationship with the Lord Jesus Christ.  This program aims at building a solid foundation in the basics of Christian faith and equips you to more fully experience the confidence and joy God has for you in Jesus Christ.  Through dynamic studying of His Word, you will be able to gain a basic understanding of the subject of the Bible, gain confidence in salvation, and enjoy the joy of salvation.  You will have an opportunity to experience deeper personal transformation and gain a greater understanding of God's heart for you and your life.