Devotional
Unequally Yoked With Unbelievers – 2 Corinthians 6:14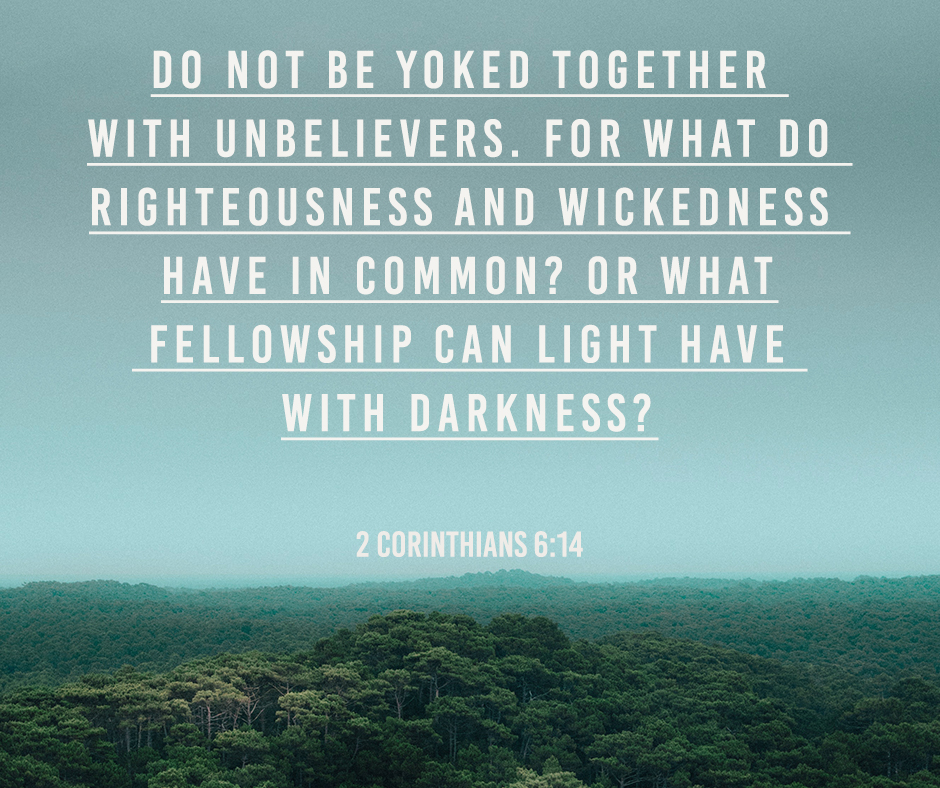 "Do not be yoked together with unbelievers. For what do righteousness and wickedness have in common? Or what fellowship can light have with darkness?" – 2 Corinthians 6:14
This is hard! By far, this verse is one of the hardest commands that God has given us. Either we can be branded as judgmental people or we can be branded as hypocrites for acting so holy. However, we first have to understand what God truly wants and means with this verse. When Paul wrote this to the people in Corinth, he was addressing their idolatrous hearts and their hard-headed minds. 
Paul wants to remind them to go back to God and to remember what God really wants them to do. Instead of their ungodly acts, they must remember all the things that God made them remember because it is a way to realign their hearts. Now, to address these ungodly hearts, Paul wants to remind them not to be yoking with unbelievers. He purposely stated the word yoke to put a connection to this with the animals who cannot be bound together or who should not be locked together. 
So, this is just the same as our situation. Paul wants to remind us just like that specific livestock, we too should not be yoked with unbelievers. We, believers of Christ, are now different from them since we are all saved by grace through faith. However it doesn't mean that we are to ignore them rudely, but we should not build, desire, and put ourselves into an intimate connection with them. These connections will eventually lead us away from God. 
Many times we have heard about Christians having relationships with non-believers, and believe that they can just lead them to Christ. Instead of those being led to Christ, it's the Christians being led away from Christ. Now, this is why we have to understand the importance of it because we are not spiritually equal with them. We are saved, we know the truth, and we are serving our Savior. Non-believers will never understand that and in a relationship, it will just bring strife to them. 
Paul then further specified that there's really no common between unrighteous and righteous. No common between light and darkness. Therefore, we Christians have really no common between non-believers. This is not being harsh or promoting judgmental things, but Paul was being so particular with this. This is to help us understand that being bound with people who are not spiritually equal with us, will give us a hard time in the future. Thus, may we always obey God and follow His guidance. 
Let us follow Him, and serve Him above all. May we always consider His plans, His Wills, and His commands above our own selfish desires. God wants what's best for us, He loves us and He also loves those who still don't know Him. Let us help reach out to other people so that we will be able to bring more people to Christ. Our desire should be making all of the people Christ's disciples so that we will indeed not be yoked with unbelievers but be yoked by people who are also saved and know Christ as their Lord and Savior.
---
For more daily reflection, verse and encouragement, you may follow us. You can also like, follow and visit us on:
Facebook: 

https://www.facebook.com/yd153

Twitter: @YD153

Instagram: @youngdisciples2020

Tumblr: youngdisciples

Pinterest: Young Disciples International