Devotional
Confess and Renounce – Proverbs 28:13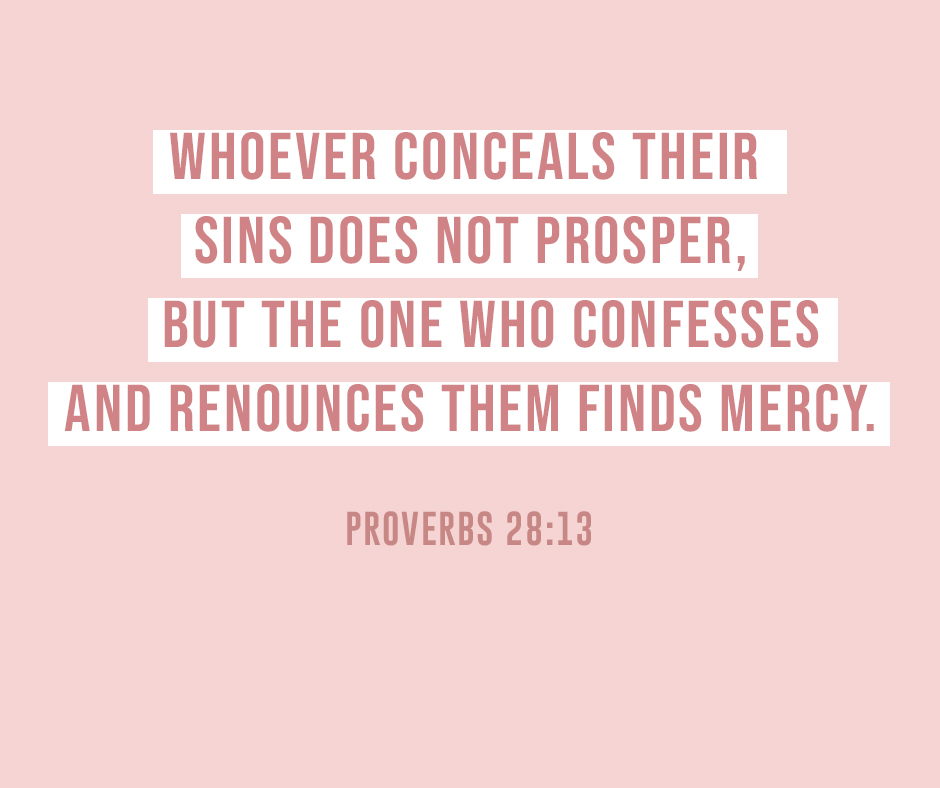 "Whoever conceals their sins does not prosper, but the one who confesses and renounces them finds mercy." – Proverbs 28:13
We all fall short in the glory of God. Each of us have our own fair share of hidden sins. We all have our favorite sins that we find hard to confess. Although we like sinning, we are also most of the time ashamed of those sins. We are very ashamed that our peers will know about it, our churchmates will know about it, our pastors will know about it. It is by common knowledge that whatever is inside our dirty closets are meant to be hidden forever. Even married couples who ought to share everything have these hidden sins.
So, why is it very hard for us to confess our sins? Why is it very hard for us to become transparent and just confess every little detail of our sins? Or why is it important to confess our sins in the first place? — Well, it is very hard for us to confess our sins because our conscience is already telling us in the first place that what we did was wrong. What we are continually doing is against the law that God has given us. By nature, we feel guilty of doing it but we are also satisfied everytime we do it. Also, not just the sin that Adam and Eve committed was passed to us, but if we remember it, they were also hesitant in confessing their sins before.
We did not just inherit the sins but also the attitude of hiding it. We also inherited how they all denied their disobedience. So, if we realize it, we are just under the same cycle. We sin, we hide it and then we do it again. However, in our verse today, God wants to remind us the importance of confessing our sins. He wants us to know that whoever conceals their sins will never prosper. What does God mean by this? This just means that whoever does not confess their sins will not find mercy and grace. Whoever who continues to hide it will never receive forgiveness because in the first place, you are not aware that you are doing wrong.
Of course God knows everything we do and God knows every sin we have committed. However, God wants us to admit to it so that we will know that it is wrong. God wants us to confess it so that we will not be slaves of our sins and that we will be corrected of what we are doing wrong. He wants us to confess it, ask for forgiveness and walk away from that sin. If we will not confess our sins, we will just be so encouraged to do it again for we know that no one knows about it anyway.
However, God is not also a bad God but He is good. He looks out for our well-being. What He meant by this confessing is to tell Him your sin. Confess to Him, not to anyone. Tell Him one by one and have a repentant heart. God wants to rescue us from our bad situation right now and the only way to do that is if we open ourselves to Him and let Him take over our life. Indeed that the one who confesses and renounces their sins will find mercy.
God is overflowing with forgiveness and He will always forgive us from everything we did. He will always rescue us from death and sin through Christ. Thus, we don't need to hide our sins to Him but instead, we have to confess and renounce it one by one so that He can guide us to the path where He wants us to go. We don't have to live in our cycle of sinfulness but we can live in the purity and righteousness of God through Jesus Christ our Lord. We must remember to always submit ourselves to God and every time we sin, let us confess it to Him and renounce it. Let us ask for His help to take us away from that cycle and to bring us into His glory. In the name of Jesus. Amen.
---
For more daily reflection, verse and encouragement, you may follow us. You can also like, follow and visit us on: