Devotional
You are Not Destroyed and Abandoned – 2 Corinthians 4:9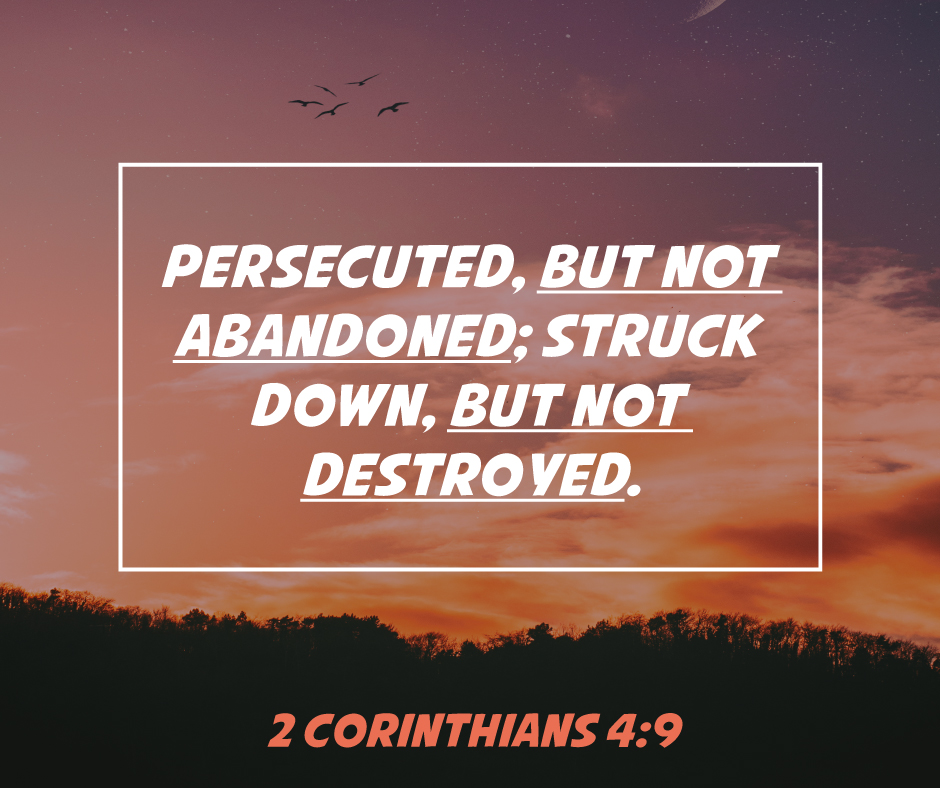 "persecuted, but not abandoned; struck down, but not destroyed." – 2 Corinthians 4:9
As we read the Scriptures always, we can see that God is always using the warning-promise way to remind and teach us what He wants us to do. In our verse today, God used the same way through the letter of Paul to the Corinthians. Paul wrote all about his hardships and after that, he then wrote a promise or comfort after. 
In our walk as Christians, we often feel burdened and burnt out. Most of the time we are not capable of lifting that burden of persecution because it is indeed tiresome and draining. Unlike before, Christian persecutions are more on physical but nowadays, it is more on mental and emotional persecutions which is more tiresome and draining. Yet, it doesn't mean that there are no physical persecutions, that will never be gone as long as evil lords this world.
Now, Paul wanted us to always remember through this verse even if this was written years ago, God's Word remains the same and stands forever so this is always applicable and this really helps to comfort us. Paul wrote this so that through this we will be reminded about their situation before and our situation right now. They were persecuted but not abandoned and struck down but not destroyed
Through this verse, we can see that Paul wanted to show us that their mission to spread the Gospel was not by their might, strength and power. In fact, they were very weak and most of the time crushed because of the good news they are spreading but they also wanted us to remember that it is indeed not of their might and power but they were alive and blessed because of the power of Jesus that shielded them from anything that will come to their way.
Paul recognized the persecutions for he knew how real it is because he was one of the people who persecuted Christians before his encounter with our Lord and Savior Jesus Christ. He was persecuted even more because people knew what was his life before and could not accept that he was living the same as the people he persecuted.
So, God wants to use the life of Paul as an example that our life as Christians will never be easy. We will really undergo so much persecution and we will be struck down by the enemy. However, God wants us to also hold on to the promise He put together with the word "persecuted" and "struck down". He doesn't want us to focus on those words but He wants us to focus on the words after that which are "but not abandoned" and "not destroyed".

Indeed, as Christians, these words are not just a mere comfort but also a promise that we can hold on to. Whenever we are persecuted because of the truth we profess and the faith we have in Christ Jesus our God, we must always remember that God will never abandon us while we are being persecuted. They can persecute us and ridicule us to the highest extent but our Lord who made everything new and perfect promised that He will not abandon us because He will be there to shield us and to renew our spirit. In fact, He did not even abandon us when we were still sinful how about now that we are already a new creation— clothed by Christ's perfect righteousness? There is no chance that the God who is omnipresent will ever leave us.
Furthermore, whenever we are struck down by the enemy, we should also remember that we are only struck down but not destroyed. In this promise, we can imagine this as something like a scene from a movie where the leading cast got detained, imprisoned, struck down and beaten up but will never be completely destroyed because he knows that he is far more stronger than that. Therefore, just like that example, we should always remember that even if we are captivated, beaten up and struck down, we are not going to be destroyed. For we know that God has our back and He will always help us in times of need. He will always give us strength and replenish our power so that we will be able stand up and fight again. He will give us the power and might to stand up above these hardships. He already gave us the life everlasting through our Lord and Savior Jesus Christ.
Therefore, let us be comforted by this promise from God and let us not feel sad and burdened for God knows what we feel and that He will always be there for us. Just like He was there to save us from our sins. Jesus is very intentional and He really initiates the first move to communicate with us, so let us reach for His hand and let Him guide us as we journey in our Christ walk— made holy, righteous and perfect in God's sight by grace through faith in the Lord and Savior Jesus Christ. 
---
For more daily reflection, verse and encouragement, you may follow us. You can also like, follow and visit us on: