Daily Bread
Walk in Obedience – Deuteronomy 5:33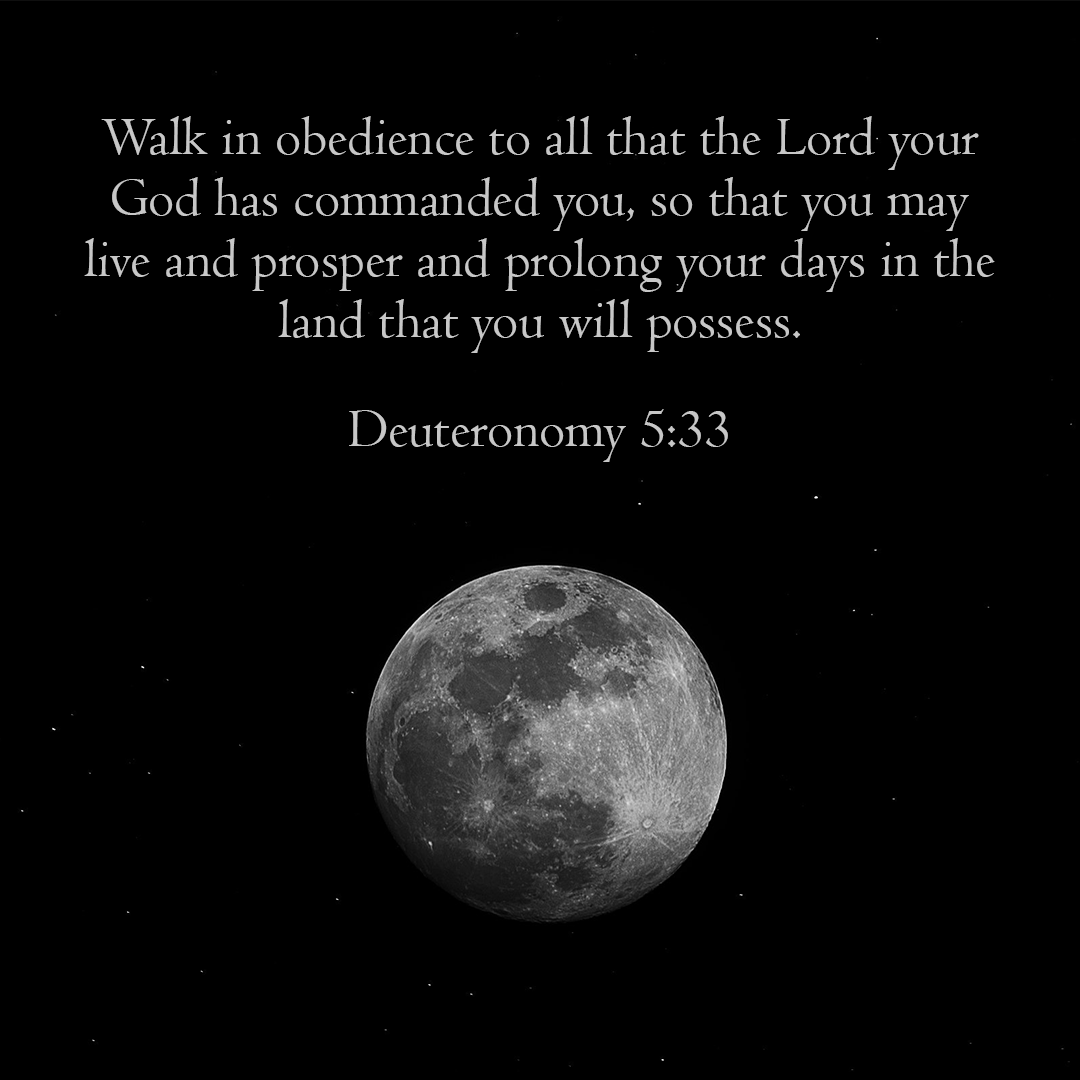 "Walk in obedience to all that the Lord your God has commanded you, so that you may live and prosper and prolong your days in the land that you will possess." – Deuteronomy 5:33
During the old times, the people of God were either so obedient or disobedient. There is really no in-between. Now, as the Israelites disobeyed God many times, God has given them prophets to remind them in the way they should go. One of these prophets is Moses, who personally talked to God in mount Sinai, and who really witnessed how powerful our God is. So part of these reminders is our verse today. Moses reminded the people of Israel to walk in obedience to the commandments that the Lord has given to them so that they will live and prosper, and they will prolong their days here. 
Why did Moses have to remind them about all of it? It is because they are hard-headed and like sheep, they tend to walk away from their shepherd and venture into places that can endanger them. Actually, as we hear how they were able to talk to God, and how they literally can hear His voice and see miracles, we can ask why they would still continue to disobey Him? However, as our knowledge deepens, we will know the fact that we are really naturally sinful. All of us are naturally sinful and we always desire to sin. Whatever we do, we always desire to sin. So, that's why whatever they see, hear, or witness, they will always desire to sin and not to obey God. 
Thus, this is the reason why Moses has to remind them about these all over again. No, this is not only for them but also for us. If they were able to disobey God, even after witnessing Him first hand, how much more, we? So, we really have to be always reminded by this that we must walk in obedience and obey what the Lord commanded us to do. We are not under the law, but under grace, but that doesn't mean that we are free to do any sin because we are saved. As people who are saved by grace through faith, we also have to understand that our salvation produces obedience. If before, they don't have the power to obey, now, we don't also but through Jesus Christ we have. 
So, we are expected and we ought to follow God and obey Him because we can. It is not impossible to obey Him, but it is possible through Christ. Therefore, we must walk in His path, focus our eyes on Christ and follow all that He commanded us to do. After all, if we believe and claim that we are truly saved, our desire to obey God will naturally come out. Although our sinful nature will always try to crawl back, we have now the power to ignore it and choose to obey God above all else because of Christ. Thus, let us obey God, walk in obedience to the commands He gave us, and He promised that we will prosper and live long.
---
For more daily reflection, verse, and encouragement, you may follow us. You can also like, follow and visit us on:

Facebook: 

https://www.facebook.com/yd153

Twitter: @YD153

Instagram: @youngdisciples2020

Tumblr: youngdisciples

Pinterest: Young Disciples International