Daily Bread
Walk in Love – Ephesians 5:2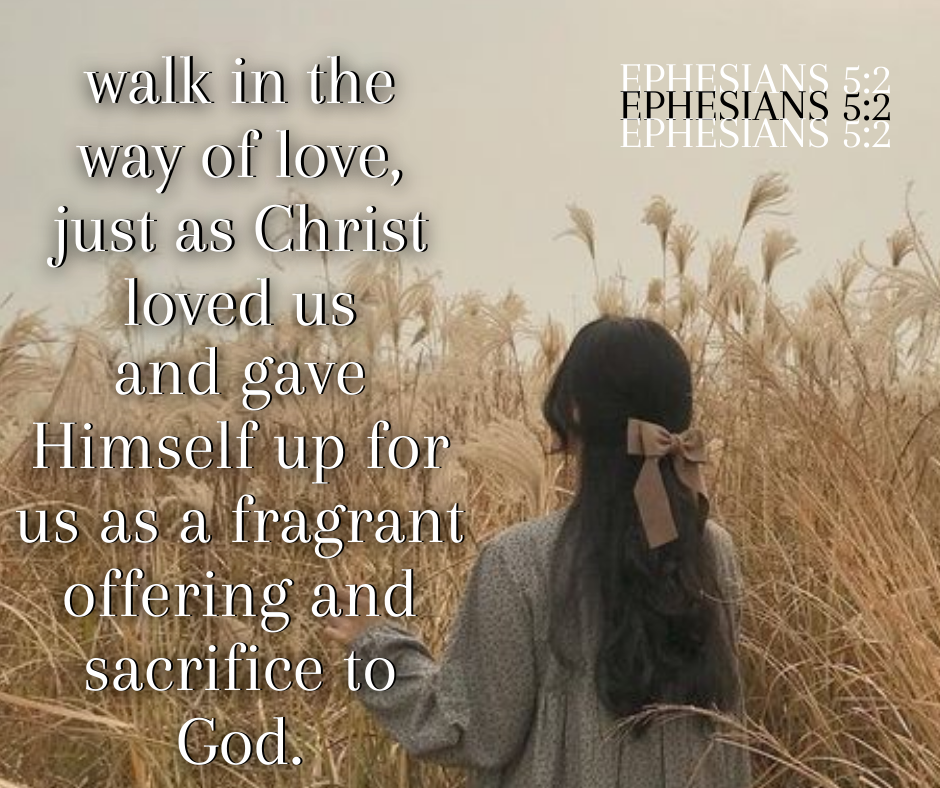 "and walk in the way of love, just as Christ loved us and gave himself up for us as a fragrant offering and sacrifice to God." – Ephesian 5:2
In addition to imitating Christ and living our lives as children of God, God also wants us to walk in love. Walking in love doesn't only mean just walking with love towards our neighbors which can only be perfectly shown through giving or caring, but what God means with walking in love is selflessly loving one another.
In this verse, the greek word that was used for love is AGAPE which means unconditional love. Therefore, God used this term to perfectly illustrate that what He meant by walking in love is the love Jesus showed for us. It is the unconditional love that we will first receive from Him before we can impart it to others.
Imitating Christ and living Christ-like doesn't only stop in living as someone who is clothed with righteousness but it is also living our lives like Christ which is full of love and truly loving one another. Again, the love Jesus showed us is not only a friendly love, a familial love, a friendship love, not even self love nor romantic love, but it is the highest form of love which is unconditional. Meaning, He has lavished us with His love without any condition and complication.
Unlike the basic love we can get from anyone in this world, this love is much far greater and the most important of it all and this can only be found through Jesus Christ who first loved us. Therefore, God wants us to walk in love so we can be light for others but first, we must get this love from the very source of it which is Jesus Christ. We can never love someone unconditionally without understanding how much Jesus loves us. Through this, it will manifest in our lives and will allow us to walk in love and will allow us to impart this kind of love to our neighbors.
More importantly, God used the word 'walk' to denote consistency and purposefully act. Walking is done purposefully and consistently. Therefore, we are commanded to be walking in love that means we should consistently and unconditionally love our neighbors as we live in this cruel world. Let us become the best witness of God's love to our neighbors and let us give our neighbors the love that can only be found if we are in Christ.
As the verse continues, we can also see that it is not only a commandment about walking in love but also a reminder for us how Jesus was very willing to sacrifice His life for us. It is a very nice reminder for us about how much God loves us. Paul used the words 'fragrant offering' which means a sweet and good smelling sacrifice. In the old times, people were tasked to sacrifice the best sheep so it would bring sweet-smelling offerings in the temple. Therefore, as Jesus sacrificed Himself for us and to satiate God's wrath for us, it also unbounded us to the Jewish law kind of sacrifice and has bound us in Christ.
Jesus Christ has become our own personal sheep that produced sweet-smelling aroma to God to become our mediator. He was our sacrificial lamb that enabled us to become holy and chosen in the eyes of God. Jesus did not only clothed us with His righteousness but He has also molded and embraced us in His love that made us able to give this unconditional love to our neighbors.
May we always walk in love and may it become consistent and purposeful just as Jesus died for us because of His love. Let us love one another unconditionally for God has loved us without condition. May we now understand that we are not bound with our old traditions and self because we are now bound with Christ with His death on the cross.
---
For more daily reflection, verse and encouragement, you may follow us. You can also like, follow and visit us on:
Twitter: @YD153
Instagram: @youngdisciples2020
Tumblr: youngdisciples
Pinterest: Young Disciples of Jesus