Daily Bread
The Plans of God – 1 Corinthians 2:9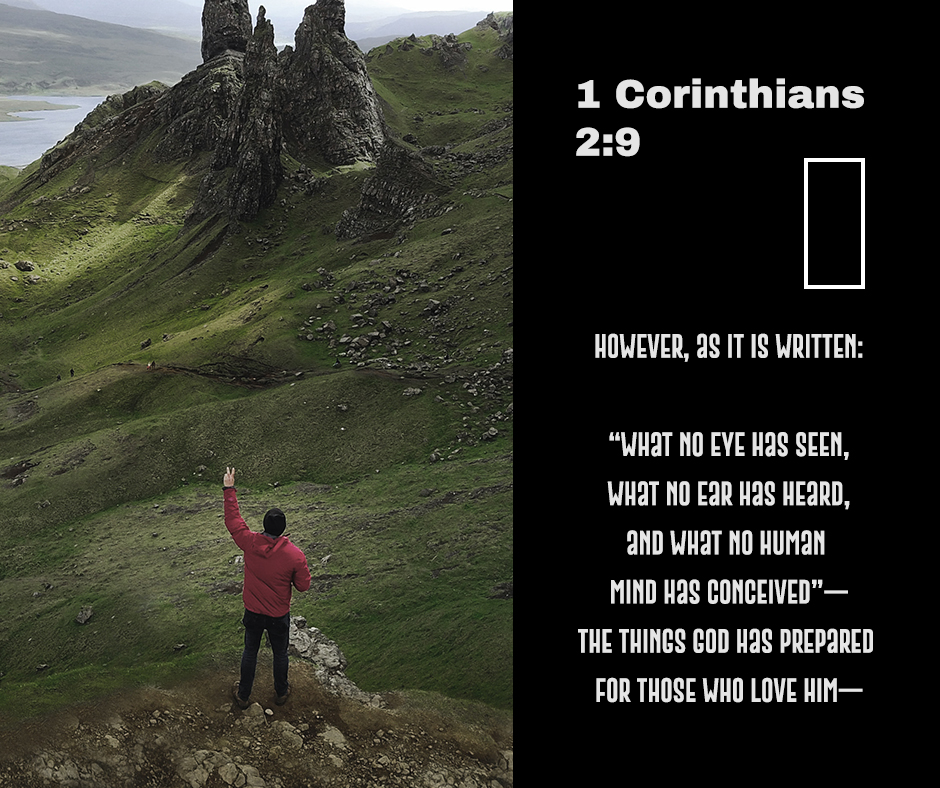 "However, as it is written: 'What no eye has seen, what no ear has heard and what no human mind has conceived'—the things God has prepared for those who love him" – 1 Corinthians 2:9
Under particular reasons, we humans always fail to understand that God's wisdom is unfathomable and really far from what we have. His ways and His wisdom is beyond this world and we can never understand that everything we have now is just a small part of His wisdom. It is very hard for us to grasp the truth that He has better plans, He has a deeper wisdom, He is all knowing and that He has prepared better things for us. We are hard-headed and we always try to make things work at our own knowledge, wisdom and power that we fail to realize that we are limited. '
We have no power nor enough wisdom to know our future. It is not in our scope of wisdom to be so sure that we will have a good future and that no unfortunate things that will befall on us. However, God knows all of this for His ways are wider and His thoughts are higher than ours. He knows our future and He knows the exact moment we will fail so that He will be there to catch us. Now, our verse today proves that our God is all knowing and ever present God.
Paul has mentioned a statement from the old prophet Isaiah that, "What no eyes has seen; what no ear has heard; and what no human mind has conceived," and then connected it with a statement, "The things God has prepared for those who love Him," shows that God is ever present. Even for the old time, the old testament, God has been speaking to every human being that He is there and He has greater plans for us. During the time of Isaiah, the chosen people of God were drifting away from Him. Everyone followed their own deities and there was no one left that remained in God.
So, Isaiah was driven to write these passages to remind them to go back to God and now, Paul is also using this statement for the same reason and has added that God has prepared so many things for those who love Him. No eyes have indeed seen, no ears have indeed heard and no human mind can even fathom the plans God has for those people who remain in Him and who love Him. Just like what He wrote in Romans also, God indeed works for the good of the people who love Him.
Therefore, we must always hold on to this promise of God. We should not doubt His ways and His plans for our lives. God is not an unfair God, He will really remember all the things you did for His kingdom. However, we have remembered that the only way to remain in Him and to trust Him fully with our future is to completely submit to Him through believing in the salvation of Jesus Christ. We have to follow Christ and His footsteps so that we will have the power to trust God and to obey Him.
Whether we admit it or not, it is very hard for us to trust anyone with our lives, especially with our future. However, we have to know and recognize that we are not just trusting it to anyone, but we are trusting our creator, our loving Father who made our redemption possible through Jesus Christ. Thus, we must trust God and believe that He indeed has good things and better plans prepared for those people who love Him. Let us not love God because of this promise though, but we should love God for He is good, He is gracious, He is loving and everything follows after.
---
For more daily reflection, verse and encouragement, you may follow us. You can also like, follow and visit us on: