Daily Bread
The Evidence – John 15:8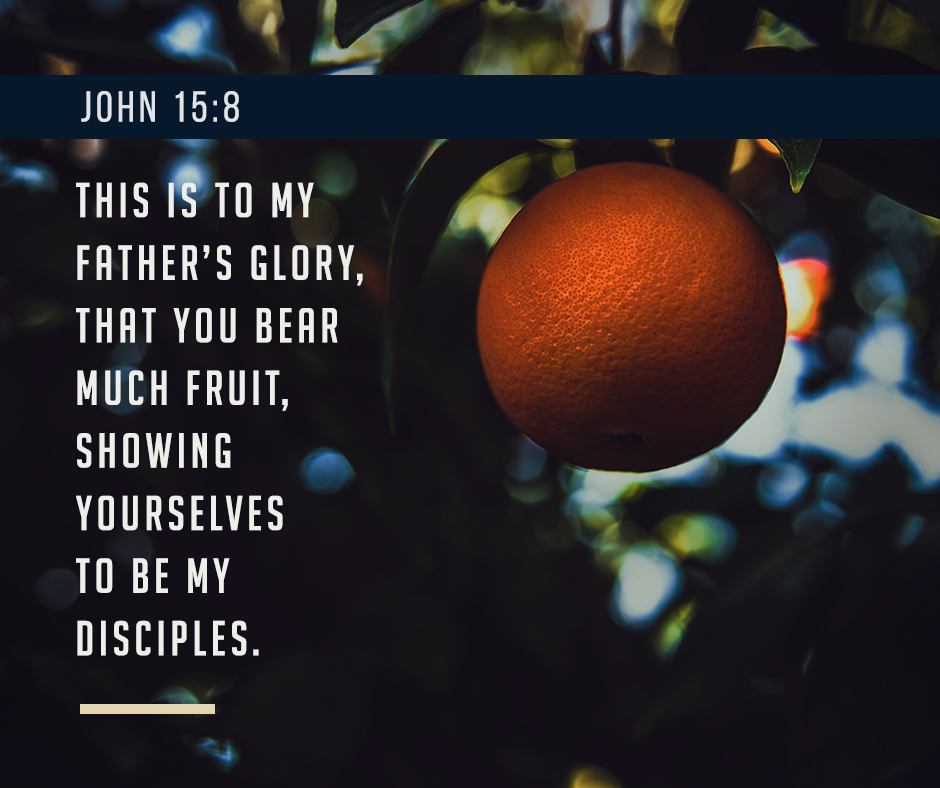 "This is to my Father's glory, that you bear much fruit, showing yourselves to be my disciples." – John 15:8
This Sunday, we will once again learn about the importance of abiding in God at all times. We are also reminded that whatever we will do, it must always be for the Father's glory. During the years of Jesus' ministry, He was always telling all the people that He only wants to glorify the Father and He is always following the Will of God. Now, glorifying the Father is not only Christ's ministry but also us. As we read our verse today, we are reminded by Jesus that as we bear much fruit, we are glorifying the Father and that we are proving that we are really His disciples.
If we read the verses before our verse today, Jesus used the vine and the branches as the analogy to make us understand that we need God at all times. Also, it is very important for us to note that Jesus did not say that if we obey, we are saved or that if we have disciples then we will be saved. Abiding in Christ and remaining in Him is not something we pay so we will be able to have our salvation. We have to always remember that our salvation only belongs to Christ, that no payment that comes from us will ever be enough for us to have it, it's only because of grace and by faith we are saved.
So, what Jesus means by this passage is that remaining in Christ and having lots of fruits are evidence that we are saved. It is not the prior thing we have to do to be saved, but it is the result of our salvation. We have to really understand that in this passage, Jesus particularly pointed to two things that can prove if we are really saved, if we have really received Him as our Lord and Savior and how we can glorify the Father at all times, which is by abiding in Him always and bearing much fruit.
The Father is indeed pleased if we obey His Word and follow His Word, which we know that His Word is Jesus Christ who is the incarnate Word. Thus, as Jesus Christ is the Word incarnate, we must follow Him, become like Him and always remain in Him. As people who are saved by grace through faith, one biggest evidence of us being saved is the wisdom to understand that we really must remain in Christ and always abide in Him. If we have not truly understood it, it will be impossible for us to know the importance of why we always need Jesus. However, when we understand it right and deeply, we always know that we are in need of Christ, our Lord and our Savior.
Therefore, we must realize that abiding in Christ is not something God really forces us to do, but it is something expected to us for it is the evidence that we are saved. Also, producing or bearing fruit or having disciples also is the evidence that we are Christ's disciples. As we are called to be like Christ, being like Christ is having our disciples. Just like Christ who has His disciples, including us, we are ought to have disciples to bring them to Christ. We are called to bring more people to Christ, for we are His branches and branches should produce fruit. By this, we have to understand that in order a branch can produce fruit, it has to be connected to the source, to the vine.
Thus, in order for us to bear fruit as branches of Christ, we should always be connected to the source which is Christ Himself. That is why Jesus reminded us that we should always remain in Him and abide in the truth with the Word of God. So, this is what truly manifests in us if we are really in Him. We will have fruits which are our disciples and we will bring more people to the knowledge of Christ. Thus, through this, we are glorifying the Father, and proves that we are Christ's. Let us always remember to remain in Him and bear much fruit for everything we should do must glorify the Father in heaven. May we become more and more like Christ everyday.
---
For more daily reflection, verse and encouragement, you may follow us. You can also like, follow and visit us on: