Daily Bread
The Blood that Purifies – 1 John 1:7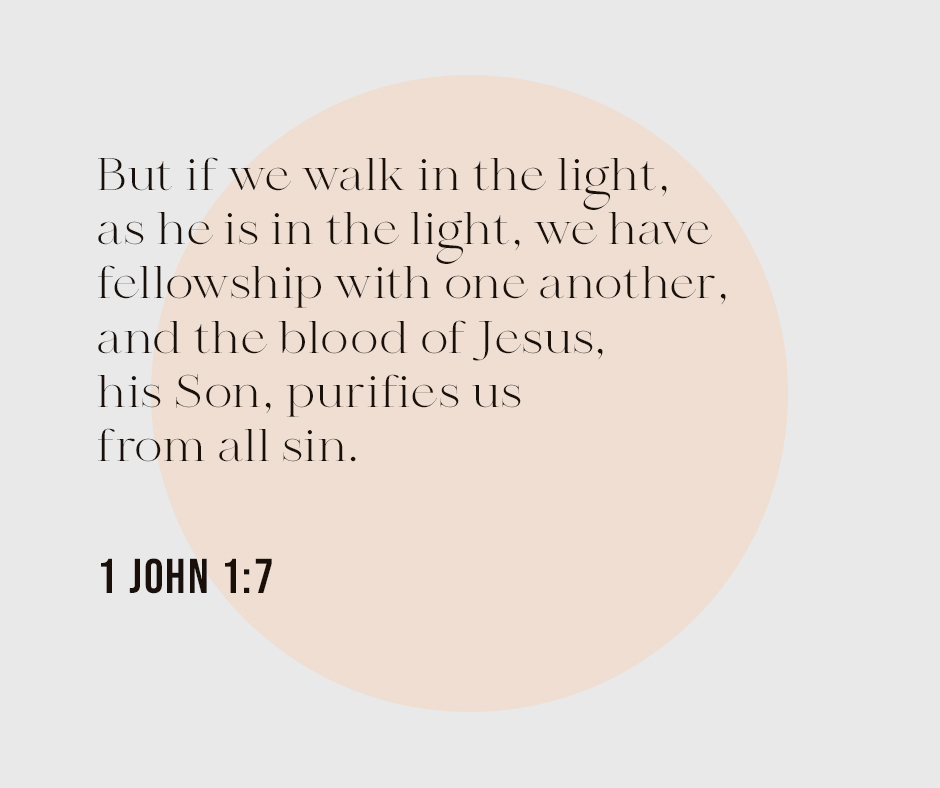 "But if we walk in the light, as he is in the light, we have fellowship with one another, and the blood of Jesus, his Son, purifies us from all sin." – 1 John 1:7
For all the times that we have been reflecting about sin and death, have we truly understood the degree of our sinfulness? Did we really grasp the degree of the penalty of our sins? Do we know how serious our offenses are against our good God? Can we really say that we have sin and indeed in need of a Savior? Can we admit that we are sinful and that everything we do is sin and worthy of condemnation?
The verse before our verse today is a reminder for us to now walk in darkness. Now, the verse today talks about what we should do and what we will be gaining if we do it. We have to walk in the light because Jesus Christ is the true light, and if we walk in the light, we will then have fellowship with one another and have the blood of Christ that purifies us from all of our sins. The problem is, we will never appreciate how much God did for us. We will never appreciate how much we are in need of Christ and we can never appreciate His love if we will not see how sinful we are in the first place.
We have to understand that we are really sinful. Everything we do is sin. Even if we do good things in the sight of people, it is just like filthy rags in the sight of God because those good things have hidden agenda that are really not glorifying God. so, how sinful can we really get? It may be so hard for us to accept but lying, cheating, pre-marital sex and many more have always been our downfall. We love to do everything that can satisfy our flesh. We satisfy our flesh more instead of glorifying God. By nature we are sinful and by nature we crave for all those worldly satisfaction. We always choose to dwell in darkness, instead of walking in the light.
However, we have to really understand that God loves us so much to the point that even if He knows that we are sinful, He chose to save us. He loves us so much that He sent His Son to be our ransom. Now, John wants to remind us that we have to walk in the light for Christ is the true light. We have to walk in the light because the light is our salvation. Indeed that by nature we are servants of the darkness but through Christ, God has given us the power to walk away from darkness and to dwell in lightness. As we walk in the light, we will then be given the blood of Christ that purifies us from all our sins.
Although many have still believed that they don't need a Savior but you need a Savior. For all the horrible things you've done, for all the pain you've caused other people, for all the defilement you did to your body and for all the blessings of God that you've turned into something you think you deserve, you need a Savior. We are all in need of Christ. Even if we have failed before and have fallen short of the glory of God, He is always faithful to accept us into His holy family. He is faithful to forgive all of our sins through Christ our Savior. Thus, we really need a Savior and that is Jesus Christ. Only through we can stand in front of the Father holy and blameless. Only through the blood of Christ we will be purified from all of our sins.
Therefore, let us walk in light for Jesus Christ is the true light. Indeed that it is only through Him for He is the only way, the truth and the life. We can really not come in front of the Father except through Him. Also, as what God promised in this verse also, we will have fellowship with other fellow Christians. God knows that as a Christian it will be so hard because this world rejects our God, so it will reject us also.
We will have it hard but God knows that so we will be having fellowship with one another— comforting each other, praying for each other, encouraging one another and building up each other. So, may we always remember to walk in the light. May we always remember to choose to glorify God instead of satisfying our own glorification. May the blood of Christ purify us from all our sins, all in Jesus' name. Amen.
---
For more daily reflection, verse and encouragement, you may follow us. You can also like, follow and visit us on: