Daily Bread
Surpassing Worth of Knowing Christ – Philippians 3:8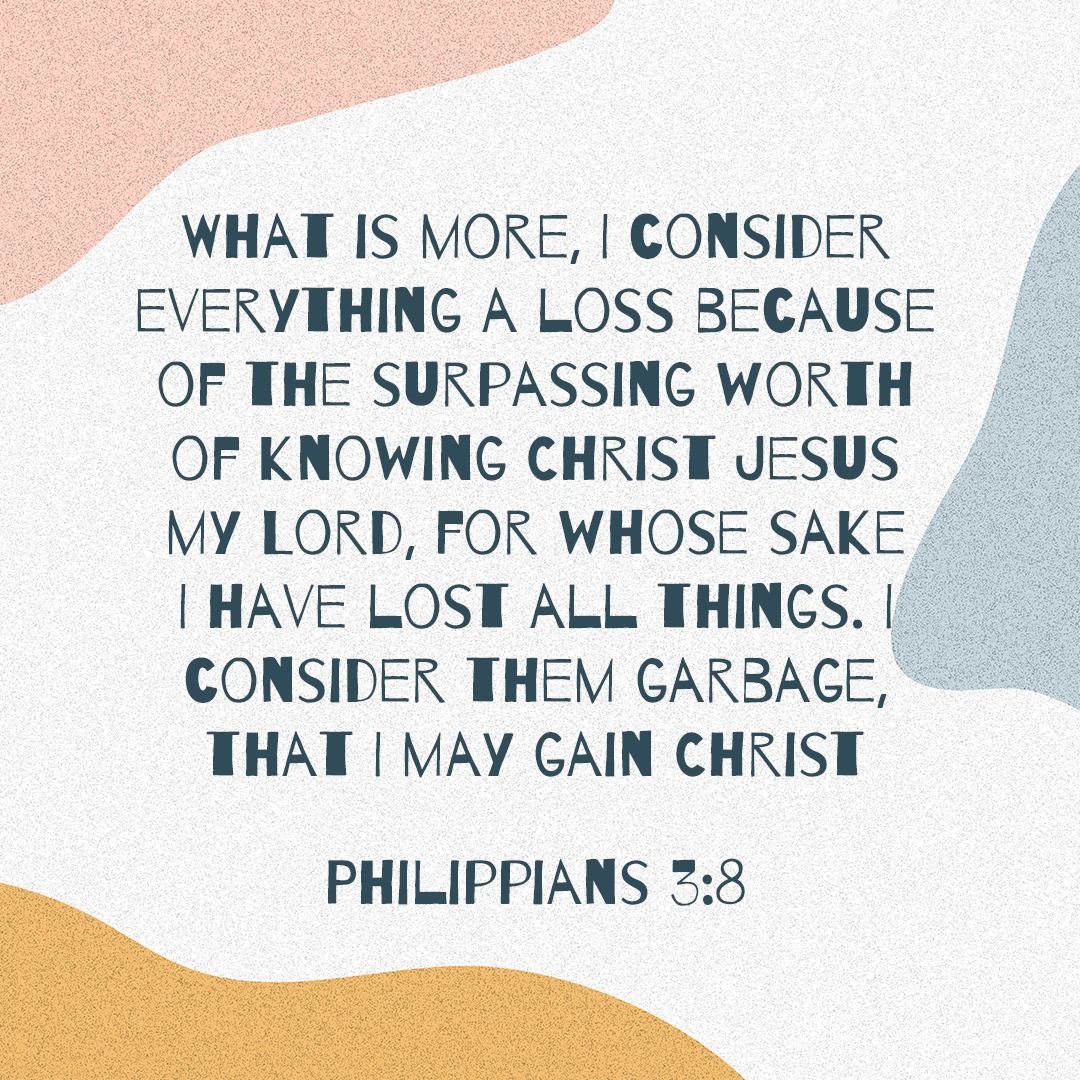 "What is more, I consider everything a loss because of the surpassing worth of knowing Christ Jesus my Lord, for whose sake I have lost all things. I consider them garbage, that I may gain Christ" – Philippians 3:8
As we reflected the other day about how God secures us physically, financially, emotionally, and spiritually, today we will reflect on something that opposes everything important to us. We all know how Paul became a Christian. He was a Christian persecutor. He was a killer and the number one hater of Christ. However, God is the God of miracles and second chances. Now, Paul was one of the best preachers of Christ and has become one of the greatest witnesses of Christ.
In our verse today, we are reminded of Paul's life and how it became all about Christ. Again, he was a persecutor and he was a wealthy man. He has everything a man can have in this world. He was rich, he had servants, and he had a job. Life was really going well for him compared to the other people of his time. However, since he became a Christian, he has turned his back on all of these and considered everything as garbage or rubbish. He stated in our verse today how everything he had was all rubbish and a loss. It was all a loss for Christ, and he did not regret it for he gained Christ.
Now, as we reflect through his words today, can we also say the same? Can we also turn our backs on all the wealth we have right now? From our good career, from our good relationships, and from our good lives? Can we consider knowing Christ as enough gain to lose all of these? Is it possible that knowing Christ is surpassing worth than all of these earthly things? Or do we think it's a waste? So, we really need to assess ourselves and remember that knowing Christ as our Lord and Savior is more than enough. 
These earthly freebies will just remain freebies once we know Christ. Like Paul, we will be able to understand that all of these are indeed rubbish and garbage. All of these are worth losing in exchange for knowing Christ. Everything we have right now is from God and everything we have right now will be given to us through Christ Jesus. We should not feel like we are wasting anything for Christ. In fact, we are gaining everything the moment we receive Christ, and the moment we know Him, acknowledge Him as our Lord and Savior. 
Therefore, we must really realize that everything is rubbish. What we will gain in this world is all rubbish. Instead, we must always choose to follow Christ, and become His disciples. May we become all like Paul that even if we have horrible pasts, we won't let it define us, and instead we must trust that promise of God that He has forgiven us through Jesus Christ our Lord. Let us declare Christ's holy name and let go of everything that's stopping us from knowing and following Him. Indeed, everything is garbage and rubbish without Christ. Let us continue to desire to become more and more like Christ and not let the riches of the world entice us.
---
For more daily reflection, verse, and encouragement, you may follow us. You can also like, follow and visit us on:
Facebook: 

https://www.facebook.com/yd153

Twitter: @YD153

Instagram: @youngdisciples2020

Tumblr: youngdisciples

Pinterest: Young Disciples International