Daily Bread
Suffering for Christ – Philippians 1:29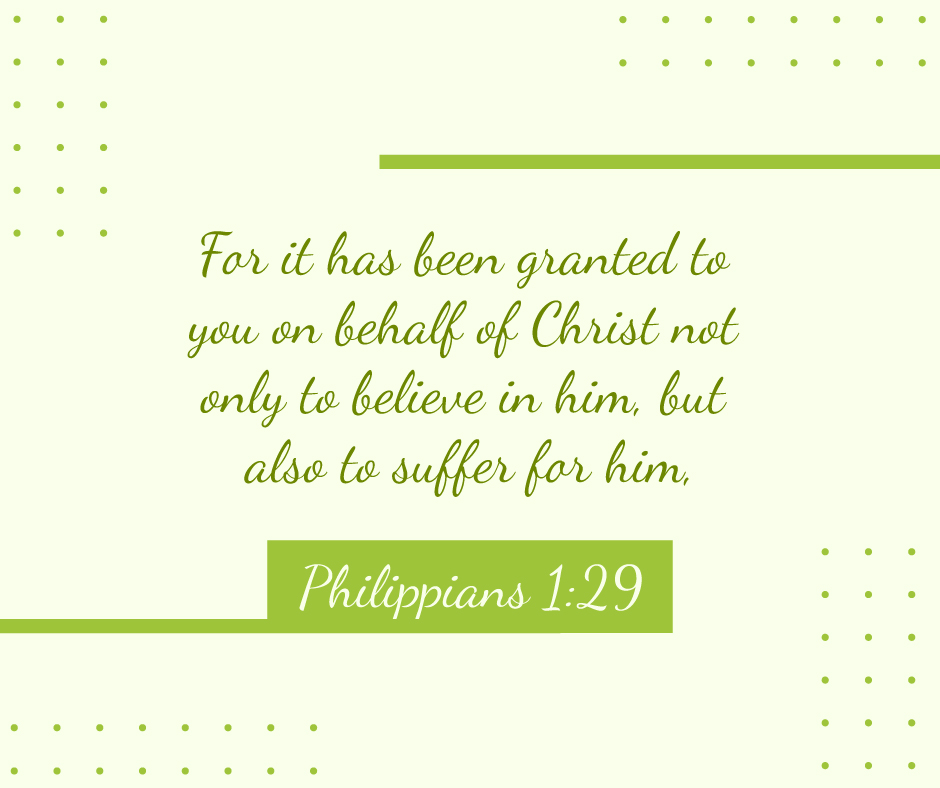 "For it has been granted to you on behalf of Christ not only to believe in him, but also to suffer for him" – Philippians 1:29
Many might think that being a Christian is all flowers and rainbows that we are so privileged to not feel or undergo any tribulations and sufferings. However, Jesus claimed and not only Him but also Peter, James and Paul, that we will have tribulations and suffering. For our verse today, we can see that Paul recognized and even declared this fact because he clearly knows it.
Suffering for Christ's sake and enduring suffering for His sake is really part of a Christian walk. We are not only given the wonderful advantages of being saved because of His grace through faith but we have also been given the holy privilege to suffer for Him. Since we have been promised that Christ's grace is sufficient, no matter the tribulations, dangers, persecutions we will face, we will be able to stand it.
The thought of suffering for Christ will really scare us off. We might think that we will not receive and believe in Him anymore because we don't want to suffer. We might think that without Him, we will not have suffering for being in this world will just already give us joy. However, do we really think that is right? Do we really believe that it is better to not believe in Him because we will have no suffering if we will just steer away from Him? The answer is no.
No matter where we are or who we are connected to, the suffering; the tribulations; the hardships and the persecutions are always there. It is the constant term of the equation, we cannot take it away. Either we are in Christ or we are of this world's tyranny— hardships, problems, tribulations are still present.
However, God offers us a very different path when we are in Christ. Even if these sufferings are always present, He has given us the strength and the promise that we will be able to overcome it and we will not face it alone. The difference between being of the world and being in Christ is that in the world, we will have to face and battle it on our own and we will really lose. However, in Christ, His grace and mercy is sufficient, in fact, He had already overcome it all. We will never have to fight and solve it on our own but it is Christ who will solve it for us.
Therefore, when we are of the world, we will gain awesome things but the world is temporary, we will then lose it when we die but in Christ, we may lose everything in the world but we will gain everything when we are in Him. As it was written, "For what does it profit a man who gains the world but loses his soul?" (Mark 8:36). Meaning, we will gain the world but we will just lose our soul into the fire. So, for the verse today, Paul was very transparent to us and even Jesus when He was praying at the garden of Gethsemane. They both declared that a Christian life will never be easy. It is not flowers and rainbows but it will be suffering, persecutions and tribulations because the world will hate us.
However, it is better to suffer for Christ than to gain the world but lose our soul. Paul was indeed transparent that we will really suffer for Christ. As Christians, we will not always have good days for our trust, faith and salvation in Christ is not only that, but it is also full of suffering. We will be suffering for Christ but it is still indeed Him who will shield us from everything. Our suffering right now is nothing to be compared to the joy and glory that will be revealed in us through our Lord and Savior Jesus Christ.
God enables these sufferings for us to grow; for us to fully trust and hold on to Him; and for Jesus Christ. We will suffer for the Gospel; we will suffer for living Christ-like for the world hates this, but we must rejoice in our sufferings for these sufferings are nothing compared to the joy Jesus has given to us. We will suffer now, but we will be rejoicing in heaven forever. So, is this really suffering? Well, it is just more likely a pain when someone pinches us because the glory that will be revealed in us is far greater than anything.
Therefore, brothers and sisters in Christ, we must not feel sad or discouraged when we know that being a Christian means suffering for Christ because His grace is sufficient, the more we suffer for Him, the more He will come near to us. We must also remember that these sufferings are temporary and it is nothing compared to the glory that will be revealed in us. Let us then rejoice in our sufferings and know that Jesus got our back always. We continue to grow our faith in Him, believe in Him even if we suffer for it is not for us, for it is for Him. 
---
For more daily reflection, verse and encouragement, you may follow us. You can also like, follow and visit us on: