Devotional
Stretch Your Hand to God – James 4:8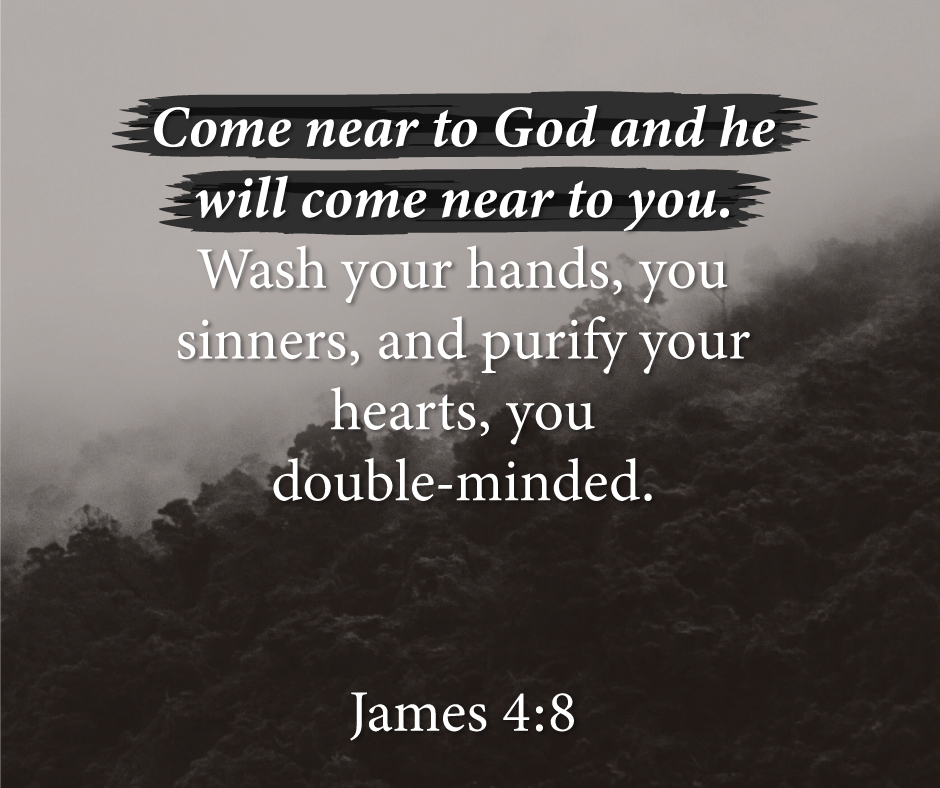 "Come near to God and he will come near to you. Wash your hands, you sinners, and purify your hearts, you double-minded." – James 4:8
It is so painful when people call us hypocrites or our friends will talk behind our backs to tell other people that we are double-minded and hypocrites. This is why we live our lives carefully and always assess our actions to check if we offended someone or if we did something wrong to people so we won't be the spotlight of their next conversation. We are living our lives trying to please everyone. 
Sadly, we are only mindful of our actions when it comes to the people around us. We are only mindful of our actions when it comes to pleasing the people that surround us. As long as they are pleased, we feel satisfied and we think that we already achieved a goal. How about our actions in the eyes of God? How about minding our actions in accordance to what pleases God? Well, ironically, what pleases other people is disgusting to God's eyes and what pleases God is foolishness to the other people. This just clearly shows that light and darkness can never have union.
In our verse today, James wants to remind us to draw closer to God. Sometimes we think that we are already so closed to Him and we are having fellowship with Him, but in fact, we are not. Again, we live our lives double-mindedly— pleasing the people around us and trying to please God. However, as we try to please other people around us, it is just an avenue for sin to crawl to the surface.
Humans are only pleased if there is an act of sin because of our sinful nature. We always dwell in sin. So, as we sin, we are destroying our fellowship with God, for sin can put a big barrier between man and God. Though nothing can separate us from His love, sin can slowly destroy and kill our fellowship with Him until it is us who will personally withdraw from God.
Therefore, God wants to remind us through this verse in James that we just have to draw closer to Him. Indeed, it is not God who stepped away from us but it is us who stepped away from Him because of all the things we thought matters most above God. His love is enduring and always there, but it is us who rejects it. God is faithful and just to forgive us and to cleanse us from all of our unrighteousness if only we just draw closer to Him and He promised to draw closer to us— to reach our stretched hands.
We do not want to be called hypocrites so let us live our lives Christ-like because we call ourselves Christians— followers of Christ but we cannot see Christ in our lives. As Christians, we should imitate our Savior and be in sync with all of His teachings. It is indeed through our faith in the Lord Jesus Christ that can save us from death, but with true repentance and faith, Christ's life will manifest in us.
Let us draw nearer to God and ask Him to cleanse us from all our sins. We must not mind what the people will say around us, calling us double-minded and hypocrites because what matters most is what we look in God's eyes. God will release His wrath to the people who are sinners, but if God sees Jesus Christ in us, if He sees that we are already clothed in Christ's righteousness and holiness, we can be saved.
So we must not live our lives pleasing the people around us, instead, we must live our lives holy and pleasing in God's eyes. We can never live like this without Christ in between. Let us therefore, put our effort, our trust, our hope, our faith in the Lord and Savior Jesus Christ. We may think that we are already so sinful and too ashamed to draw to God, we must remember that God loves a repentant heart and He is really forgiving and just. He will accept us so we just have to draw near to Him for He promised to draw nearer to us.
We should come before God, with hands washed clean, purified hearts and one-minded that only focus on Him through the blood, death and resurrection of Christ Jesus our Lord and Savior. We must also remember that compassion is different from compromise, so let us not live to please others and compromise our faith. Let us live to please God with our lives bound in the death and resurrection of Christ. Amen.
---
For more daily reflection, verse and encouragement, you may follow us. You can also like, follow and visit us on: