Daily Bread
Strength in Weakness – 2 Corinthians 12:10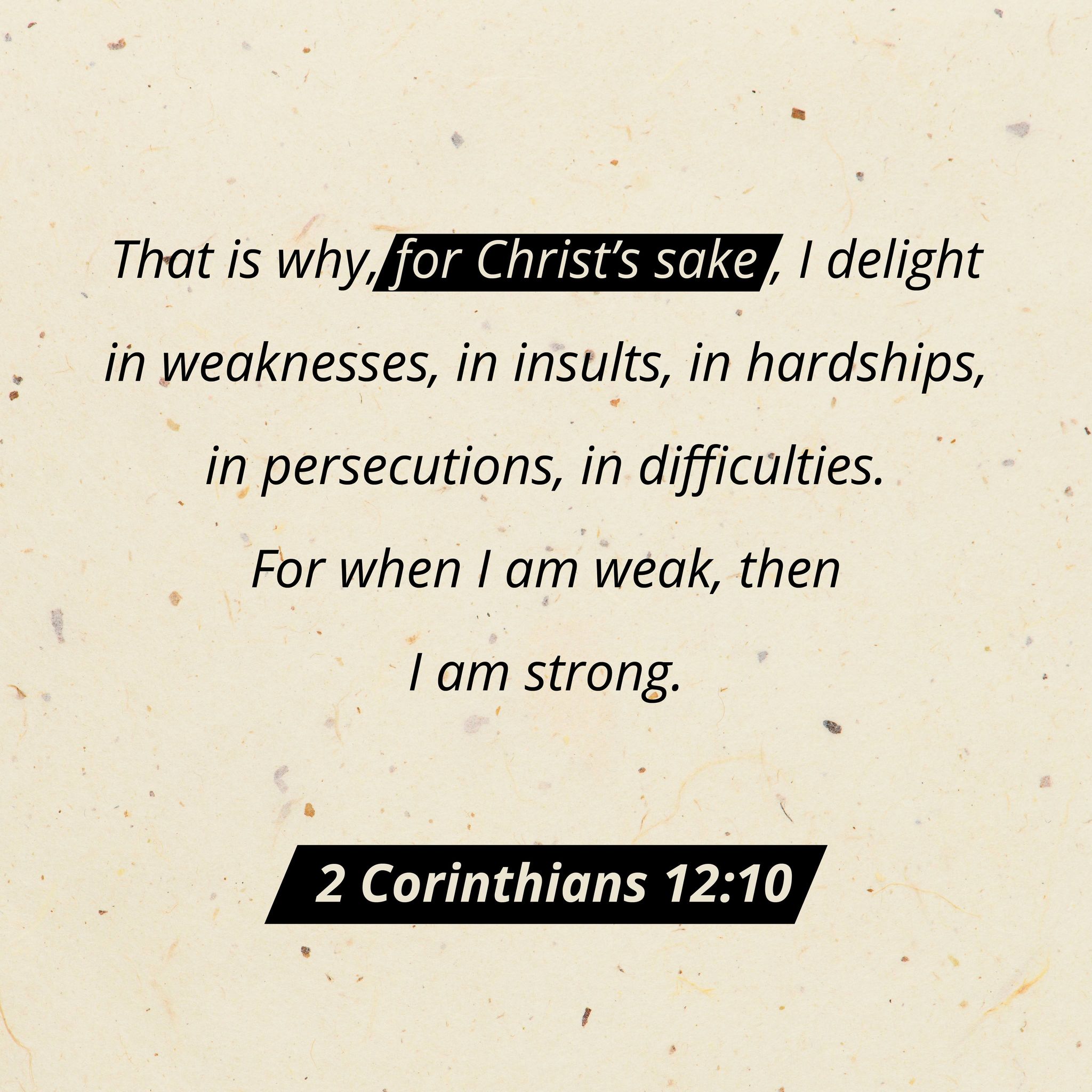 "That is why, for Christ's sake, I delight in weaknesses, in insults, in hardships, in persecutions, in difficulties. For when I am weak, then I am strong." – 2 Corinthians 12:10
The verse before our verse today is a very famous verse among Christians. It is all about the declaration of Paul that Christ's grace is sufficient for our lives. Paul has declared that whatever we face in our lives, the grace of God is always sufficient and enough for us all. Now, as we continue to read this letter of Paul to the Corinthians, we will be ushered to the declaration of Paul that because Christ's grace is sufficient, for His sake, all insults, hardships, and persecutions, and weaknesses are worth it. Paul delighted in his weaknesses, in sufferings, and insults for it was all for Christ. 
Paul then ended this verse with a very amazing statement that said, "For when I am weak, then I am strong." It is actually very hard to understand for some people who have not read the previous verse, or most of the time this verse can be misunderstood. Some people will just use this as their inspiration to achieve or succeed in life without even understanding that the very core of this verse is Christ. It is not because we are strong, deep inside, but because we are strong because of Christ. 
Now, as we reflect on this amazing truth, may we be like Paul who can confidently say that for Christ's sake, he is rejoicing in weakness, in suffering, and in persecutions. Indeed, the moment we become Christians, the moment we accept Christ as our Lord and Savior, we are more aware of how weak and lacking we are. Therefore, we must be like Paul who rejoices under these circumstances and declares that when we are most weak, then we are strong. 
Again, it is not because we are brought up strong, or because we are really strong deep inside, but it is because of Christ. We are strong during our weakness because Christ is in us and He is making us strong. He is sustaining us with His grace, He is living in us, and He is replenishing our energy every day. Thus, during our weakest time, we are stronger since we do not depend on our strength anymore but on the strength of God. Indeed, for Christ's sake, we delight in our weakness, in insults, in hardships, in persecutions, in difficulties, and in sufferings for it is His power and grace that runs inside us, not our own strength. 
During these times, we are more aware of our situations, we are more aware that we are weak and we are more aware that we need Him. Again, it is indeed for the sake of Christ, everything is bearable. For when we are weak, then we are stronger. The more we acknowledge our weaknesses, our struggles, there we can be stronger and more dependent on Christ.
---
For more daily reflection, verse, and encouragement, you may follow us. You can also like, follow and visit us on:
Facebook:  https://www.facebook.com/yd153
Twitter: @YD153
Instagram: @youngdisciples2020
Tumblr: youngdisciples
Pinterest: Young Disciples International