Daily Bread
Sincere Love – Romans 12:9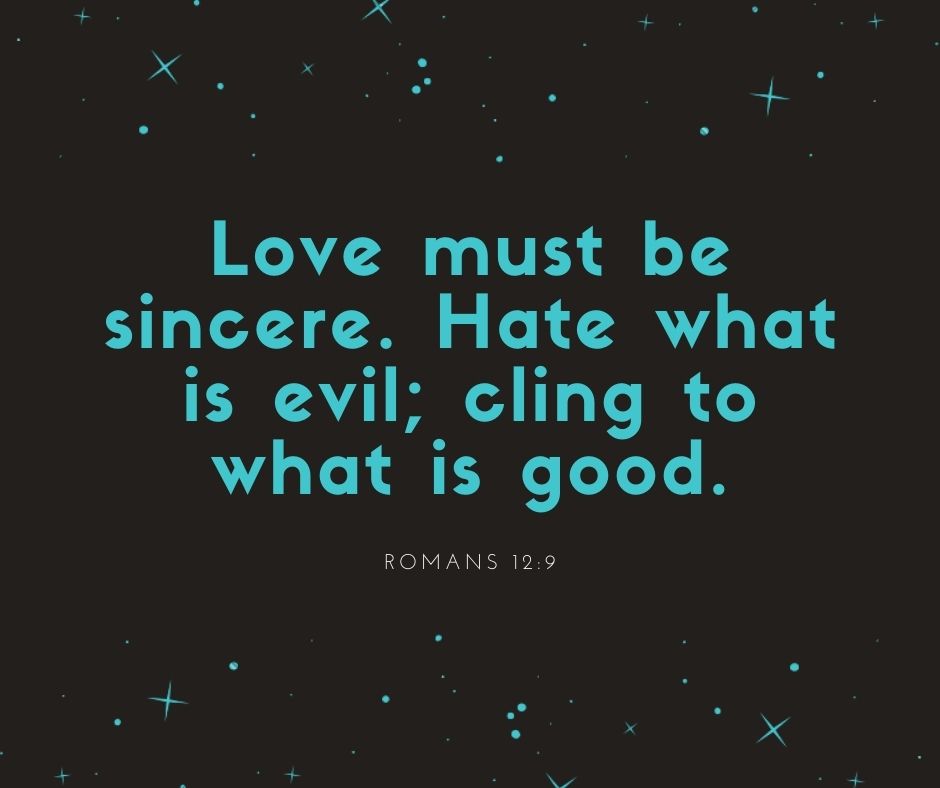 "Love must be sincere. Hate what is evil; cling to what is good." – Romans 12:9
The moment sin entered the world, the first thing it destroyed was relationships. God and human's relationship was instantly damaged when Adam and Eve disobeyed God. As their disobedience opened the gate for sin to enter the world, so the gate of intimate contact and relationship with God has closed. Now, as sin continues to rule over the world, our concept of relationship and love is broken and distorted. We have different principles in loving and we even strategize our love these days.
Our verse today talks about love and how love should be done. Now, Paul has taught us so many things and in fact, the preceding verses of our verse today was all about giving our lives as living sacrifices to God; the body of Christ; and our spiritual gifts. Then he proceeded to tell us about love. Now, Paul wants us to understand that we should love sincerely. Love has been one of the most mentioned topics in the Bible because God wants us to love Him and He wants us to love one another. Now, we have to understand that to love God is to first know that He loved us first (1 John 4:19). To love others, we must understand first how much God loves us.
Loving sincerely is such a difficult thing to do because we can just say to anyone that we love them but we really don't. So, before we can love sincerely we must first understand what true love is. Love can only be seen at its finest through the sacrifice of Jesus Christ. Indeed God has demonstrated His love for us through dying on the cross for us while we were still sinners (Romans 5:8). Thus, love is by nature sacrificial. Love shouldn't be selfish, conditional and timely. The love Paul was pointing out in this verse means that we should reflect God's love to us and to others. The definition of love God has and not our definition of love.
This theme has been mostly widely explained in the first book of John in the New Testament where he said that if we say we love God and we don't love our brethrens then we are liars and hypocrites (1 John 4:20). Meaning, sincere and true love is the manifestation of our salvation. Loving sincerely is the manifestation of how Jesus Christ reconciled our relationship with God through dying and paying the just price for our sins on the cross. Therefore, as Christ has died for us and has greatly revealed to us how love should be done, Paul encourages us to do the same. We are to express love towards others sincerely not to fake an attitude of love for each other. So, we must love each other sincerely, not conditionally, selfishly or timely. Loving sincerely is expressing God's love towards us meaningfully and an extension of His love to us and ours to Him.
Next is, Paul wants us to hate evil or in other translation 'abhor' evil. Now, how can we love sincerely if we are asked to hate evil too? We are all evil for there is no one righteous and we always sin, therefore we are evil. So, how can we love each other and at the same time hate each other? — Well, the mindset of hating each other is already wrong. As you read the Bible deeply, you can see how much God hates wickedness and unrighteousness. He has disciplined those who are dancing with unrighteousness and have persecuted those who are wicked. However, we must understand that God never hated us. He never hated the person but He hated the sins, the wickedness and the unholiness of the people.
Therefore, we must understand that indeed we are subject to eternal condemnation because of all the sins and unholiness we did. The wrath of God is in us and that we can never escape it. However, because of Christ's love we are spared and that the Father has poured His wrath on Him. Now, as we are commanded to love sincerely and hate what is evil, Paul means this as to hate the sin and not the sinner. We must hate all unrighteousness and wickedness so that we will be able to fully surrender to Christ's will and Christ's salvation. Loving God is such an unending battle as long as a Christian lives for this does not come naturally and hating evil is also a battle for this also does not come naturally. By default, it is easier for us to love evil and that means we don't love God because it is what our sinful nature is telling us, this is why it is an unending battle to ask God to condition our life into loving Him more sincerely and loving others genuinely; and to hate what is evil and despise unholiness.
Finally, Paul commands us to cling to what is good. Again, this too shall not come naturally. We hate good and we love evil, that's just how we are. We are distorted and sinful so as we desire to sin, we always hate what is good and denies to do what is right. Now, Paul reminded us to always cling to what is good. As you can observe, Paul likes to tell us commands in a manner of procedure or steps that one element is dependent on others. So, firstly when he commanded us to love sincerely, this means that we have to understand God's love first to fully love one another and that this love is sacrificial and selfless. As we truly understand this sincere love, he then told us to hate evil as an application to that sincere love so that we can manifest it fully as we hate evil. So, as the third comes, it is the sustainability part.
Clinging to what is good is the hardest for it is the part where you will need to be constant because if you would not cling to what is good, you have to go back to the first step again. It is hard to know what is good, so we have to always see everything in God's perspective by basing all of our decisions, our goals, our outlooks on God's Word where He has revealed His full identity and love. Therefore, we must always meditate on His Word day and night to be able for us to know what is good and for His Word will be our lamp in times of our darkness when we are tempted to love evil again and to fake love towards others again.
May we always remember all of these reminders from Paul. Let us always put in our mind to love others genuinely and sincerely; to hate what is evil (hate the sin and not the sinner); and to always cling to what is good and right through meditating on the Word. May the God of peace and love be with us always as we fight this unending battle. In the name of Jesus. Amen
---
For more daily reflection, verse and encouragement, you may follow us. You can also like, follow and visit us on: