Devotional
Set Aside Evil Deeds – Romans 13:12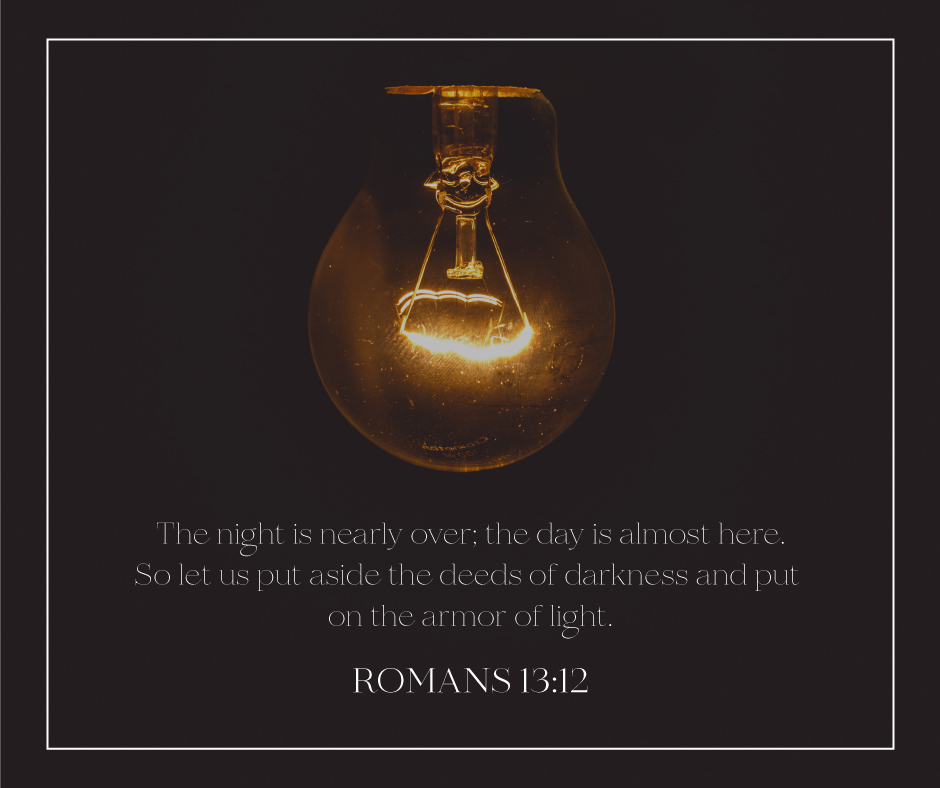 "The night is nearly over; the day is almost here. So let us put aside the deeds of darkness and put on the armor of light." – Romans 13:12
The other day, we have reflected about not rejecting God's rebuke for He will bring destruction to those who remain stiff-neck. The verse today is also a reminder but also a promise and a solution to completely abandon our sinful desires. 
It is not new for us that we are really sinful but most of the time we have to be always reminded that we are really sinful. We are sinful by birth and have been sinful ever since. We have been dwelling and dancing with sins and we can never really deny that. Especially nowadays, the avenue to do sins is completely evolving. Indeed, we can sin in our thoughts, words and deeds but in this contemporary world, we cannot really resist temptation.
So God has called us to be righteous and to set aside our evil deeds. Our evil deeds consist of many aspects— from thinking of evil thoughts, doing immoral things and speaking horrible things. However, how can we do this? How can we depart from this nature? It is called nature simply because it has always been part of us, so how can we fully depart from something that has always been there?
The answer is just very easy but as sinful as we are, it is very difficult. The only way we can depart from this nature is to completely shed this part of us on the cross where Jesus Christ was crucified. Meaning, we have to completely let Christ crucify this part of us together with Him. We must remove this from our lives by submitting this problem to God.
We can never change ourselves and we can never depart from our evil deeds by our own works but through our Lord and Savior Jesus Christ we can do this. Indeed, the night is almost over. The night season and the darkness part of our life is really almost drawing into an end. We can know this because Christ has risen and has saved us already. The transition from night to day should really be visible in our lives.
When we see that the day is near, we will then be able to set aside our evil deeds. In doing so, as we set aside this, we will then put the armor of light. As we put this armor of light, we will become a light to others who need it. We will be able to become the light of the world, a city on the hill. We are called to become like this and we therefore should really become good witnesses.
Therefore, let us set aside our evil deeds and put God's armor. Let us become the light of the world until Jesus will arrive. We should look forward to our prize which is our eternal life through our Lord and Savior Jesus Christ. Amen. 
---
For more daily reflection, verse and encouragement, you may follow us. You can also like, follow and visit us on:
Twitter: @YD153
Instagram: @youngdisciples2020
Tumblr: youngdisciples
Pinterest: Young Disciples of Jesus