Daily Bread
Secured Foundation – 1 Corinthians 3:11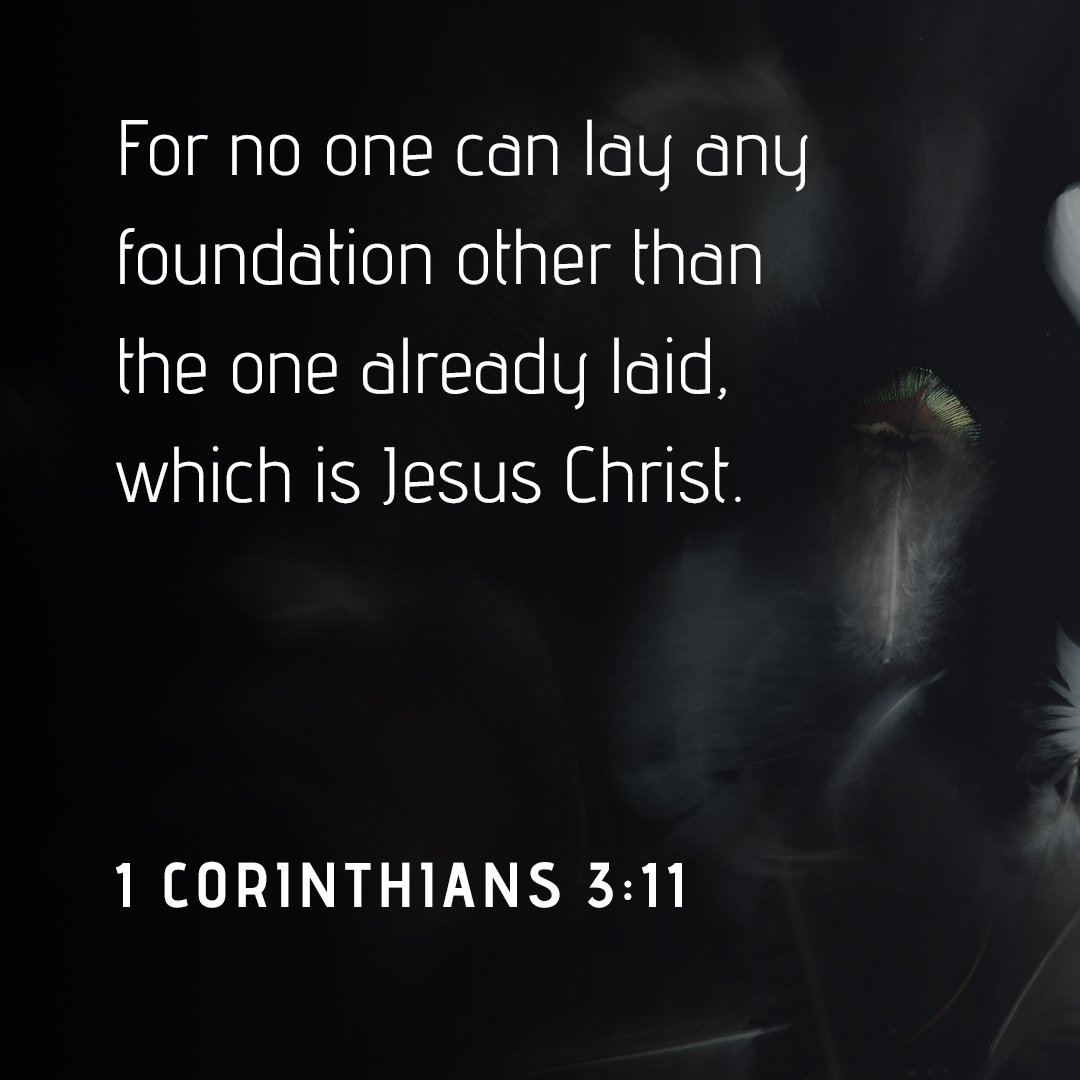 "For no one can lay any foundation other than the one already laid, which is Jesus Christ." – 1 Corinthians 3:11
As human as we are, we all believe in the fact that we have a creator and that we just didn't come out from the ground. We all know that in some ways, we are founded by our creator. However, the sad thing about this is that we have lots of different beliefs about who our Creator is and we are all fighting against it. Now, one thing we should really learn about this is that we are all created by our God who made the heavens and the earth. The same God who sent Jesus Christ to be our Lord and Savior. 
Our verse today wants to remind us through Paul that no one can lay any foundation other than the foundation that was laid who is Jesus Christ. Primarily, this verse was written by Paul to the Corinthians to remind them that the churches' one foundation is Jesus Christ our Lord. They have to understand that without Christ, a church will never stand without Him. He is the sole foundation, and all the churches should be founded by His foundation. 
He was the foundation that was long laid before this world. Now, as we reflect on this, we must always remember that as a church of Christ, we must be grounded and founded by Him. The buildings, the church itself is nothing if it's not founded by the cornerstone who is Christ our Lord. Thus, we should realize that our ministries, our programs are all futile if they are not founded by Christ. 
Furthermore, many preachers also connected this verse to the personal aspect of humans. It is also connected to false teachers and preachers. Paul may also want us to remember this verse every time we face these kinds of people. We must be wary that many will really come claiming that they are God or claiming that the salvation of humans will come from something other than Christ. Although this was written many years ago, this can also be applicable these days. Especially that we can hear lots of people claiming they are the son of God or the chosen ones. 
Now, we must really be vigilant and study the Word to remind us that the sole giver and way to eternal life is Christ Jesus. Our salvation comes from Him and our doctrines and teachings should be founded by Him. Christ must be the main foundation of every church, same as that Christ should be always the foundation of our lives. There is indeed no foundation stronger than Him. So, we must always make Him as our sure foundation. 
If Christ is our cornerstone, our sure foundation, the gate of hell will not prevail. They will not be able to stand against Christ. For Christ is the conqueror, the victor and He is our Savior. Thus, we must remain in His foundation, make Him our stronghold fortress. Let us encourage our churches to remember their history and to remember that they should be founded by Christ, without Him, it will not stand. Also, in a personal aspect, we must let Christ become our foundation and let Him make us stand firm.
---
For more daily reflection, verse and encouragement, you may follow us. You can also like, follow and visit us on:
Facebook:  https://www.facebook.com/yd153
Twitter: @YD153
Instagram: @youngdisciples2020
Tumblr: youngdisciples
Pinterest: Young Disciples International