Devotional
Sanctified with the Truth – John 17:17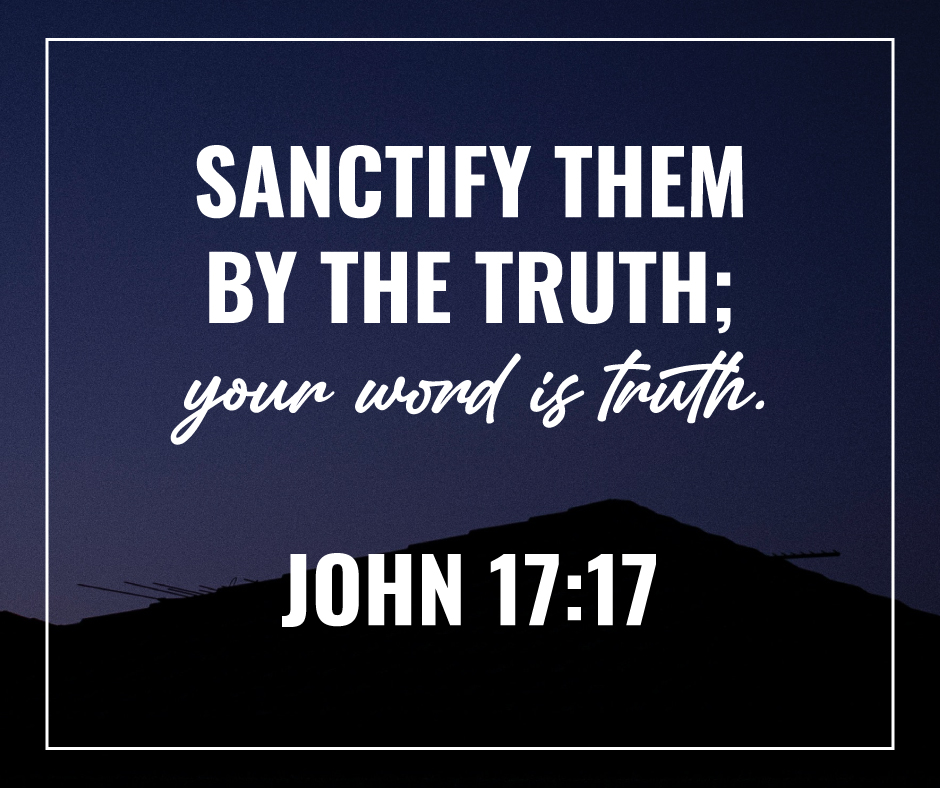 "Sanctify them by the truth; your word is truth." – John 17:17
Before Jesus was taken away from the disciples, He was praying in the garden of gethsemane. It was the most sweet, personal and beautiful prayer we can ever read. Jesus prayed for the disciples and for the people who followed them. He prayed to the Father that He may set them apart and made holy unto Him.
In this way, Jesus has stood between the disciples and the Father so that God will bless them and keep them. Jesus prayed that they would be sanctified through Him. The sanctification of a sinner saved by grace is an act of the Holy Spirit both takes a place at the exact moment a person received Jesus Christ and the continual cleansing.
We all know that a person can only be sanctified after he is being justified in front of God. The only way to be justified is through believing in the death and resurrection of Christ. After this, the Holy Spirit will then sanctify us, to set us apart, to make us holy and to preserve our faith in the Lord Jesus Christ. Therefore, these actions can only be achieved if we receive Jesus Christ as our Lord and Savior. If we believe in His death and resurrection.
However, in the prayer of Jesus, He said that the Father should sanctify the disciples with the truth. What is this truth? We can then ask, "We thought that the only way to salvation is Jesus Christ, what is this truth then?" — We should understand that Jesus did not only stop there but He also said that God's Word is the truth. So, Jesus was referring to God's Word which is the truth. But sometimes, we misunderstood this and just thought lightly about this.
We must understand that Jesus was referring to Himself. He is the truth because He is the Word made manifest. The greek word used here was the same greek word used in John 1 which pertains to Jesus. Therefore, it is indeed through Jesus only because Jesus is the way, truth and the life (John 14:6) and no one can come to the Father except through Him.
So, as Jesus was praying, He asked the Father to sanctify the disciples with the truth, which is the truth is His Word and the Word is Jesus Christ. He knew that He will suffer greatly in the hands of the people that time. Jesus knew that Peter will deny Him and Judas will betray Him, but despite knowing all of this, He was still thinking about them. He was still praying that the faith the disciples have in Him will not leave them and that they will always be sanctified with His truth. This is just how much Jesus Christ showed His love for them.
Also, this prayer was not only for His twelve disciples but it was for all the people who believed in Him and received Him as their Lord and Savior. This prayer extends to us Christians who know the truth and who believed in Him. This prayer extends to us Christians who understand that we are indeed saved by grace and that we need a Savior.
Well, this is how much Jesus Christ loves us. Despite knowing what will happen, despite all of the horrible things that humans did to Him, He still prayed for us and asked for our forgiveness. He still forgave us and welcomed us with open arms. He is still continuing to sanctify us with Him and is setting us apart. Indeed, we are not of this world because we are of Him.
Let us always remember the sweet prayer Jesus prayed for us. May we always remember that until now, the Holy Spirit is working in us, sanctifying us with His Word through our meditation of the Bible. We must always put in our mind that Jesus really loved us so much to the point of dying for us. May we always treasure this message and remember that Jesus is our only way, our only truth and our only life. May the good God from whom all blessings flow bless us and continue to sanctify us with His truth until we will be reunited with Him in heaven. May God preserve our faith and always gives us the desire to obey Him. In the name of Jesus. Amen. 
---
For more daily reflection, verse and encouragement, you may follow us. You can also like, follow and visit us on: