Daily Bread
Salvation for Everybody – 1 Timothy 4:10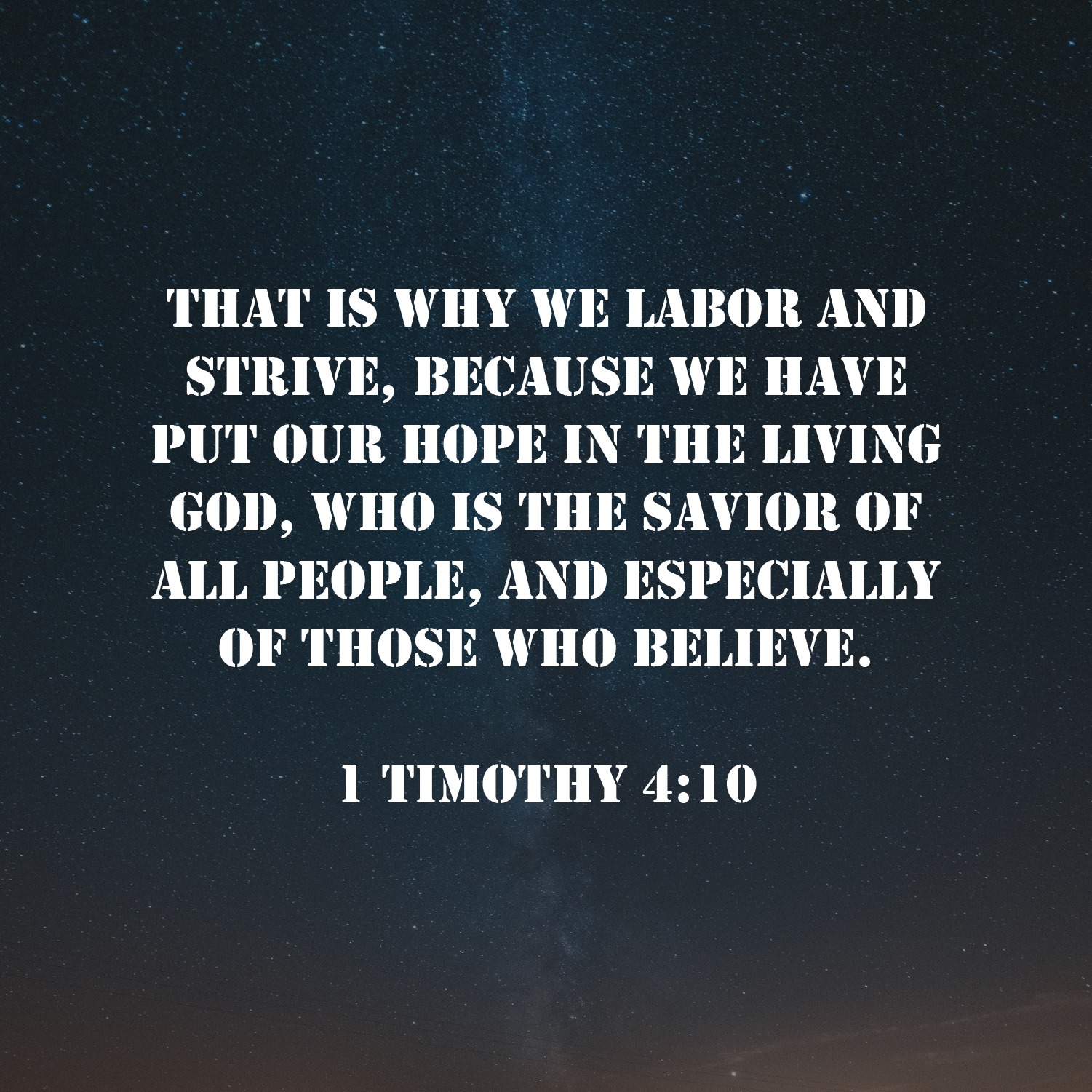 "That is why we labor and strive, because we have put our hope in the living God, who is the Savior of all people, and especially of those who believe." – 1 Timothy 4:10
What we have to know today is that God has really given us grace despite all the sinful things we have done and all the offenses we made against Him. We can never appreciate the goodness of God if we do not get how merciful and gracious He is. Now, let's make a good example of the grace of God in the very easiest way possible. Let's say that we are in a camp and one of our friends in camp has her mother with her. She gets to have a lot of privileges.. Now, during the night, she gets to have a very comfortable blanket while you and your friends don't. 
However, when you think that all of you won't have a chance of having to feel that comfortable blanket, the mother extends the blanket so all of you can fit and have a good night's sleep. By the fact that you don't know that person, or by the fact that she is not your mother, she still gave you something you do not deserve. So, what would you feel? Of course we will all feel grateful to the mother. We won't reject the offer and instead thank her and forever hold that gratitude in our hearts. Now, that's how the grace of God works. We might think that we won't be saved forever, but God has given us salvation. 
During the time before, the people thought that only the chosen people would be saved, but now, through Christ, the blanket of grace of God has been extended to all people. We don't deserve it, we don't see anything that can really make us deserving of the grace of God. Yet, God remains loving, and faithful that He saved us from our sins. The definition of being the chosen people has now changed. It's not based on race anymore, but it is based on whoever believes in Jesus Christ. Thus, this is why Paul has declared in our verse today that we have to strive and labor to always keep our faith because our hope is placed on our living God who is the Savior of all people.
Therefore, we really have to realize that we are greatly graced and pardoned. There is nothing in us that could make us deserving of the grace and salvation of God. However, God is faithful, loving and gracious by existence. So, He saved us from our sin, and all people have given the chance to accept this free gift. In order to accept this gift, we must accept Jesus Christ as our Lord and Savior because He is the only way, the truth, and the life. No one indeed can come to the Father except through Him (John 14:6). May we always keep this in our minds and strive to preach this truth to the world so that they will also have the chance to know that Christ is the Savior and the way to salvation.
---
For more daily reflection, verse, and encouragement, you may follow us. You can also like, follow and visit us on:

Facebook: 

https://www.facebook.com/yd153

Twitter: @YD153

Instagram: @youngdisciples2020

Tumblr: youngdisciples

Pinterest: Young Disciples International