Daily Bread
Revere and Worship Christ as Lord – 1 Peter 3:15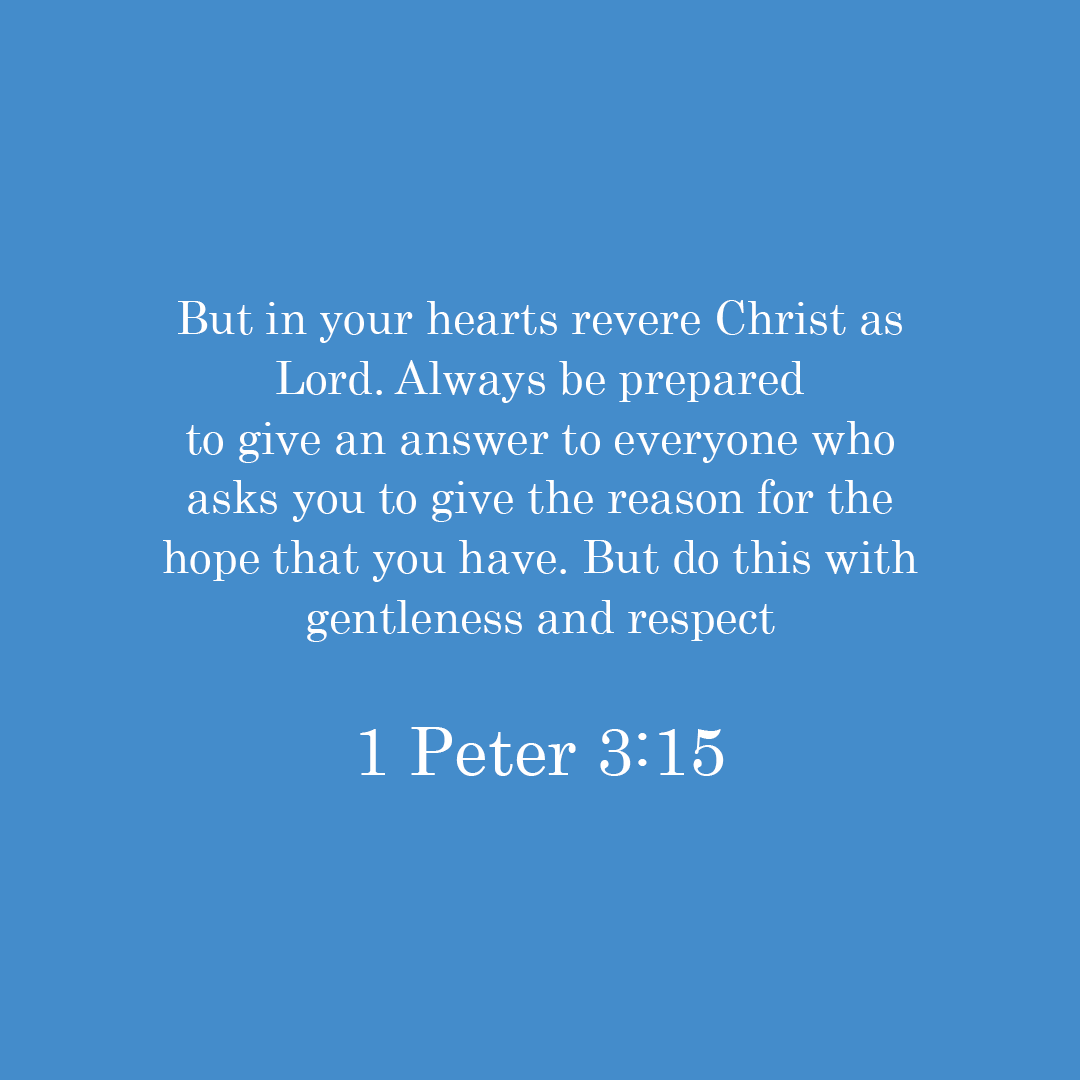 "But in your hearts revere Christ as Lord. Always be prepared to give an answer to everyone who asks you to give the reason for the hope that you have. But do this with gentleness and respect" – 1 Peter 3:15
Peter carefully instructed and anticipated our verse today. He instructed us to revere Christ as our Lord, for he is already talking to the people who already are Christians. His audience is people who are already saved, but still, he reminded all of them— all of us to revere Christ as our Lord in our hearts. Peter perfectly knows that most of the time we are only seeing Christ as our Savior and we decline the fact that He is Lord and God of our lives. Now, as Peter reminded us that we must revere Christ as our Lord in our hearts too, he has also mentioned that we must be ready to answer the people who ask us about the hope we have. 
As we revere Christ as our Lord in our hearts, this worship will manifest something in our lives. It will produce fruit and that fruit is hope. Once we have Christ as our Lord in our hearts, it will produce hope that no matter what sufferings we are undergoing, we have a secured hope and faith in our hearts that we are suffering from joy because we know one day will come that we will be with our Savior and Lord. Now, that hope we will be manifesting— that's the hope that the people will question. So, we must really also be ready to answer them with gentleness and respect. 
Actually, Peter is hitting two birds with one stone with this verse. This is to remind us to always look to Christ and to always recognize Him as our Lord and Savior. We are called to be joyful in our sufferings and have the peace that can pass all understanding because Christ is here with us. We know that He is true and living, and we know that we will be with Him in paradise one day through His death and resurrection by faith. Furthermore, Peter also highlighted the part where people will be asking why we are so hopeful and still rejoicing amidst adversity. Thus, this will be the chance for us to share the Gospel too.
Therefore, as Christians, we must understand that being one is not that easy. We will be questioned and it takes a lot of self-assessment throughout the years to check ourselves if we are still revering Christ as Lord or only as our Savior. However, being a Christian is a privilege and a gift too. For we know that we are saved and that even whatever circumstances we are undergoing right now, we are hopeful that this too shall pass and that we will experience eternal glory. Also, being a Christian is not easy because we will be questioned too. However, we must always be ready to answer those people and to take the chance to fulfill our duty— to spread the good news, to spread the Gospel, to spread the Word of God which is Christ our Lord.
---
For more daily reflection, verse, and encouragement, you may follow us. You can also like, follow and visit us on:
Facebook: 

https://www.facebook.com/yd153

Twitter: @YD153

Instagram: @youngdisciples2020

Tumblr: youngdisciples

Pinterest: Young Disciples International