Daily Bread
Revealing Ourselves – James 5:16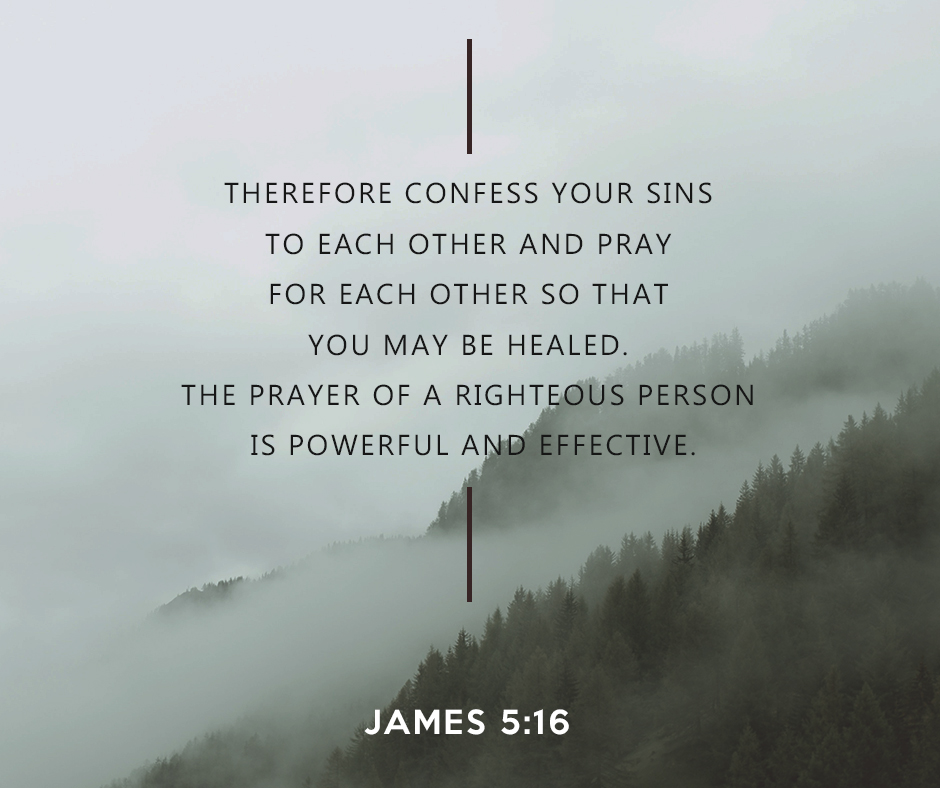 "Therefore confess your sins to each other and pray for each other so that you may be healed. The prayer of a righteous person is powerful and effective." – James 5:16
Since we talked about the revelation of God to us, we are now going to talk about the revelation of ourselves. Most of the time, we have a hard time revealing ourselves, especially to the people we do not know. The latest trend nowadays is the competition on who's the most mysterious person in the circle. We take pride in being mysterious and not revealing ourselves to others because of some reasons: (1) people abuse information; (2) people judge you based on what you did in the past; and (3) people have a hard time showing love, compassion and gentleness.
However, just like how God openly revealed himself to us, we are also ought to reveal ourselves and open up to other Christians whom we feel comfortable and vulnerable with. We are ought to confess our sins to each other and pray for each other. James mentioned that if we do this, we will be healed. Why does confessing and telling other believers about our wrongs heal us? Well, we can relate this to our present situation right now.
Since it has already been a year since the lockdowns, quarantines and health protocols were officially announced— it has been a year since the start of the pandemic outbreak, we're going to use this as an example. One will never be able to get treatment and special care if one will not honestly tell the authorities he or she is feeling. If one continues to hide the places he or she has been to or if one continues to lie about the symptoms he or she's feeling, one will never get treatment. He or she will always suffer the short-breaths, coughs and the loss of the ability to taste.
Although confessing what one felt is very hard, because of the possibility that one will be labeled as positive of the virus, it is very important to confess so one can get treatment and so that other people around it will not be contaminated. So, this is just the same as what James is talking about in our verse today. We are called to confess our sins before other believers (not in a sense that you'll stand up in front of the congregation and tell them about your sins one by one but to the people who you are vulnerable with) so that we will be healed.
Indeed that the prayer of the righteous people is powerful and effective. So, the purpose why God wants us to do is to have people praying for us. In such a way, we will then be healed. We will be healed from our sickness which is the non-stop glorification of ourselves instead of glorifying God. Thus, God wants us to confess our sins, and pray for those people who are having spiritual trials. Indeed it is not easy to battle against the continuing overtaking of our old self so we need those people who will always pray for us, guide us and rebuke us so we will grow in the knowledge of God.
Also, God said that if we only confess our sins to Him, He is faithful and just to forgive us from our wrong doings. So, we should not be afraid to reveal ourselves and to open up because it is also a way for us to accept healing. Opening up does not only mean telling others your sins but it is also you opening up for healing. We all need healing because we are always broken and hurt, so with this, God will heal us and will guide us to the path He has prepared for us. Through fervent prayers, we will then be once again completed and restored for the purpose of God.
Again, if we continue to hide our pain, our sins and our unrighteous acts, we will be having a hard time finding healing and renewal. We will always go back to the sin we are hiding and it will really be an endless cycle. However, with the people praying for us, and with us praying for the other believers, we will be able to find strength. Indeed there is strength in unity in Christ's name. After all, God is the greatest physician, He will heal your body, soul and spirit and will give you enough strength to resist the devil till he will flee from you. Always remember, you have been saved through faith by grace, so live your lives holy and pleasing to God. Confessing your sins to each other and rebuking one another with love and gentleness.
---
For more daily reflection, verse and encouragement, you may follow us. You can also like, follow and visit us on: