Daily Bread
Restoration of God's Joy – Psalm 51:12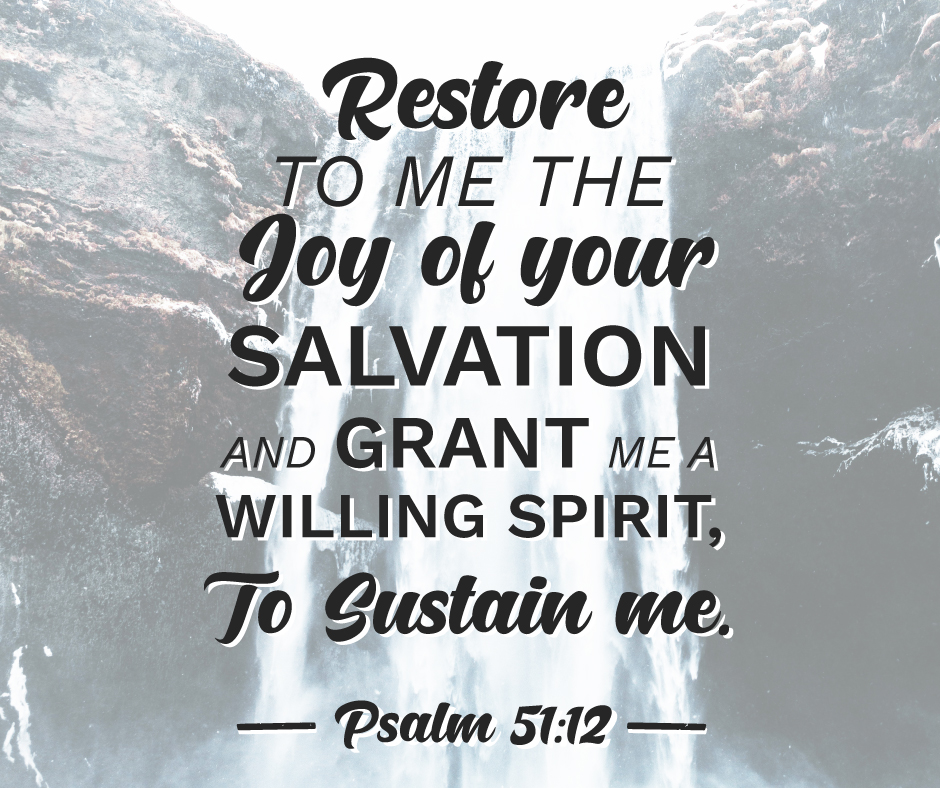 "Restore to me the joy of your salvation and grant me a willing spirit, to sustain me." – Psalm 51:12
This has been one of the most personal verses in the Bible so far. This just shows complete submission, complete longing and an utter desperation. Adultery and murder has made David lose the joy of God's salvation in him and got depressed. His sin was overwhelming and made him walk away from God. 
David's situation was just the same to us. He sinned and it is very overwhelming so it keeps us away from God. It is indeed true that sin causes our cup of joy to leak. As we continue to sin, we can notice that we became more and more depressed because we cannot even feel the nearness of God in our lives. We cannot feel His presence because our sins are very overwhelming.
This is why this verse is very personal and a desperate call of help. David was desperately asking God to restore God's joy of salvation in him because he no longer felt glad, joyful and thankful for God's salvation. Instead, he felt bad, guilty and depressed because of his sin. Indeed, this is the power of sin, it can really make a big wall between man and God. Sin has really become the root cause of our separation from Him. So, David was pleading and begging God to restore God's joy of salvation.
He is definitely like us. As sin and death overwhelms us, we often step away from God and run to the corners to hide. We feel so guilty and shame is eating us up. We no longer enjoy praising God; we no longer pray; and we no longer acknowledge God as our source of everything. Instead, we just run to the corners to hide because we are so ashamed and guilty. Our hearts became so far away from Him.
However, we must remember this verse. Even David, before he became a man after God's own heart, he was an adulterer and a murderer, yet he still reached out to God and asked God to forgive him and to restore God's joy of salvation in him. We too, should not just run to the corners and hide but we should reach out to God and beg Him to restore God's joy of salvation inside us.
We must always pray and just face God with a thick-faced knowing that we are sinful yet we acknowledge that it is only Him who can restore us to His joy of salvation and who can give us our salvation. Jesus said that as long as we abide in Him, He will abide in us. He is our joy, He our salvation. Therefore, we must always abide in Him, so that the joy of His salvation inside us will be renewed everyday.
This is indeed very personal because of the urgency and the desperation this verse shows. We should always pray this to God and to always ask Him to renew our joy in Him. As sins entangles easily, we should also draw closer to Him. We must also pray that God may grant us a willing spirit to sustain us. Now, this is very important because we can never be restored to God's joy if the spirit we have inside is not willing to leave our old self.
We have to always remember that as Jesus died on the cross and we received Him, God has given us His Spirit that is continually sustaining and renewing us. So, if the spirit inside us is not willing, then we should ask God to take this unwilling spirit and replace it with His Spirit. It is the Holy Spirit that is keeping us in check, renewing our joy and is growing our faith day by day through meditating on His Word.
Therefore, let us not be ashamed to ask God and pray to Him to restore us the joy of His salvation in us. We must always ask this day by day so that we will always be reminded about the salvation we have that was bought at a high price— Jesus Christ's blood. Indeed, our joy can be taken away from us for sins can make us numb and hard-headed but God is a loving God and He even died for us, so He is always ready to restore us into the joy of salvation with a repentant heart.
God will also grant us His Spirit that will make us willing and that will sustain us through our day to day battle against sin. So, instead of running to the corners because we know we have sin greatly against the Lord, we must humble ourselves and run towards Him, be on our knees and desperately call for His help. God listens to our every prayer and He knows our hearts, He will without a doubt, restore us and make us a new creation in Christ Jesus our Lord. 
Now, let us all pray this together:
Indeed Lord, I have sinned greatly against You and it made me dumb and it pulled me away from You. But here I am Lord, I don't have anything to offer and all I did was to sin, please help me. I pray that You will restore unto me the joy of Your salvation. Restore unto me the joy and the thankful heart for the salvation You bought for me. Please grant me a willing spirit— Your Holy Spirit to sustain me and to keep me away from future depression and future battle against sin. I have been so away from You, Oh Lord but You have always been there for me. Thank you for Your grace and mercy, in the name of Jesus Christ my Lord and Savior. Amen.
---
For more daily reflection, verse and encouragement, you may follow us. You can also like, follow and visit us on:
Twitter: @YD153
Instagram: @youngdisciples2020
Tumblr: youngdisciples
Pinterest: Young Disciples of Jesus