Daily Bread
Relationships Based on Christ – Philippians 2:5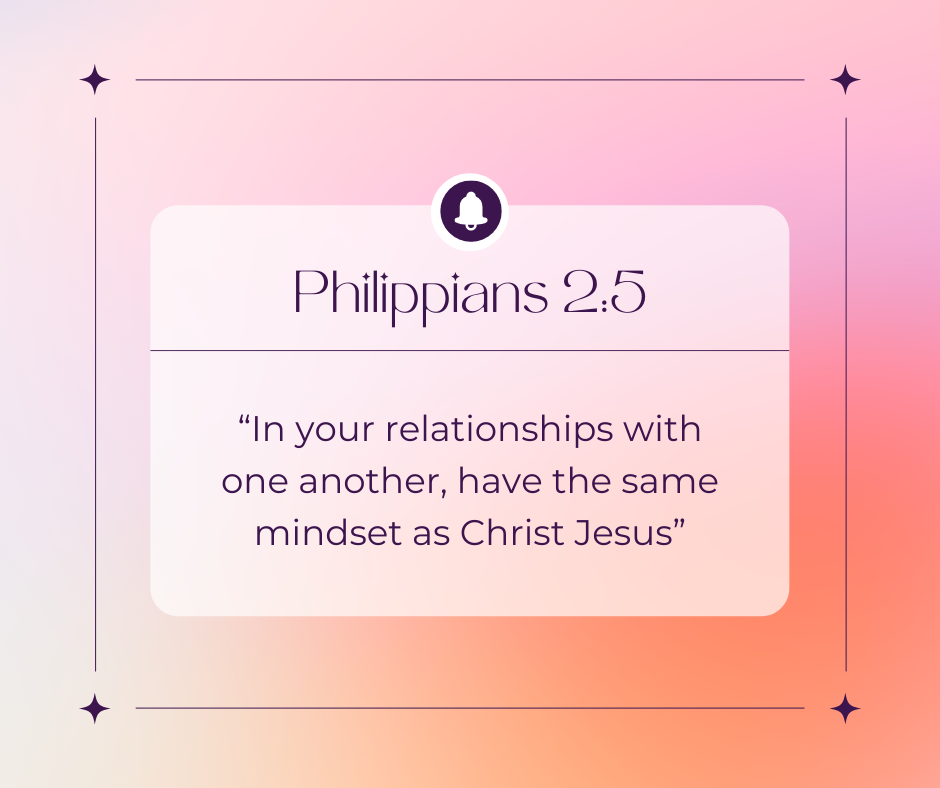 "In your relationships with one another, have the same mindset as Christ Jesus" – Philippians 2:5
The joy of the Lord is our strength and we are called to rejoice evermore, to pray without ceasing and in everything give thanks.. for this is God's will for all His children. And as believers we are called to live in unity with one another, but all too often people can deliberately or unintentionally quench our joy, causing our mind to spin out of control and our spirits to become discouraged – and so we are called to let the Word of Christ dwell in us richly and to let HIM guard our hearts.
It is hard enough when the criticism and contention comes from the outside world, but when the unity of brothers and sisters in Christ is broken through false teachings or disagreements within the body, the pain is so much greater.. but the sure remedy is to take every thought captive to Christ and to: let this mind be in us that was is Christ Jesus.
Paul was keen to identify and address disunity within the body of Christ at Philippi, for he knew that the favour, fragrance and joy that percolates from Christian unity can evaporate when unrest and contentions are aloud to fester.
Paul knew that the most effective cure for a loss of peace and a lack of joy is a mind that is focused on Christ – a mind that is submissive to the leading and guidance of the Holy Spirit – a humble mind that seeks to esteem others as more important than themselves – and so we are called upon to be of one mind, having the same love for one another and living in perfect harmony – with a singular focus.. the Lord Jesus Christ.
"Unity' of the body however should not be confused with "uniformity'. Spiritual unity is from the heart. It comes from within and is guided by the Spirit of God and founded upon the Word of God. Uniformity is a reaction to the outside pressures of a worldly mindset. It compromises the truth of God's Word and is spawned from a carnal worldview.
The joy of the Lord is indeed our strength and we are called to rejoice evermore, pray without ceasing; give thanks in all things and live in godly unity with one another – but we can only do this as we allow the Word of Christ to dwell in us richly and the Mind of Christ to inform our actions and attitudes.; our thoughts and our motives.
Let us therefore seek to keep away from contention; factions; strife and selfishness, which are so often birthed from pride; conceit; arrogance or ignorance – and let us live a spirit of lowly humility.. where we regard the needs of others as more important than our own.
Let us submit to the work of the Holy Spirit in our lives and walk in spirit and truth so that we may live godly in Christ Jesus. Let us seek to live in total dependence on our heavenly Father and in godly unity with our brothers in Christ – and let us pay heed to Paul's earnest entreaty to : Let this mind be in you, which was also in Christ Jesus. so that our words and deeds, actions and attitudes may be a true reflection of our Saviour Jesus Christ.
© Copyright [2011 – 2022] Knowing-Jesus.com – All Rights Reserved
---
For more daily reflection, verse, and encouragement, you may follow us. You can also like, follow and visit us on:
Facebook:  https://www.facebook.com/yd153
Twitter: @YD153
Instagram: @youngdisciples2020
Tumblr: youngdisciples
Pinterest: Young Disciples International