Daily Bread
Rejoicing Over One Sinner Who Repents – Luke 15:7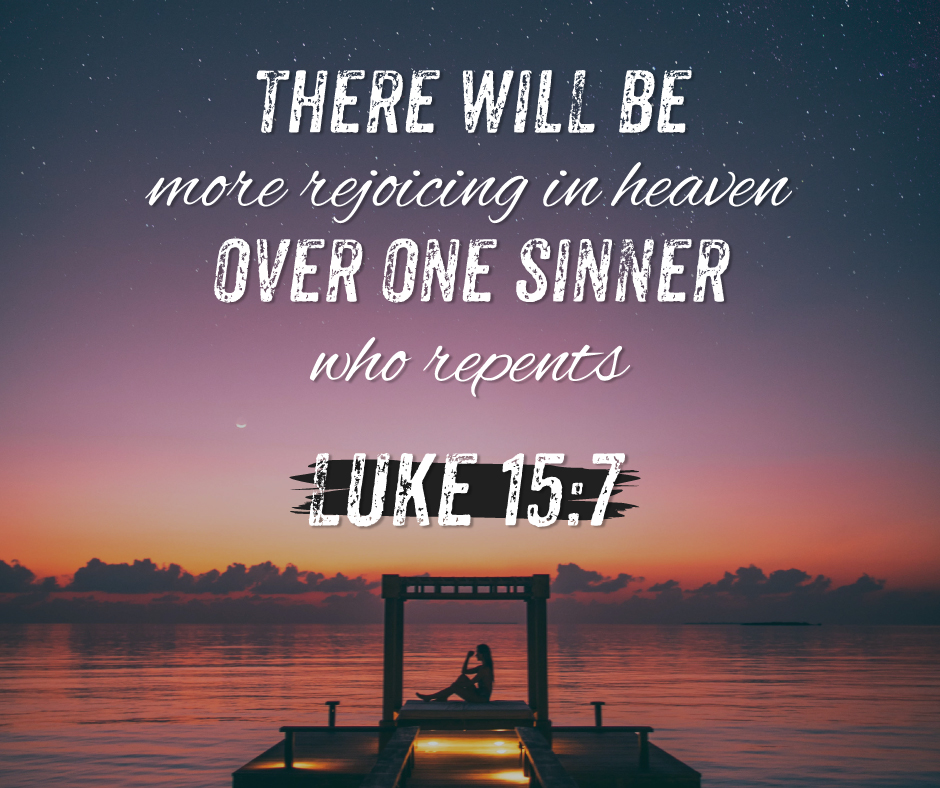 "there will be more rejoicing in heaven over one sinner who repents" – Luke 15:7
We all know that we can never truly understand the depth of God's love in our lives because in our own wisdom, we only have this sort of standards and we cannot grasp the depth of it. Yesterday, we reflected about Paul struggling with sin and frustrated because he cannot understand why he still sins. Today, we will learn something very important. Our reflection today is based on Jesus' parable that we will focus on one verse.
Jesus said that heaven will rejoice over one sinner who repents. This is such a great mystery because this just shows how much God loves us so much. We are all sinners and we always fall short on the glory of God but Jesus declared that heaven will rejoice everytime we repent. Why would that be?
Well, this just clearly shows that God wants us. He doesn't need us because He doesn't need anything, it is us who need Him but one thing is for sure, He wants us and He loves us so much. In this verse, we can see that God is really initiative. The whole parable talks about the shepherd finding one sheep and leaving the other ninety-nine sheep. Indeed, God takes the initiative in seeking sinners.
He takes the initiative to find us so that we will be able to receive our salvation through Jesus Christ. Again, we don't have any contribution to our salvation because even this, God is still the One who initiates and not us. He is very ready to leave the other sheep just to find us who are lost. Just like a shepherd who personally leads the search party, God also does the same. He will personally lead the search for those people who are lost and brings them into His arms.
God personally took all the cost of searching and that cost is so great that it took Him His life and blood. So, we must understand that God has really stretched out His hands for us. We cannot say that He just left us alone or He did not do anything so that we will be able to go to Him. We must remember that He has stretched out His hands already, to the point of letting His hand be pierced with long nails for us.
Therefore, as God initiates to search for our lost souls, indeed heaven will rejoice for one sinner who repents. God will be glorified for all the sinners who will repent for as we repent, we will develop our faith and our trust in Jesus and only through Jesus that God will be pleased.
However, we must understand that God does not need us and that He doesn't owe us anything. He did not initiate because He owed us something but because of His grace. We have to understand that it doesn't mean that heaven will rejoice for one sinner who repents, we can then think that it is our own effort and it is because God needs us. No! God doesn't need us and our repentance is not coming from us but still coming from Him. The heart to repent and the want to do the Will of God is still God's grace in our lives.
Jesus Christ did not come to the world to save us from our sins because He owed us something, but because He loves us so much that He doesn't want to see us suffer in hell because of our sins. Therefore, before this reflection started, we claimed that this verse is a loving and comforting verse and indeed it is! Because we can see that first, God initiates our salvation; second, He personally took the lead to find us who are lost; and third, He is glorified everytime we repent for as we repent we will then mirror Christ's righteousness because we will be given a new life as a new creation.
Indeed, heaven will rejoice over one sinner who repents because God knows that as soon as one sinner will repent, that person will accept Jesus as his Lord and Savior and through that, he will be able to live a new life that is already clothed in Christ's righteousness— holy and pleasing to God's sight.
So, brothers and sisters in Christ, let us together look back on the time we received Jesus Christ as our Lord and Savior and imagine heaven rejoicing because we will be united with them soon. Let us always thank God for the initiative to save us by His grace through faith in Jesus. Let us never stop praising Him with our lives because we are living sacrifices to Him. Let us help God to seek more lost souls to bring into Christ's salvation so that one day when we go to heaven, we will all enjoy eternal life that is only found in Jesus. May we rejoice everytime we bring someone to Christ. Let us rejoice with the angels and saints because God personally took the matters into His own hand and personally saved us from our sins, by His grace. 
---
For more daily reflection, verse and encouragement, you may follow us. You can also like, follow and visit us on: