Daily Bread
Praise God from Whom All Blessings Flow – Exodus 23:25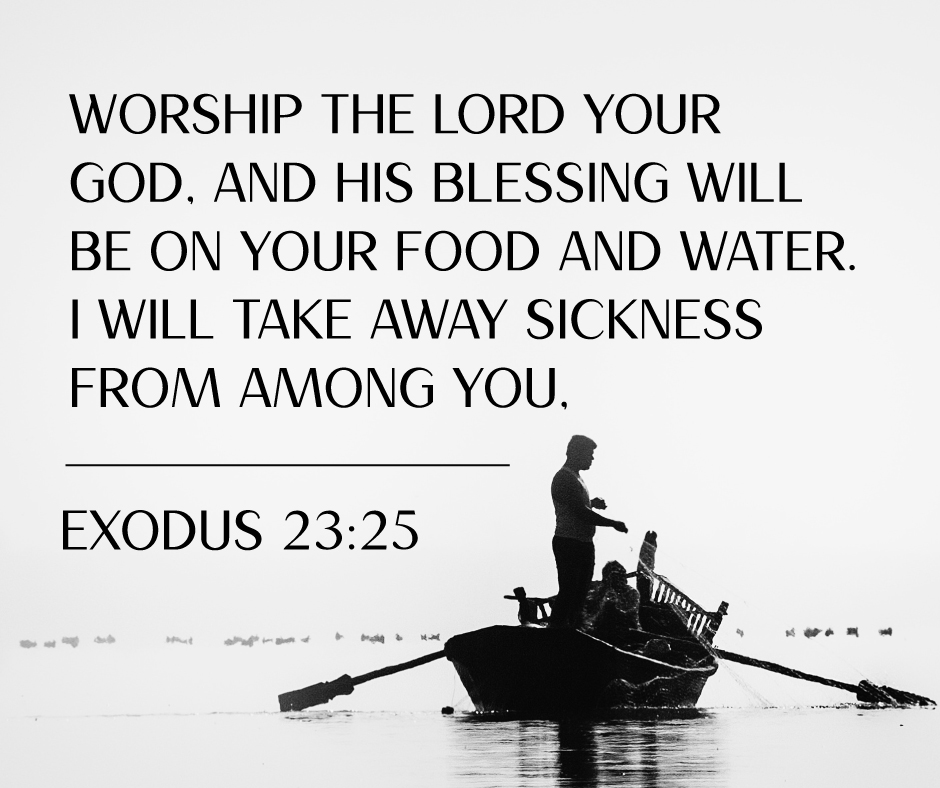 "Worship the Lord your God, and his blessing will be on your food and water. I will take away sickness from among you" – Exodus 23:25
What a best way to start this year with this reminder. As we can read in our verse today, it is a promise from God to the Israelites. A promise that will always stand long and will not be defied by time. It was a promise for His chosen people and it will still be applicable until our time. Though it was promised to His chosen people, in our times, those who accepted and believe in the Lord Jesus Christ are the people God has chosen to redeem which by all means, this promise is promised to us too.
As we welcome this new year and say goodbye to the year before, we are ushered by God's grace and mercy. We are reminded that we are not to worry for our food and water for He is the God who provides and He will take away our sickness. God is the best physician and in His name, everyone will be healed. No matter what we are suffering in 2020, He promised to heal us this year. We only have to claim it and believe in Him.
God is not a liar and what He promised, He will really do. Indeed this is a great way to start our year— being reminded of His promises and being able to know that He is the God who is always present and the God who sees all of our struggles. Since we all reflected about trials and tribulations are there to teach us patience, perseverance and endurance, now, we can already reflect that during the year 2020, we have faced so many challenges and tribulations. However, we can see how God turned those unfortunate events as His blessings and to bless us more this year.
In this year, we are more disciplined, we are more patient, we are more compassionate, we are more helpful, we are more enduring, we are more understanding, we are kinder, we are more loving and the most important thing, we are closer to God. It might be a year full of hardships, trials and discomfort but we are here now, welcoming a new year— alive and blessed.
Therefore, throughout this year 2021, we will proclaim blessings, good health, healing and restoration. We don't have to worry about anything because God is indeed faithful. He had proved to us how faithful He was last year 2020 and He will continue to show the same faithfulness to us in this year 2021, even if we are not faithful to Him. We don't have to fill our hearts and minds with worries because our living God, the One who made the heavens and the earth, the One who brought Israelites out of Egypt and brought them to the promised land, the One who restored our relationship with Him is the same God that promised us prosperity, blessings and healing today.
We don't have to fear the upcoming months of this year because we have to remember that God will provide our needs. He will provide us water and food and He will grant us healing in every aspect. Thus, we should always worship the Lord our God. We should always thank Him for his blessings and thank Him for the future blessings He will bestow upon us and to the whole world. We are to only worship the only God, the God from the ancient times, the God of Abraham, Isaac and Jacob. We only have to worship His name and we are to thank Him for His salvation. 
Prayer for the New Year: 
Our amazing God— the God who provides, the God who sustains, the God who blesses and the God who made our salvation possible through His death. We thank You for Your blessings. We thank You for Your provisions and for sustaining us for the past year. We thank You for Your mercy and grace never fails and that they are new every morning. We thank You for Your faithfulness since from the time of Israelites until now in this unfaithful generation. Lord, we claim for blessings throughout this year and we claim for healing. We pray that You will continue to provide us what we need just like You promised in Your Word. We pray that You will continue to sustain us this year and remain faithful to us. We ask for Your healing to the people who are having illness in any ways and for the healing of the whole world. We pray that You will put a stop to this ongoing pandemic and that everything will be alright. We ask You to be merciful and gracious to us, oh Lord. We pray that more people will come to know Your truth and will come to the knowledge that You are indeed the only God. We pray that You will continue to remind us of how important it is to meditate on Your Word. Grant us the protection we need; the healing we need; the grace that we need; and the love that we need because only to You we will find this. We ask all of this in the name of Jesus Christ our Lord and Savior. Amen!
---
For more daily reflection, verse and encouragement, you may follow us. You can also like, follow and visit us on: