Daily Bread
Our Lives are the Living Sacrifice – Romans 12:1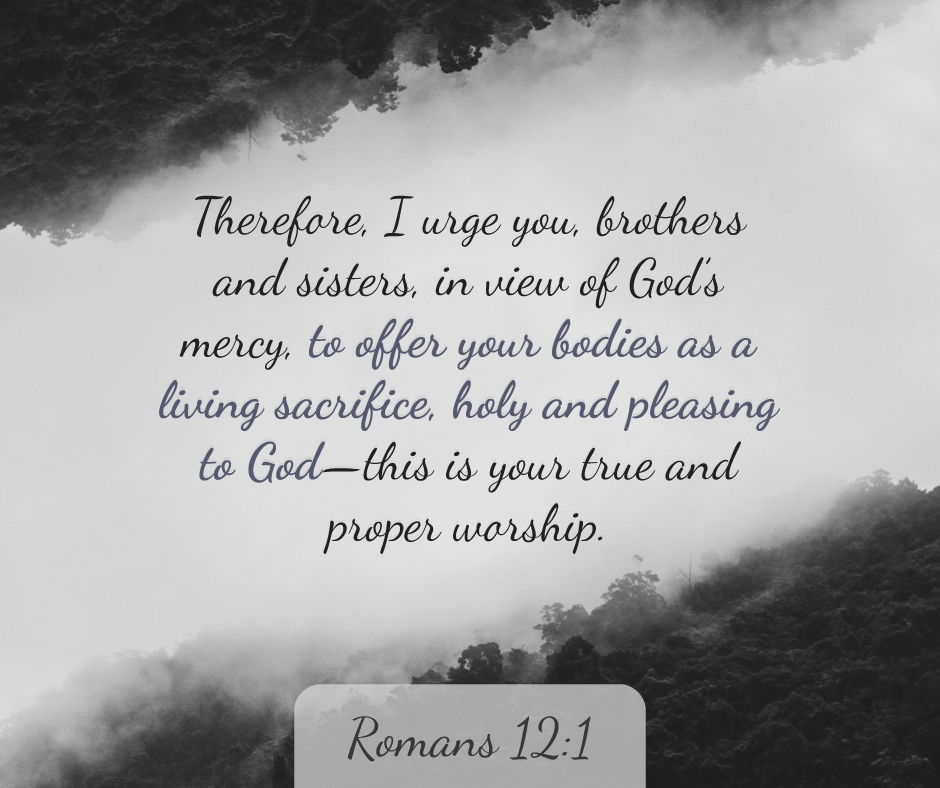 "Therefore, I urge you, brothers and sisters, in view of God's mercy, to offer your bodies as a living sacrifice, holy and pleasing to God—this is your true and proper worship." – Romans 12:1
Paul started this chapter with a verse on how we should apply all his teachings from the past chapters of Romans. It is like starting a book with the ending of it which already gives out the moral lesson of the story. For some reasons, Paul used this technique so that we will know the importance of application in our lives. As we read Romans chapter one to eleven, we will see his advice and teachings, thus starting this new chapter with an application was really the best way for us to remember this.
Most of the time we think that receiving Jesus Christ as our Lord and Savior is already enough for us to have our salvation. Well, it is indeed enough, for we are saved because of His grace through our faith, not because of our works. However, through this verse we can reflect what it really is to become a Christian. What does it mean? Does it mean only receiving Christ as our Savior? Or is it something more deeper? 
God is very clear with His instructions and the Bible doesn't contradict itself. So, we must really understand what God meant with this verse. Paul did not write this as a command but a reminder for God doesn't want forced service but He wants us to freely, willingly and by our own accord serve Him. So, this is not a command but a reminder for us Christians who really claim that we are Christians. We must offer our lives as living sacrifices, holy and pleasing to God.
Meaning, God did not want to force us to do this but He is telling us that true Christians know the depth of His salvation. True Christians understand how much the salvation cost and true Christians understand what it means to become a Christian. Being a Christian is not only just declaring that we believe in Jesus but it is living what we believe. It is becoming a disciple of Christ in which we follow His footsteps and we live our lives Christ-like.
A disciple is someone who learns from a teacher but a true disciple is someone who follows and imitates his teachers. Therefore, God wants us to understand this verse as an application of being a true Christian— a true disciple. Being a true Christian and being able to understand the depth of God's salvation should really manifest in our lives. Yes, God did not save us because of all the righteous things we have done because no one is righteous, it is all because of His grace and mercy. However, if we are not living our lives as a new creation and as people who claimed that are saved and still living their lives like people who have not yet been saved, then we must reassess ourselves again. 
During the old times, people sacrificed dead animals— clean, untouched, unblemished animals to God to please God. Now, God already received our atoning sacrifice which is our Lord and Savior Jesus Christ and that He already forgave us. So, as a response, instead of offering Him dead and clean animals, He wants us to offer our lives as a living sacrifice— not dead but living so that He may be able to use us for His purpose. 
God is not a selfish God. He did not say this because He wants to control us like robots, but He wants us to understand that our sinful nature will always crawl back to the surface. We claim and believe that we are saved by grace through our faith in the Lord Jesus Christ, thus living as a new creation should be our goal. However, God is an all-knowing God and He knows that we will have a hard time doing this for our sinful nature will always try to win us back again, so He wants us to live our lives as a living sacrifice so that He will be able to mold, guide and bring us to his path always.
Living as a living sacrifice for God means that God has already set us apart. He has called us holy and righteous because we have been clothed by Christ's perfect righteousness. So, being able to do this means that we have to submit to Him. Complete submission must really be part of the equation. We cannot live our lives as a living sacrifice to God without submission. We are rebellious by nature and we don't like to submit so if we continue to claim that we are living as set apart people but not submitting, you are just like procrastinating because all efforts are just useless for we will just crawl back to our sinful life.
So, as people who claim to be true Christian and a disciple of Jesus, we must live our lives as set apart people— holy and pleasing to God's eyes for this is our true and proper act of worship. We are indeed saved by grace through faith in our Lord and Savior Jesus Christ, but true faith will have a manifestation— a transition from darkness to light. May we always remember to do this and to ask God to always guide us. May we be able to submit everything to God and live our lives as living sacrifices— ready to be used for the glory of God and for the spreading of His Gospel. 
---
For more daily reflection, verse and encouragement, you may follow us. You can also like, follow and visit us on: