Daily Bread
Obey God's Plans – Matthew 1:24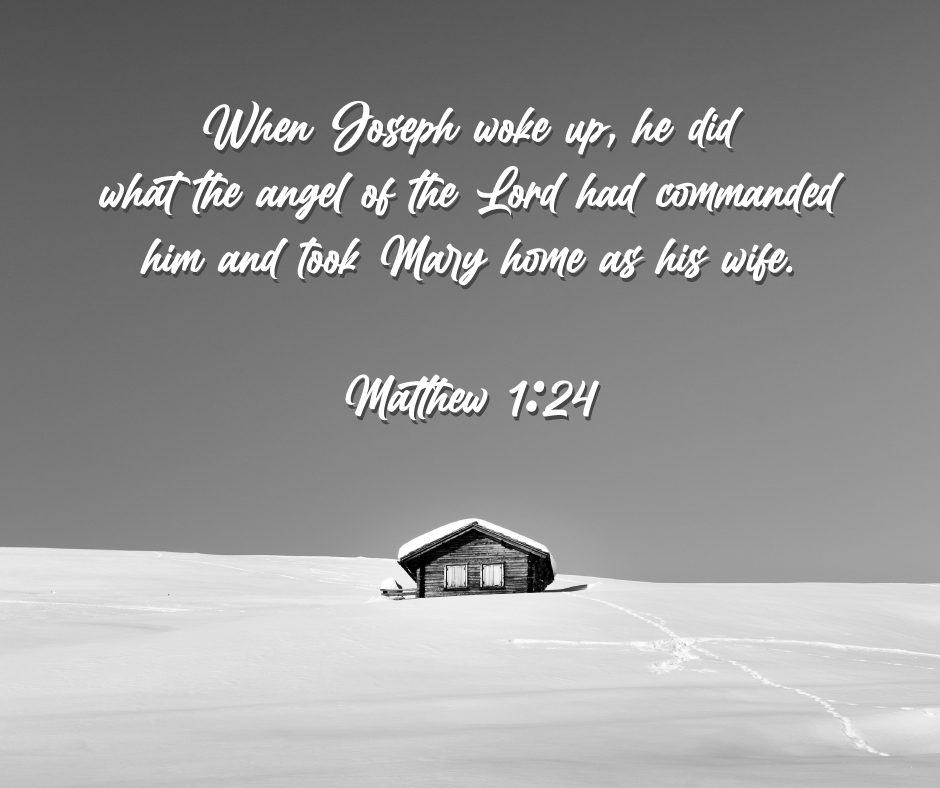 "When Joseph woke up, he did what the angel of the Lord had commanded him and took Mary home as his wife." – Matthew 1:24
For the past reflections, we have been studying the part of Mary on the time that Jesus was born. It was indeed hard for Mary because of the persecutions and shame she received when people learned that she was pregnant before she got married to Joseph. It was taboo in their time. Betrothed people should use their waiting time as their personal time where they are expected to honor their partners and it was treated as part of their marriage contract.
Now, Mary was not the only one who was having a hard time. Not only the struggle of being both parents but as a man, Joseph struggled too. In our modern time, usually men envision themselves and their future family before they married someone. They got plans, outlines and deadlines to follow. That is just the same with Joseph— he has plans and deadlines too. He envisioned his life together with Mary too and had so many plans about their future.
Who would not get angry? Who would not feel betrayed? Who would not back down? Who would not feel frustrated? Even us, when something out of our calendar will happen, we get so frustrated and even mad. We feel so bad and we are easily irritated because we think that our plans are destroyed because of an unpredictable event. Anything that will disrupt our plans, schedules and calendars will really make us furious. So, that is what Joseph felt. It must've been a very frustrating event. God intervened in his plans and has disrupted everything. Yet, God sent a messenger to tell him to accept Mary.
So, on our verse today, we can see obedience and trust. Joseph might've felt so frustrated and angry at one point but his obedience shows how much he trusted God. He knows that God has a purpose for everything and he willingly accepted the disruption as God's intervention to bring him to a better place. He did not let his emotions win and trust God's way. As we read the verse, Joseph's obedience was really remarkable and hard to imitate too because he instantly took Mary in his home as his wife.
We can see in this story that there are really times that God will disrupt our plans. There are really times that He will stop what we are planning because He has better plans for us. Just like Joseph, we should also obey Him and trust Him fully. Though it will be hard and frustrating but once we truly surrender our lives to God, we should let Him rule over our lives and that includes our plans and our future. There will be so many times that God will really disrupt our plans and He will really intervene because He knows what's best for us.
In this time of Christmas, there may be so many plans that are put on hold because of some reasons, but we should see it as an intervention from God in which we can benefit from it in the near future. Just like how God intervened Joseph's plans, to save them from their sins through the baby Jesus whom Mary was carrying. It was for the benefit of all mankind, the disruption and the delay was for the benefit of all people.
Therefore, let us not run away from God because of our delayed plans that He disrupted but let us thank Him for His intervention and for having better plans for your life. We should thank Him because He moved heaven and earth just to come here and saved us from our sins. We should always remember to be like Joseph whose obedience is great and who trust God more than to trust his human plans. May we always remember to praise God for His salvation forever.
---
For more daily reflection, verse and encouragement, you may follow us. You can also like, follow and visit us on: