Daily Bread
No One Who Does Good – Psalm 53:3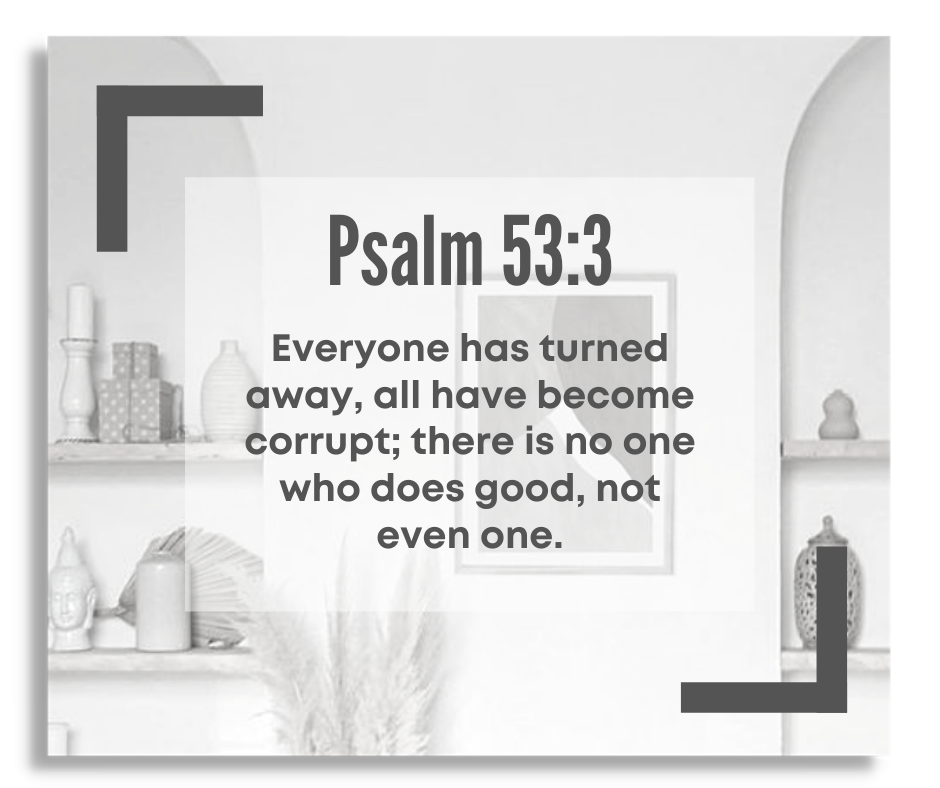 "Everyone has turned away, all have become corrupt; there is no one who does good, not even one." – Psalm 53:3
They say that our God is a boring God who does not have any humor. However, our verse today might be so important and serious, we can read that the prior of this verse is somewhat a little bit humorous. God poetically or rhetorically said to be searching to see if anyone is willing to fully follow Him. But then, He answered this rhetorical question with a firm answer saying that there's really no one who does good, not even one. 
Through this verse we can also remember what Paul wrote in one of his letters about no one is righteous, not even one. Indeed! There's no one righteous, not even one. Many have claimed that they are good, that they are righteous and deserving but in the sight of God, no one is righteous. Whatever we do, whatever we say, or whatever we sacrifice, it is not enough for us to be branded as good people. 
We are all unworthy and sinners. We deserve the wrath of God and there is really nothing we can do to make us escape His wrath. Our sins will really crawl out from our mouths, from our actions, and from our desires. All we can say is evil, all we can do is evil and all we desire is evil. Although we say that we helped a lot of people, and have given so much money to charity, we all know that there is always a deeper motive for our "good actions". Thus, God will still not see this as good, but still a selfish act. 
Therefore, this confirms the statement of God that no one does well. Even if we say we are good or other people will vouch for us, we are still not good. We sin every day, and we disobey God every day so we are not good. No one can follow God fully because we are sinners, unholy, and dirty. Now, the good news is that Christ has saved us and cleanse us from all unrighteousness. God has given us a chance to be born again so we can be good, holy, and clean. 
Through Jesus Christ, we are now born again so that we will be called good and righteous. Again, it is through the work and action of Christ, not ours. If it is only depending on our actions, we will never be good. However, since it is because of Christ's actions, we are made holy, good, and righteous. Therefore, even if we naturally seek for the unholy acts, may we always focus our minds on Christ. Let us look straight to Him so that He will be able to make us good. 
Our main goal should be to be someone whom God can be called good and faithful because He is seeing Jesus in our lives. Not because He sees us, but because it is Jesus whom He is seeing in us. May we all be filled with Christ's likeness and righteousness so that we will be able to stand in front of the Father, having Jesus inside us.
---
For more daily reflection, verse and encouragement, you may follow us. You can also like, follow and visit us on:
Facebook: 

https://www.facebook.com/yd153

Twitter: @YD153

Instagram: @youngdisciples2020

Tumblr: youngdisciples

Pinterest: Young Disciples International