Daily Bread
Loving is Obeying – 1 John 5:3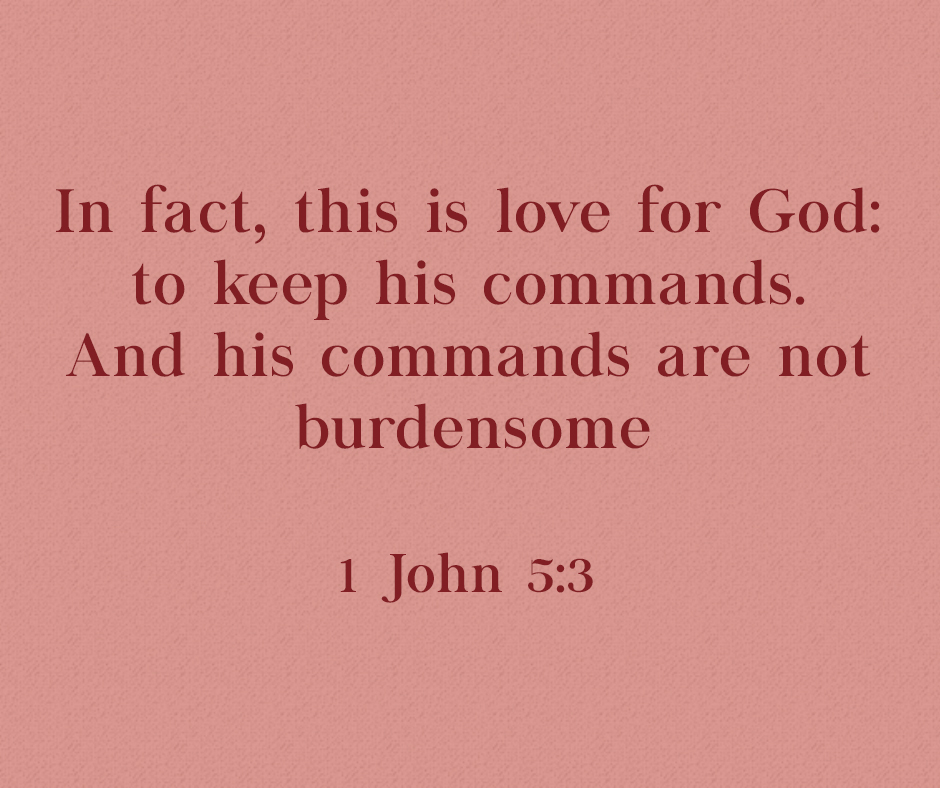 "In fact, this is love for God: to keep his commands. And his commands are not burdensome" – 1 John 5:3
The Gospel of Christ is so simple and clear that even little children understand that Christ died for them and saved them from their sins. It is so simple because the sole message of it is the sacrifice of Christ for us so that we will not be condemned. However, so many people claim that once you become a Christian it becomes so hard and it is very heavy for you to follow many instructions.
Yet, once we hear of these testimonies we can then ask these questions: Are they really Christians? Why is it hard and heavy if you live your life following Christ and obeying Him because you already know that you need Him? — Well, maybe the right answer for that is those people who have claimed that Christian life is nothing but instructions have never truly understood the real meaning of it.
In our verse today, John wants to remind our rebellious and stubborn hearts that as Christians we are ought to keep His commandments and His commandments are not burdensome. When we hear a lot of people giving testimonies about how hard it is to become a Christian and to obey God, we have to remember that obedience to God's commandments will not bring us our salvation but it is the product of His salvation. We have to understand that our obedience does not come from the desire for us to have our salvation but it should come from the love we have to God.
As sinful as we are, we deserve eternal condemnation. We deserve the wrath of God but because of His grace, mercy and love, He has saved us and paid for our debt. So, we can now be saved through faith in Jesus because of His grace. No amount of good work will ever do us any good because our redemption is only by grace through faith. Thus, as we receive Jesus Christ as our Lord and Savior, it will be out of gratefulness that we will obey Him. We will obey His commandments because we now understand that even if we don't deserve His favor, He still has given us His favor.
Therefore, our faith in Christ will make us obedient to the commandments of God possible. Indeed it is hard for we will always be fighting our old self. However, it is not burdensome for Christ has taken all the burdens from us. He has already carried the burdens in our stead. Thus, following the commandments of God is never burdensome but it should be our joy to obey. Again, obedience shows love towards God just like how children obey their parents because of their love for them. We, too, ought to show obedience to God for it is our way of showing we love God.
So, we must always remember that obeying the commandments of God is never burdensome. It will naturally come out of us once we truly understand what God did for all of us. His commandments should not make us run away from Him, but it should bring us closer to Him. After all, His commandments are all for our betterment. God always seeks the best of us. Therefore, He has given us these commandments for us to follow so we remain in Him.
May we not forget about this truth and always put in our hearts that it is Christ who has paid for our sins. Not us, not our good world but it is Christ's sacrifice. Therefore, let us obey God and never think that His commandments are burdensome. God has shown us His love through the sacrifice of Christ, we are also ought to show Him our love through obedience.
---
For more daily reflection, verse and encouragement, you may follow us. You can also like, follow and visit us on: