Daily Bread
Love Made Perfect – 1 John 4:12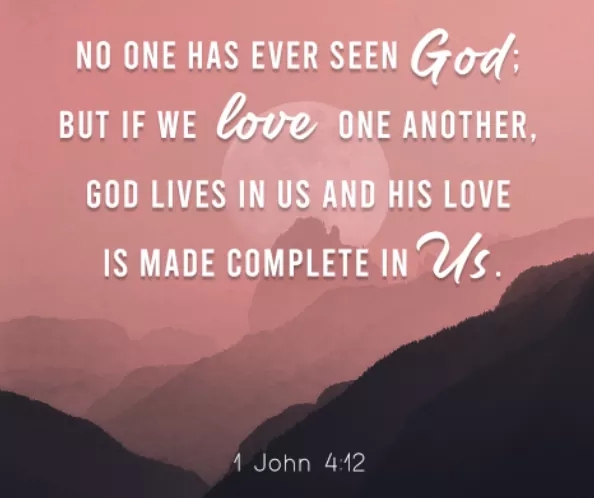 "No one has ever seen God; but if we love one another, God lives in us and his love is made complete in us." – 1 John 4:12
Most people nowadays are very excited to celebrate Valentine's day. People are very excited because it is the heart's day and usually on this day, people are going to celebrate it with their loved ones and almost all people will receive gifts as one way to show how much their partners or family love them. However, most of the time we really have the wrong mindset about love. We tend to think that love can be shown through gifts, through saying "I love you" and even through sex.
In our verse today, we are now reminded about true love. John particularly said that we have not seen God, not His full divine presence. Instead, John then carefully said that but if we love one another, God lives in us and His love is made perfect in us. For indeed God is love and if we love, we have seen Him already. We can then ask, if this is love, then we are already seeing God because we are loving the people around us already? Well, in that case, we have to first understand what God meant by this love.
This love is not just the trivial love we know. It is not just the romantic love we feel towards our partners, or the familial love we feel towards our family or even the love for yourself and for our friends. What God meant by this love is the sacrificial love. The agape love that only God can give through Jesus Christ our Lord. What God wants us to understand is that if we love one another with this kind of love, His love is made perfect in us. However, we can never achieve or give this love to others without having it in the first place.
Just like the famous quote says, "We cannot give what we do not have." Therefore, this love, this deeper and true love can only be given if we already experience it and the only way to experience this true love is through looking at the cross and looking straight to what Jesus did for us. This is what God meant when He said that His love will be made perfect in us if we love each other with the love that Christ firstly showed us. Again, He is referring to the sacrificial and unconditional love that can only be found in Christ and in that way, we can then extend it to the other people. Thus, we are then perfected with God's love in us.
However, on the other hand, we also have to remember that this love God is referring to is not toxic and not a love that tolerates sins. We have seen God through Christ for He is God and what Christ has done for us was to save us from our sins and that is the love God is referring to. We cannot say that we are loving someone but we tolerate his or her sins because we love them. But true love rebukes and saves. Since it is very unconditional and sacrificial, it will give us the will power to rebuke each other with gentleness and kindness. We have to understand that loving is not only accepting one's flaws but it is also correcting.
Therefore, God wants us to understand that His love can only be perfect in us if we love one another truthfully, mirroring Christ love for us. Not toxic, not the one that tolerates sins but correcting, dwelling in righteousness, sacrificial, unconditional and truthful. May we always remember that the only way for us to truly love someone is through mirroring Christ's love that we first experienced. We can never love someone or other people right without knowing the real love in the first place. Thus, gifts, actions or sex can never prove your love but introducing them to Christ and caring for their salvation is the highest form of love we can give to them. May we be reminded by this wonderful love this valentine's day and may we always remember that as we celebrate the heart's day, Someone already has given His life for us and has proven His love for us on the cross. We don't need to find more than that.
---
For more daily reflection, verse and encouragement, you may follow us. You can also like, follow and visit us on: