Daily Bread
Living by the Truth – John 3:21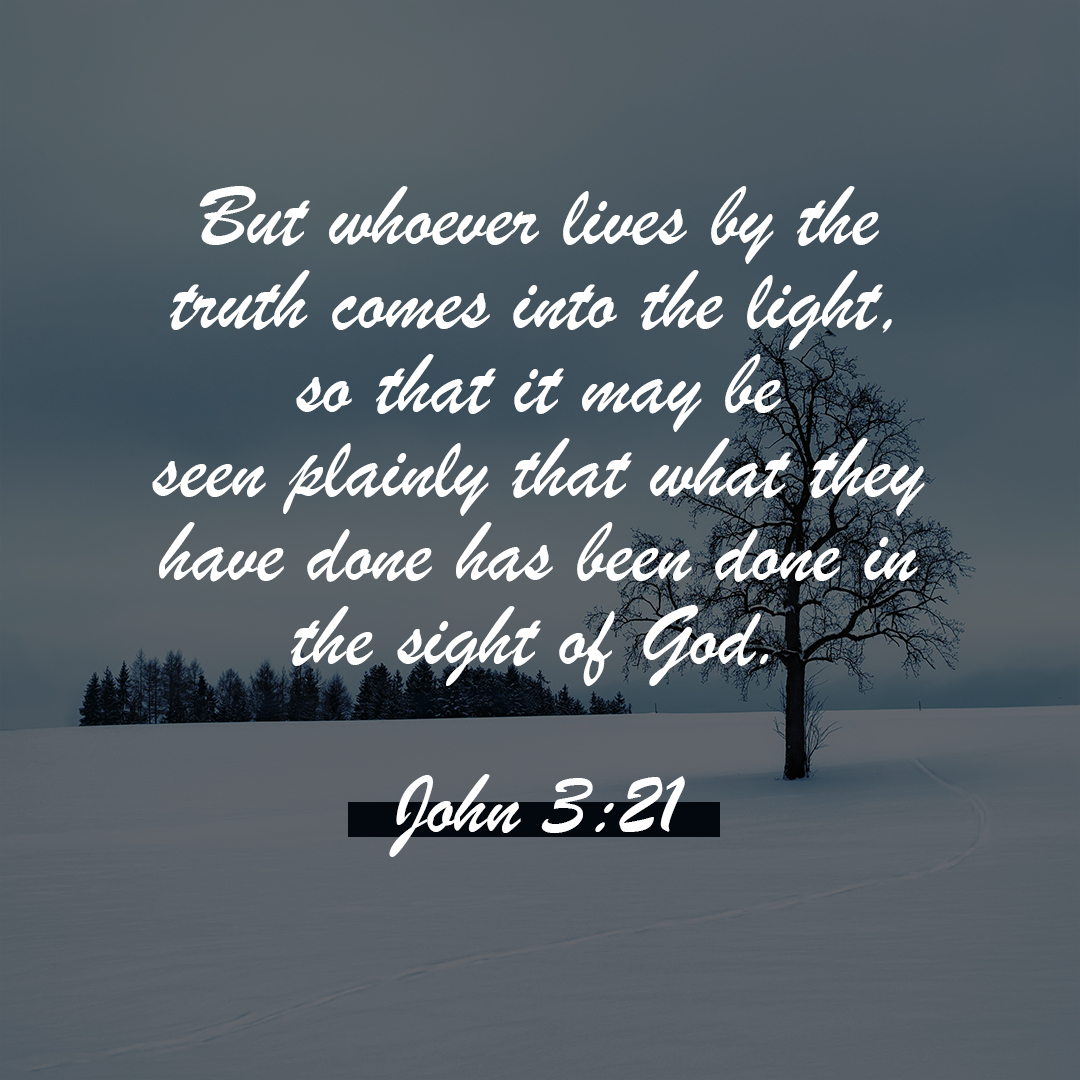 "But whoever lives by the truth comes into the light, so that it may be seen plainly that what they have done has been done in the sight of God." – John 3:21
It's actually a fun fact that as normal people, we tend to clown ourselves. There are people who are doing their best to hide their bad attitude and there are people who really tend to purposely show their worst side just to hide their good side. Either way, both of these kinds of people are fooling themselves. Both of them are pretending, however, we cannot blame them because we know deep inside us, we are pretentious. Either we pretend that we are good, or we pretend that we are bad to be called good but really bad deep inside.
Now, our verse today is knocking a good sense out of us because it shows us our pretentious side and the side that we cannot attain. The preceding verse talks about those people who do evil things will never come to light because they don't wanna be exposed. While our verse today talks about how people who live according to the truth will have no problem standing before the light so that their doings are seen plainly, and what they did was has been done in the sight of God. Yet, we have to assess that we are no good. There are also no good people. We all have our own different agendas hidden deep inside our hearts. 
So, what did God mean by this verse? If we are all sinful, and there are no good, who is God referring this to? — We have to know that this verse does not necessarily mean those people who are only good. Let us take note that John wrote. "Those people who live by the truth". Thus, this proves that he does not necessarily mean only those people who are good, but those people who live by the truth. It means those people who live according to the truth, even if they are sinful. Now, since our truth is Jesus, so those people who live according to Him even if they are sinful, they are now made righteous through Him and that by doing so, they can stand before the light. 
Although their pasts are exposed, they are not afraid because they are already living according to the truth and they know that they are saved, made righteous and holy through Jesus Christ– the light Himself. Therefore, we must understand that being in the light will also mean living with the truth. So, let us stand before the light and let God see what we do. After all, we are saved by grace and we are called to live a holy life. Let us not be afraid to expose ourselves and that even if we did horrible things. Our past may have become part of us and as Christians, it is our testimony of how God made our lives turned upside down. Darkness is our past and now we are saved so we can live according to Christ's righteousness. May we continue to walk in the light and be part of those people who stand before the light.
---
For more daily reflection, verse, and encouragement, you may follow us. You can also like, follow and visit us on:
Facebook:  https://www.facebook.com/yd153
Twitter: @YD153
Instagram: @youngdisciples2020
Tumblr: youngdisciples
Pinterest: Young Disciples International