Daily Bread
Justified Through Faith – Romans 5:1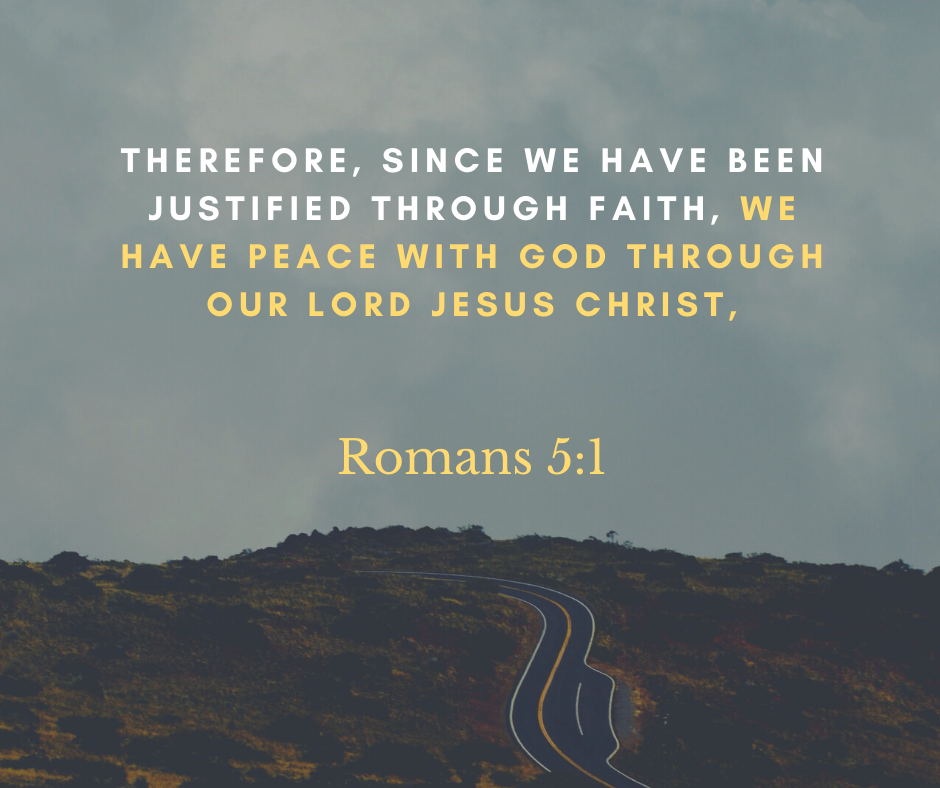 "Therefore, since we have been justified through faith, we have peace with God through our Lord Jesus Christ" – Romans 5:1
One of the famous camp songs in history is taken from this verse. Yet, most of the people who knew the song did not even know which part of the Bible it was taken from. Also, most people who sing it don't even understand the meaning of it. Now, as we reflect on our verse today, we have to understand the context behind it. With this verse, we have two types of people being shown in here.
However, we must understand that in this early chapter of Romans, Paul wrote about how sinful human beings are and that the enmity between man and God is real and deep. From chapters one to four, Paul pointed out that we are really incapable of winning our salvation. Perfecting the law is impossible for us. We can never perfect it for breaking one of it is the same as breaking all of it. Now, God is gracious and merciful and nothing is impossible with Him, so He personally perfected these commandments for us so that whoever who believes in Him will be included in His victory and will be able to have eternal life with Him.
So now, there are two types of people shown in this verse. First, Paul directly wrote this for people who are already Christians. Meaning that the transition from darkness to light has been completed. When he wrote "we", he was referring to the Christians who already believed and followed Jesus Christ. The moment that we receive Jesus Christ as our Lord and Savior, our faith has been placed in Him and that by His grace we are saved. We are then justified through faith because of His grace. When we say 'justified' it means that our crimes have been dismissed already. We are already made right with God.
If we are already made right with God, thus the restoration of a broken relationship comes after. How come there is a broken relationship? — There was a broken relationship because when we go back to the story of the first fall of man in Genesis 3, we can see how our close relationship with God has been broken. Before Adam and Eve disobeyed God, they still had the chance and the opportunity to walk with God. The Bible said that they walked with God that means they literally walked with God on their side in the garden of Eden. Now, as they disobeyed God, they have distorted and destroyed the close bond between them and God. They even hid away from God. So, that one mistake has opened the gates of opportunities for sin to enter the world and to hold us captive for all the years in our lives and the wages of sin is death (Romans 6:23).
Hence, as our broken relationship with God does not stop Him from loving us, He sent His Son to die on the cross for us and for our salvation. Since Jesus Christ has already been sacrificed and that whoever believes in Him will not perish but have eternal life (John 3:16), we are then now justified with God and our broken relationship has been restored. After our broken relationship has been restored, we will then have peace with God. This peace doesn't mean no more anxieties or no more urges to sin or no more pain but this peace means that the ongoing war between man and God because of sin has ended. It means that God has accepted us into His holy family but this is only possible if we believe in Christ's death and resurrection. The peace that we will have is the serenity in the midst of mental problems, financial problems, health problems and spiritual battles for we know that God will always there to help us out.
Now, the second type is the people who still don't believe or know Christ. Paul has shown through this verse that those people who still don't know Christ don't have this privilege. They are still not justified and they are still going to receive eternal condemnation because of all the sins they made. The enmity between them and God is still present for God hates sins. So, as they continue to sin, they are putting themselves on the list of those who will be suffering in hell. However, Paul wrote this for the believers as the assurance that we are already justified and have peace with God but this is also an encouragement and reminder for those people who are still doubting to believe and receive Jesus.
God wants to show everyone who still has not accepted His salvation that once they will receive Jesus in their life, they will be justified through faith because He is gracious. No amounts of good works will be able to make us justified because it is only through faith. Therefore, God wants us to understand that He wants to make peace with us (not that He is in need of us but because we are in need of Him) and we can only have this peace through Jesus Christ our Savior who stands as an advocate between us and the Father.
Therefore, let us encourage one another to continue in the faith and to continue to offer our lives as living sacrifices to God. Since we have peace with God already, we can then say that we can do everything for God will strengthen us (Philippians 4:13). Let us always remember that we are already justified and that we will not receive any condemnation. May we always become people who are deserving of this Gospel and let us live our lives pleasing to God's eyes, still only through our Lord and Savior Jesus Christ. 
---
For more daily reflection, verse and encouragement, you may follow us. You can also like, follow and visit us on: