Daily Bread
Joyful in Hope, Patient in Affliction and Faithful in Prayer – Romans 12:12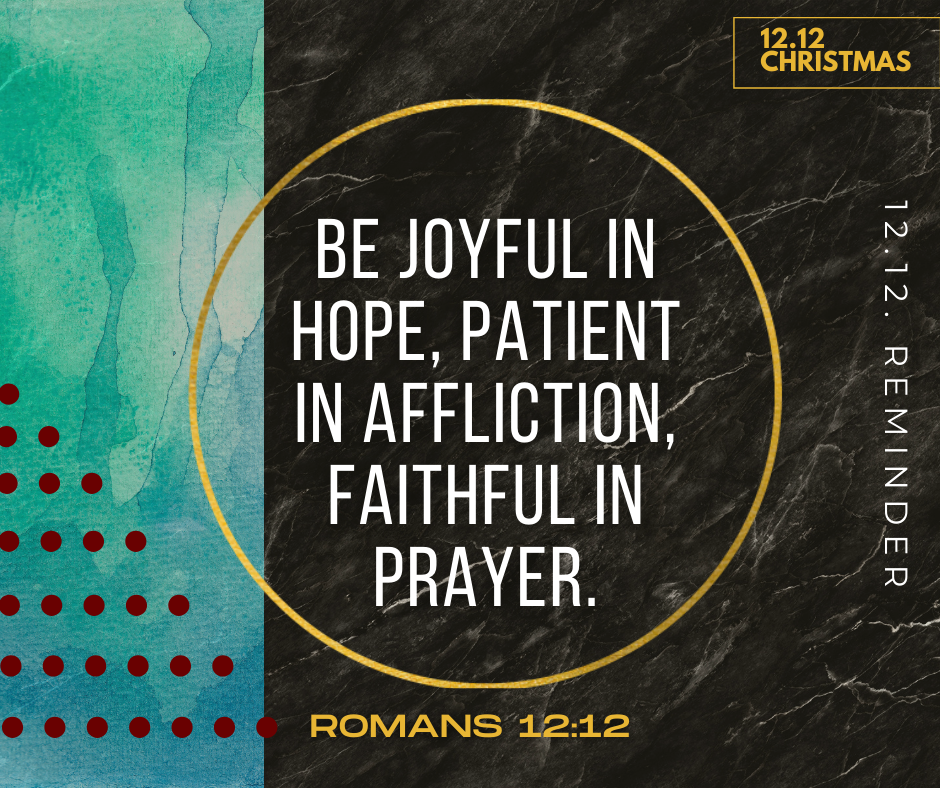 "Be joyful in hope, patient in affliction, faithful in prayer." – Romans 12:12
We have been learning the whole chapter twelve of the book of Romans these past few days. We know that Paul has been writing these lengthy letters to the Romans to give them instructions and addressing all of the conflict they will face and how they should live their lives as Christians. Now, as the chapter draws near and after telling everyone on how they should love, Paul sums up all that is necessary to live a life that is pleasing to God's eyes.
Paul was really fond of giving instructions in three steps that the others cannot stand without each other. We all know that as we love people, we should be sincere, unconditional and unlimited. We should not fake our love and be hypocrites about it. Now, this verse sums it all up for the love that we will be giving to the people we know runs back into these three instructions Paul gave to us. Through Paul, God wants us to be joyful in hope, patient in affliction and faithful in prayer.
When we say "joyful in hope", this does not mean that God is forcing us to be happy in everything and in every way but God only wants us to have the right perspective on our situation. This is a command for us to be joyful as we hope for the Lord. Being joyful does not necessarily mean that we have to be happy in everything even if we have experienced all horrible things but it is all about rejoicing even if we are undergoing a horrible situation. When Paul said in the next verses that we should rejoice with those who rejoice and mourn with those who mourn, it is evident that God is not invalidating our feelings. He just wants us to see the good side of every situation and see how He will make that disappointment His appointments.
Also, as we joyfully hope for the Lord, this means that we should have that immovable and unwavering hope for the coming of the Lord. We should have our hope placed on God alone and have that assurance in His Word as our sole authority that enlightens us on how God died for us. Through this, we will again be assured that we have a place in heaven, waiting for us as we continue to venture our lives in this cruel world as Christians who are clothed in Christ's righteousness and love. So, this is why Paul tells us to be joyful in hope because with this assurance we have, no matter what situation we are in, we are hopeful and trusting God that He already saved us from our sins and that we will be with Him in heaven when the right time comes, thus this always deserves rejoicing.
Next is, when God said that we should be patient in affliction, this means that we have to understand that we will really have tribulations in this world. God promised to have our back always and to never leave us but He did not promise that once we became Christians we won't have tribulations. However, He promised that in every tribulation and afflictions, we will have our victory. Therefore, as we joyfully hope for His coming, we should be patient in every affliction. Being patient means a great strength of denying oneself of anything that will keep him or her from giving up, so it is hard to follow. Yet, God wants us to be patient and wait for him.
We have to understand that being patient in every affliction means trusting God that His grace and strength is sufficient for us. It is also a great trust to God for as we control ourselves not to surrender, we are also trusting God's mighty power to deliver us and to make us victorious in our tribulations. Meaning, we have to always be reminded that He has won the victory over sin and death, so there is nothing God cannot overcome. So, we are in him, therefore He abides in us too and with that assurance, we can say that we will have victory over anything and that we just have to be patient and wait for God's right timing.
Lastly, Paul reminds us to be faithful in prayer. Now, this part is very essential because we can never do the other too without this. Well, maybe we can but we don't have enough sustainability to be faithful in those commands without this. Being faithful is indeed hard because only God can always remain faithful to us but us to Him? No, we can never perfect that because our hearts are always waiting for something better or something more that we don't realize that Jesus is already the upgrade and the 'more' we are looking for. So, Paul wants us to always pray and not just pray but be faithful with it.
As one famous Christian quotes said that prayer should be like breathing in a Christian's life. Meaning, being faithful means always and constant. Constant connection with God through prayer can indeed equip us into battling spiritual attacks from the enemy. Once we are joyfully waiting for the Lord and being patient in every tribulation, the enemy will always try to attack our prayer life because he knows that without praying, we are just going to be sift easily (though God is not leaving us alone) because we are easily distracted and we easily walk away from God, not God walking away from us.
We are ought to always pray and pray without ceasing. We are ought to faithfully pray to God always in the name of Jesus Christ because through this constant communication with God, we will then build an intimate relationship with Him through the Holy Word of God. Therefore, we should always remember these three commands Paul has carefully instructed us and follow this for this will really be pleasing to God's eyes and always remember to do everything in His Will and in Christ's name.
May we always be joyful in hoping for the coming of the Lord as we have the assurance that we are saved through Jesus Christ. Let us always remember to be patient in every tribulation we will face because God's mighty power is in us and His grace is indeed sufficient. We should also always remember to pray always as prayer deepens our connection with God through His Word. As you rush in for the 12.12 sale, may you also put in your cart the joyful hope for Christ, the patience in tribulations and the faithfulness in praying that really need to be shopped from the gifts of God.
---
For more daily reflection, verse and encouragement, you may follow us. You can also like, follow and visit us on: