Daily Bread
Jesus the Overseer and Shepherd of Our Souls – 1 Peter 2:25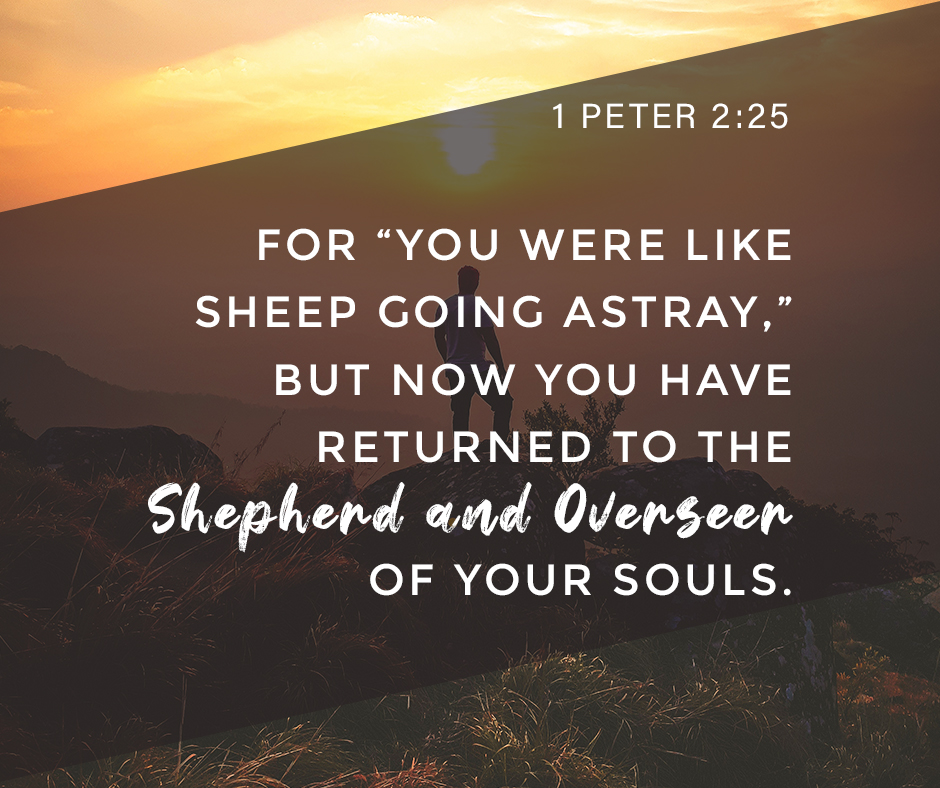 "For "you were like sheep going astray," but now you have returned to the Shepherd and Overseer of your souls." – 1 Peter 2:25
We always have this basic mindset about who Jesus is in our minds. When we are asked who He is, we often answer that He is our Savior, our Lord, our Redeemer, our Sacrifice or He is the One who suffered on the cross for all of us. Admit it or not, oftentimes, we just see Jesus as our Savior and nothing else. We see Jesus as our sacrificed lamb so that we will be with Him in paradise without having to pay for our sins.
Ain't it sad? This just shows how we abuse God's goodness and how we don't give importance to anything that doesn't benefit us. If it's rules or commandments that we need to do, then we don't concern ourselves with that because we hate following rules but if it's something that will save us from hard situations, then we love to cling to it.
Now, our verse today is a big reality check for us. Peter wants us to understand that Jesus is not only our Savior but He is also the Overseer of our souls. He takes care of our souls and guides us to the path of righteousness. Jesus is not only our sacrificial lamb that ends His role the moment He died and rose again, Jesus is our God and He takes care of our souls and always brings us back to His presence every time we wander astray. He is our Good Shepherd who ushered us into green pastures safely and shields us from the attacks of the wolf (the evil) who wants to steal, kill and destroy us.
Also, Jesus is our perfect example here on earth. The moment He died and rose again to save us and the moment we received Him as our Lord and Savior, He has given us new selves that we will live with in accordance to God's will and have the desire to always obey God. So, Jesus is our example on how to live our lives who are now dwelling in the holiness of our God because of His. grace. Jesus loved us so much that He died for us, and when we were still at enmity with God, He still displayed His love through dying for us.
Therefore, we should not only see Jesus as our sacrifice because this is what benefits us the most but we should also understand that He is the keeper of our souls and He takes care of it. So, when Peter quoted Isaiah 53 about us being like sheep who have gone astray shows that we are really capable of walking away from God. We have to remember that God's love remains in us. Nothing can separate us from His love, but also we are capable of rejecting it and walking away from it. Thus, this is why Peter reminds us that Jesus is not here to just save us only but He is also here to guide us back to His loving presence every time we go astray.
Jesus' death and resurrection does not only give us our salvation and has given us the power to stop sinning and to live our lives in righteousness. However, we still have battles to fight and we have to work out our salvation with fear and trembling because it is very easy for our nature to go back to the nature that only satisfies our flesh. Therefore, Jesus is our only way and our anchor every time we are caught up in sin. He is our guide, the light that we should follow every time we enter a dark tunnel so that we will always go back to Christ and to fulfilling what He commanded us to do. Indeed that we are all like sheep, who have gone astray— stupid, hard-headed, wandering and clueless but because of the light of Christ we are ushered back to Him, our Shepherd and the Overseer of our souls.
---
For more daily reflection, verse and encouragement, you may follow us. You can also like, follow and visit us on: