Daily Bread
Jesus is God! – Mark 13:26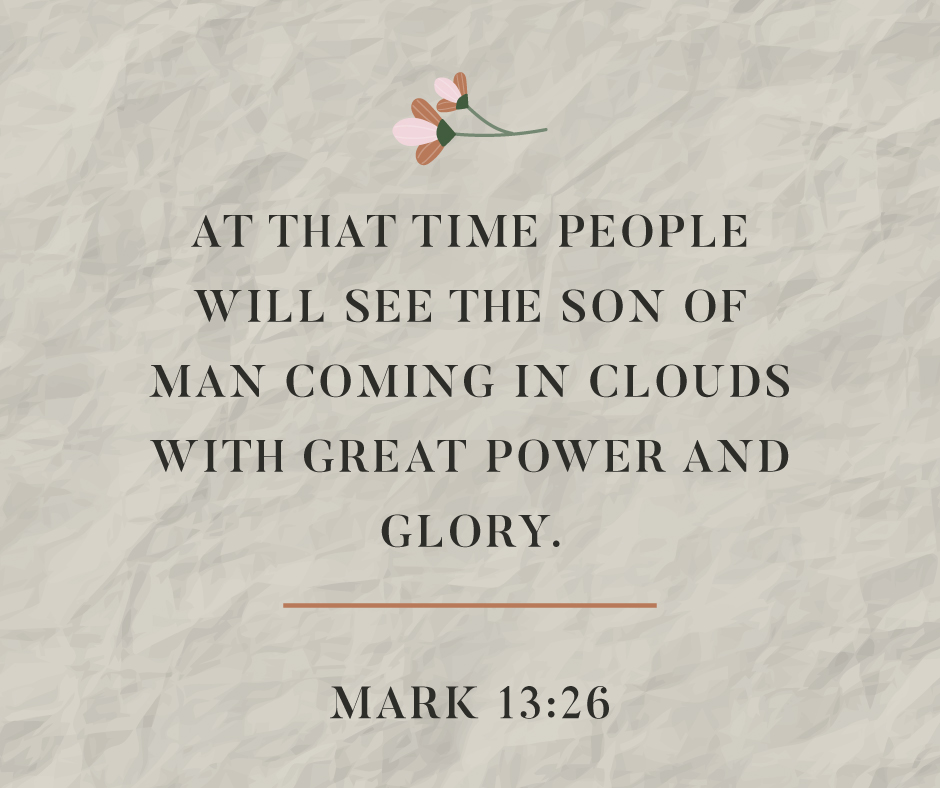 "At that time people will see the Son of Man coming in clouds with great power and glory." – Mark 13:26
This Sunday marks the first official Sunday of Advent. In this time, we will be reminded about the coming of the Lord in the world as a human. Jesus Christ came to the world to save us from our sins and we are always reminded by this sacrifice every advent. During this time of the year, we will be able to reflect how much Jesus Christ suffered for our cause.
He left the comforts of heaven to suffer in this wicked and distorted for us all. Jesus Christ is indeed the grace revealed by God and the true Son of God. However, we can also think, is Jesus God? Or is He just a prophet God used to save us from all our sins? Is He just like Elijah or Moses but a little bit more upgraded? If He is just like them, then why do we base our salvation to Him?Why do we have to believe in Him instead of going straight to God?
Well, we have to understand that Jesus is indeed one hundred percent God. The Bible has provided us so many proofs that He is God. He is truly the Son of the living God. They are equals and they are not created. However, there is only one God. One God but three in person. It is indeed very hard to understand but God has a way of proving this to us by letting Jesus come into this world. Jesus can heal the sick; can drive out demons; can make a dead person go back to life and many more which are all the things that only God can do.
Therefore, Jesus Christ is indeed God without any doubts. He and the Father are one. He shares the same divine attributes with God the Father which makes Him and the Father as one. This may be a very hard truth to process but with faith we believe in our hearts that He is God and we confess in our mouths that He alone can save us.
So, as this truth embraces us, we must then go back to our verse today. Again, this season of advent reminds us of the coming of baby Jesus here in this world. Now, since this has happened many years ago and the prophecy of Him dying for our sins has been fulfilled, now Jesus has promised us again that He will be coming back. The crucial part is that we don't know when and if we are still alive when He does.
As Christians, who are clothed in His righteousness and who is waiting for His second coming, we are asked to be watchful and to be always ready. We should always put in our mind that there is a possibility that God will come back and that will be the end of this world. He will come back to take the people who believed in Him and bring them into His kingdom while the people who disregard His message of reconciliation will suffer the unending pain in hell.
Therefore, just as what our reflection said yesterday, we should bring as many souls as we can to God's salvation so that when He comes back, we will all be united with Him. God will see us people who are already clothed in Christ's righteousness and holiness. So, He will accept us with open arms for Christ accepted the cross with open arms too. Yet, we must not slack off and just become so lax because we still have time but instead, we should always be watchful for anytime, Jesus will come back and we don't want it to be too late for us.
May we always remember the very core of God's teaching. May we not forget and get confused about Christ's nature because we have to always remember that He is God and He is human too. His divinity is very crucial for our salvation for only God is holy and it takes a holy man to save us from sins, so that would only be Jesus. Let us always remember that during this advent, we are also waiting for God's second coming. Let us wait patiently, watchfully and faithfully. We will one day be reunited with Christ and be enjoying His presence forever and ever.
---
For more daily reflection, verse and encouragement, you may follow us. You can also like, follow and visit us on: