Devotional
Jesus is Coming – Matthew 25:13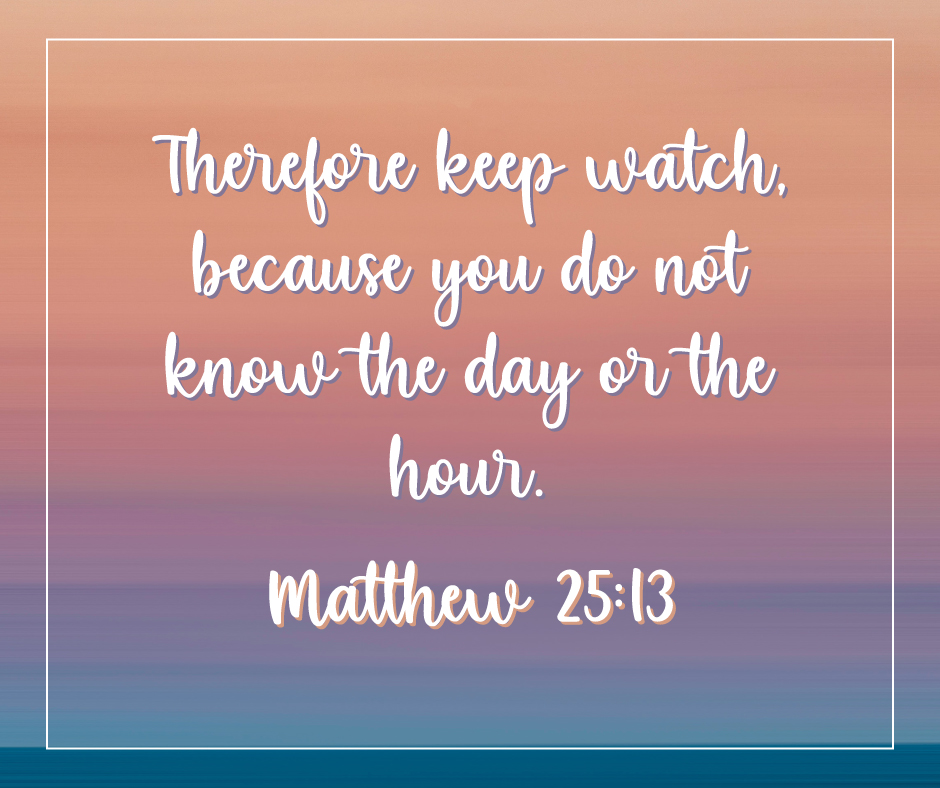 "Therefore keep watch, because you do not know the day or the hour." – Matthew 25:13
Emergencies. We are always ready for emergencies. Firemen are trained to always ready themselves whenever there is fire. Lifeguards are always on the lookout for possible drowning people. Most of the time we ready ourselves for possible emergencies and situations that will really need our full attention. Even sometimes, our adrenaline rush will kick-in that will help us be more attentive and strong when needed.
In our verse today, it is all about Jesus telling the disciples about the Parable of the Ten Virgins. Before we start this reflection, the chapter before this talks about the disciples asking Jesus about what are the signs of the end of the age. So, Jesus used this parable to tell the disciples and also us about a very important message.
The parable revolves around ten virgins who are holding lamps while waiting for the bridegroom. Jesus described these virgins as five of them are wise and the other five are foolish. While they were waiting for the bridegroom, the other five of the virgins did not bring any oil. So when the bridegroom came, they asked the other five to give them oil but the wise virgins refused because it's not enough for all of them. The five foolish virgins went on their way to buy but as they were buying, the bridegroom came and entered while the virgins who bought oil were left outside the gate because the door was closed already.
This might be a very hard parable to understand but given the context of this, Jesus was telling the disciples to not procrastinate. When they asked Jesus for the sign of the end of the age, Jesus answered them in a detailed answer. However, this parable teaches them to not just sit in their chairs and wait for those signs to happen because they do not know the day or the hour that God will return.
It is also the same for us, if this parable was applicable to them before, how much more to us? We all know that the world is so chaotic already, we are even under pandemic and that there are wars happening. Nations are against nations, fathers are against their child. We are all fighting many battles, whether inside or outside. Indeed we do not know when is the hour or day that God will return. So, we must not procrastinate and just sit on our chair thinking that it is not the day. Jesus is coming soon and indeed He will bring us with Him, the people who believed that He died and rose from the dead.
Therefore, as Christians, we should understand that Jesus used this parable to remind us that we must become like the five wise virgins who are always ready and not like the five foolish virgins who wasted their time procrastinating because one day He will return. We must not waste our time idling and hoarding the Gospel.
God is coming soon, we must repent and share to everyone the message of salvation. We should not hoard this and be selfish with it. Instead, we must preach this good news and tell as many people as we can about the saving grace of Jesus Christ. Let us not waste our time sitting on our chair hoping that God will not go back yet because we feel like doing what He wants us to do tomorrow. Let us throw off our mañana habit and start doing what we can do today to prepare for the coming of the Lord.
May we always remember that God will really go back and that He will only bring those people who believed in the Lord and Savior Jesus Christ because it is only through Him we can find our redemption. It is only in Jesus Christ our salvation lies. We must not think that we should just repent tomorrow and sin today, because it is always better to be soon than too late. Our God who makes all things possible will always give us all the opportunities so that we can repent, let us not ignore this and grab this opportunity to repent. Run back to God, confess your sins and claim Christ's salvation and Lordship in your life. Submit everything to God and let Him use you as an instrument for people to know Christ.
---
For more daily reflection, verse and encouragement, you may follow us. You can also like, follow and visit us on: