Daily Bread
Jesus is Alive – Matthew 28:6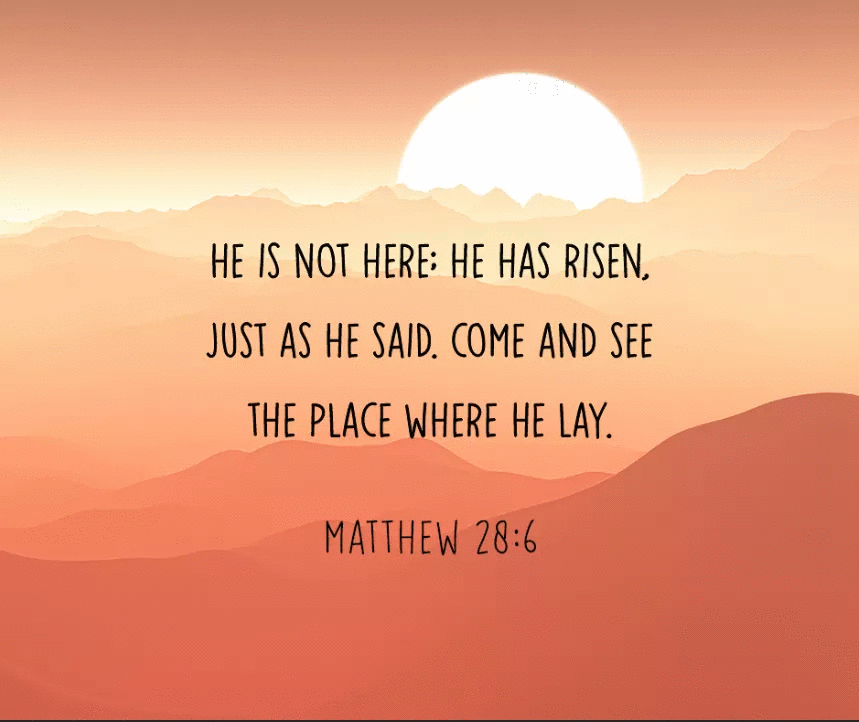 "He is not here; he has risen, just as he said. Come and see the place where he lay." – Matthew 28:6
Death, where is your sting?
The words above are the exact words that we will be asking death today. Where is its sting? Where is it now? Can it still hold us and make us its servant? Definitely no! The most important season in the lives of Christians is the Resurrection of Christ. The gospel indeed revolves around the death and resurrection of Christ. Jesus' resurrection can indeed make us question death's power and captivity in our lives. Jesus has defeated death the moment He rose from the dead.
Nothing beats the joy we feel inside our hearts when we know that we will no longer have to suffer and die because Jesus already did it on our stead. It is indeed because He lives, we can face tomorrow. Grave has no more hold over us, sin cannot enslave us anymore because Jesus has risen! He is risen! He is risen indeed! His resurrection is not just all about how He defeated death but it is also how He made us victors together with Him.
We are really under His grace and mercy that He suffered and died for all of us. As Christians, we are ought to see that His death might be painful but it is the best news for us all! He died for all of us, He took our sins and crucified it together with Him. Now, we are free and we have the power to say no to sin because of His grace. So, when the people did not find Jesus on the tomb, they assumed that He was taken away but the angel told them that Jesus had risen just like what He told them before.
Therefore, with this we can see that Jesus is not just merely human but He is God because He knows what will happen. He is omniscient, omnipotent and omnipresent. He knows also that we will suffer a horrible death if we continue to sin and love the darkness, so God intervene. He knows just from the beginning that there will be a Savior and He will save the whole world. Indeed great is His mercy that He really chose to save us despite the fact that we don't deserve it.
Thus, as people who now received the glorious Gospel and eternal life through Christ, let us shout joyfully His victory over death. He is risen! He is risen indeed! Death has no more victory. Its sting is no longer inside us because now we are healed, we are saved and we are forgiven! Jesus died for us all and now He has risen for death could not hold Him down. He is powerful, He is God and He is the King of kings and the Lord of lords. He is risen! Praise His holy name!
Now, we can say, DEATH YOU HAVE NO POWER OVER US!
---
For more daily reflection, verse and encouragement, you may follow us. You can also like, follow and visit us on: