Devotional
Jesus Can Heal All of Us – Matthew 9:22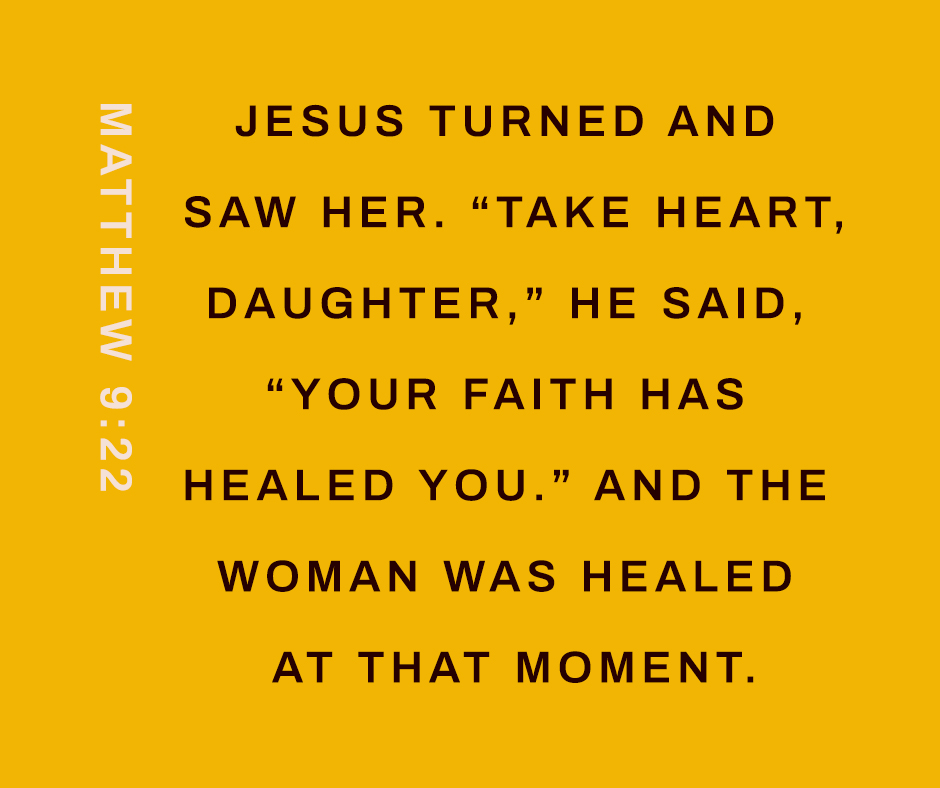 "Jesus turned and saw her. 'Take heart, daughter,' he said, 'your faith has healed you.' And the woman was healed at that moment." – Matthew 9:22
For many years, we wander around this world with pain and uncertainty. We are carrying our own fair share of pain in this fallen world. We walk and wander, having this unexplainable pain inside our hearts and thinking that no one can ever heal us. Just like the woman in our verse today, she was bleeding for twelve years already. She's sick, she's in pain and before Jesus came, she thought that no one can ever heal her.
However, as the words around the town spread that Jesus can heal the sick, she believed that He can heal and save her from the pain she's suffering. No doctors can explain what she was feeling and no doctors can heal her but upon hearing that Jesus can heal all sickness, she believed in her heart that only Jesus can save and heal her. Now, as she was together with the crowd, she thought that if only she could just touch Jesus even just His clothes, it would be enough to heal her. So, the moment she touched Christ, her bleeding stopped and the pain she was suffering for twelve years was gone.
As soon as she held Jesus Christ robe, she was healed and also, Jesus recognized that someone was healed because of it. Jesus commended her faith for it is her faith that healed her. Her faith in Jesus Christ healed her because even before she came to Jesus, she believed in her heart that He is able to heal her.
Now, we are all like the bleeding woman, we are walking in this fallen world in pain and struggling. We don't even know if someone can ever heal us, but also, just like the bleeding woman, it is only Christ that can heal us. Only through the power of Jesus Christ and His grace by our faith we will be able to heal. We will not feel pain and sickness anymore. The biggest enemy which is sin and death, we will also be healed from that and that is only through Christ.
We have to always remember that only Christ can take away the pain and our suffering. Only through Christ that we will be healed from our bleeding. We are all bleeding in different ways and no matter how in many ways we are so different, we all need Jesus Christ. He is the only answer to our pain and suffering. Through having faith in Him and fully believing in our hearts that Christ can heal us, indeed He is the only one who can heal us. Therefore, we must not forget to always call out to Him and believe that He is the only way that we will be saved and we will be healed. We should never forget that Christ is our healer, our great doctor.
---
For more daily reflection, verse and encouragement, you may follow us. You can also like, follow and visit us on: