Daily Bread
In God's Word Alone – Matthew 4:4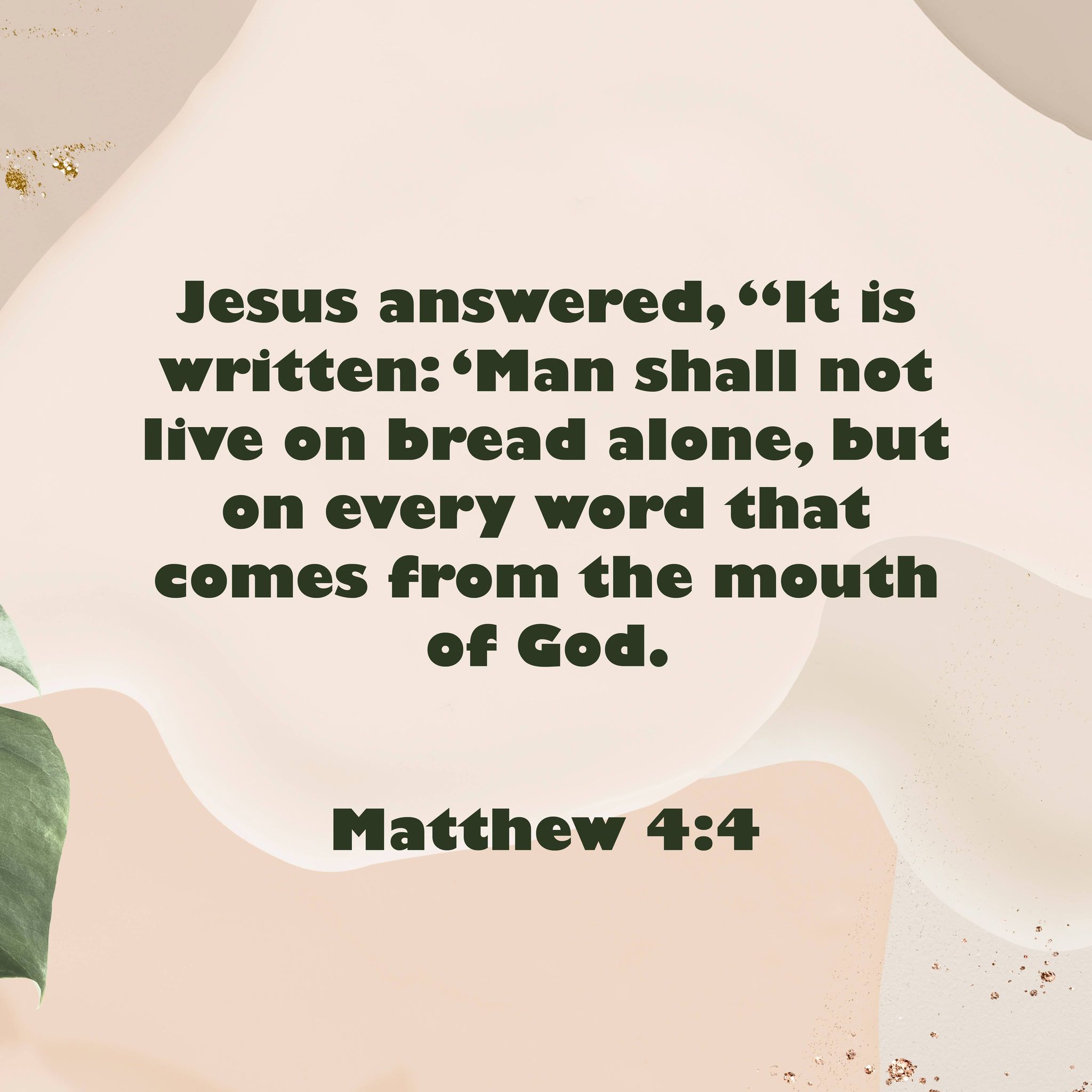 "Jesus answered, "It is written: 'Man shall not live on bread alone, but on every word that comes from the mouth of God.'" – Matthew 4:4
As we all know, Jesus came into the world to save us from all our sins. He came to follow the Will of God and to obey the Father. For the sacrifice of Christ means the salvation of all mankind. All of these are because of grace and because God loves us so much. Now, when Jesus came to the world, He did not come as a half-man, but He came as a hundred percent man and a hundred percent God. Our salvation purely belongs to Christ and depends on Him and it takes a sacrifice of a holy and sinless man for us to be redeemed.
However, there is no one righteous, so we need Christ. He is the only one who did not sin. He came into this fallen and sinful world without even stepping just a second to its sinfulness. Thus, this just proves that only Christ can save us, and only through Him, we can be saved. So, as we learn that Christ came into the world as a hundred percent human too, it just means that He was also suffering under this cruel world. He gets hungry, He gets sleepy, He gets tired, and He gets sad. 
In our verse today, we remember the time when Jesus was put into temptation. He was in the wilderness, fasting. As He was fasting for forty days and forty nights, He got so hungry and weak. Now, in His weakest moment, Satan came and tried to tempt Jesus. He first tempted Him through attacking His physical needs. He recognized Jesus as the true Son of God, but still, He challenged Him that if He is the Son of God, He should turn the stone into bread. However, Jesus may be hungry, but He remained firm. 
Jesus Christ's goal in this world is to fulfill the will of God. Therefore, He answered and told Satan that man does not live on bread alone, but on every Word of God. If we can remember the reflection last time, it is all about the Word of God endures forever. Thus, Jesus confirmed that men should not really live on bread alone, but on every word that comes from God which is enduring and firm. Christ is indeed a man, but also fully God, so He clearly knows that the temptation will not bring Him anywhere and it will not please the Father.
Also, we must understand that this verse today just shows us that we can say no to temptation through the Word of God. Just like Jesus, we must not let our stomachs be our god but we must let the true one God be our one true and only God too. Therefore, we must always remember that in any situation, either we are put in a situation where our lives matter so much, let us still remember what God wants us to do. We must always know that we should not just live on bread alone but on every Word of God. His Word is our strong foundation, our hope, our shield, and even our sword against the enemy. We may be tempted many times during the most vulnerable and weakest time of our lives, may we always become like Christ who remained steadfast and obedient to the Word of God and to the Father.
---
For more daily reflection, verse, and encouragement, you may follow us. You can also like, follow and visit us on:
Facebook:  https://www.facebook.com/yd153
Twitter: @YD153
Instagram: @youngdisciples2020
Tumblr: youngdisciples
Pinterest: Young Disciples International