Devotional
Immanuel Has Come – Isaiah 7:14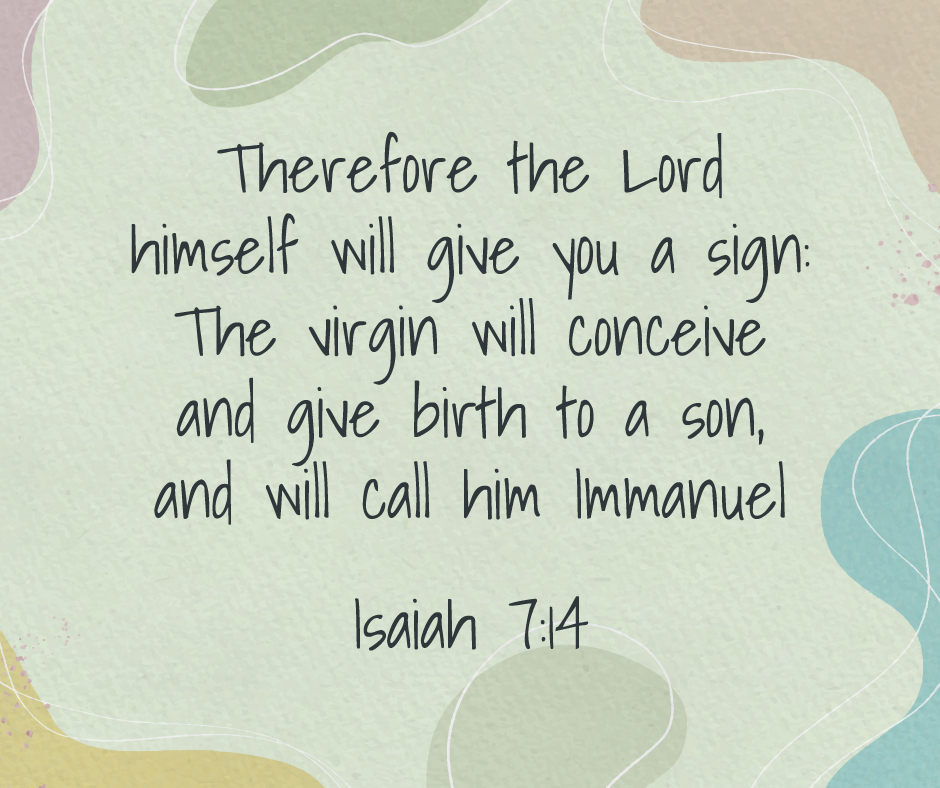 "Therefore the Lord himself will give you a sign: The virgin will conceive and give birth to a son, and will call him Immanuel." – Isaiah 7:14
We have seen and read in so many movies and books about stories of adventure that includes prophecy stuff many times. Most of the time, children love these kinds of plots because they will always look forward for the prophecy to be fulfilled and also the adventure together with it is very fun and enjoyable to their eyes. This kind of genre really makes us interested and will really entertain us.
Now, the verse we are going to learn today is just like those plots in the movies and books— prophecy. As the nation of Israel continued to sin against God, in the time of prophet Isaiah, they were being rebuked by the prophet. Over and over again, the prophet kept on reminding them what would befall on them if they kept on sinning and if they kept on going on their own way, which is away from God.
The Israelites were so hard-headed and kept on forgetting who their real God was. They showed ungratefulness to God and have forgotten about Him. They turned away from Him and have forgotten how God delivered them from everything— from Egypt's tyranny over them to bringing them to the promised land and defeating their enemies for them. However, they still continued to turn away from God and chose to disobey him. So, prophet Isaiah kept on reminding them the urgency of repentance and went back to God again.
On the other hand, God being so gracious always, He sent a message of hope to Israel. God loved them so much, so through Isaiah, He sent them a message about the Messiah who is about to come to save them from their sins. So God told them that He will give a sign to them that there will be a virgin who will conceive a Son who will be called Immanuel which means God is with us.
Now, there are many prophetic messages of God that point all out to Jesus Christ in the Bible. As the nation of Israel continued to sin against Him, God remained faithful to them and promised them a Savior who will save them from their sins and unfaithfulness. God will come to the world to save them from their sins and the sign will be a virgin that will bear a Son. This is Christ's authentication because even from the Old Testament, Isaiah had already prophesied about Him and so He really came.
As this season of Advent reminds us of the coming of Christ, may we also be reminded of the trespasses of our ancestors. We should also be reminded that they could've suffered eternal pain now if it weren't for God's grace. We too shall also suffer this unending pain in hell if God did not move heaven and earth to save us. He is indeed with us for He is our Immanuel.
God left the comforts of heaven just to become a human being here on earth and suffer in this sinful world. He was rejected by many and have been ridiculed by many because He claimed to be the Son of the living God which was blasphemous on their time, but they never remember that Isaiah had already prophesied Him, but again, because of the rejection of the world, we were able to have the gift of salvation.
Just how awesome God is and how gracious He is. Despite all of the sins of our forefathers and even our sins nowadays, in which we are at worst, Christ has continued to open His door for salvation wide open for us to run back to Him. He is so gracious, merciful and loving to the point of coming to the world and died for us. He became the mediator between us and the Father so that we will not suffer the wrath of God. He became our atoning sacrifice. He is the King of kings and the Lord of lords, but He was brought to this world into the humblest way possible.
Therefore, despite the trespasses of Israelites before, God promised them a Savior who will come in which will be called Immanuel, they are forgiven and pardoned. Despite the rejection of the people at the time Jesus was born and the prophecy has been fulfilled, all who believed in Him are accepted in the holy family of Christ. Now, in our time, as we look back on those days when the prophecy was fulfilled and as we look forward to His second coming, despite also of all the sins we did, we are still saved because it is only by His grace through our faith in Christ. Thus, God's salvation offered to the fallen race of humankind has been the greatest gift of all and this Christmas, it is just right to remember and look back on how Jesus was brought to this world and how our greatest gift was born in a manger, carrying the sins of the world on His shoulder.
Let us always remember this truth and proclaim this to the ends of the world. May we always glorify God with our lives as people who are already saved through Christ Jesus. We should always remember that Jesus Christ is called Immanuel which means God with us authenticates that He is indeed God and also man. Jesus Christ is indeed our salvation and our greatest gift. He is the humblest, biggest but the greatest gift this Christmas for us all.
---
For more daily reflection, verse and encouragement, you may follow us. You can also like, follow and visit us on: