Devotional
Guard Your Heart – Proverbs 4:23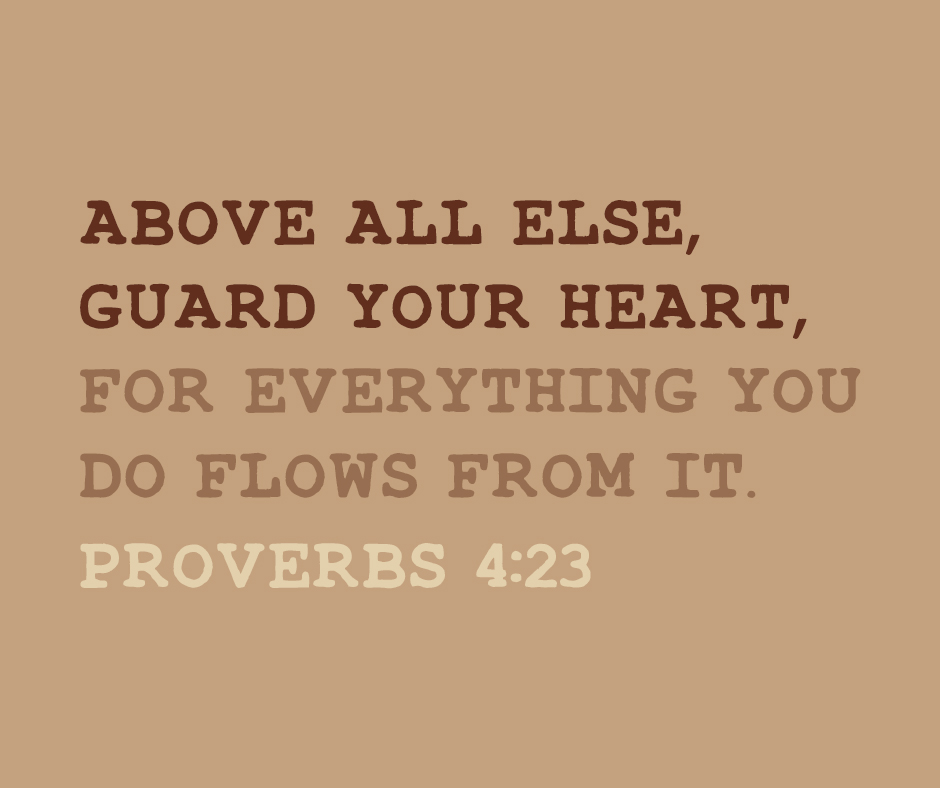 "Above all else, guard your heart, for everything you do flows from it." – Proverbs 4:23
In Science, we learned that everything we do comes from the influence of our brain. Even a famous quote says, "Everything was made twice— inside the head of the maker and the physical creation of it." A lot of people have also believed that love is also because of the high level of dopamine that is released by our brain during the attraction. Indeed it is true that our decisions come from our brain. However, the Bible says differently about the heart also.
In our verse today, we are reminded to guard our hearts above all else because everything we do flows from it. This does not mean that it contradicts the study of Science but this means that our hearts influence our minds. Our hearts are deceitful above all else and there's no cure for it. (Jeremiah 17:9). So, we have to understand that although our minds give the command to do something, our hearts influence what the mind decides. That is why we are warned by Solomon to guard our hearts above all else.
We have to remember that God does not look at our outward appearance but He looks at our hearts (1 Samuel 16:7). So, our hearts are the storehouse for wisdom and righteousness. If we feed it with righteousness, it will produce righteous acts and if you will feed it with evilness, then it will produce evilness. Solomon's father, David, was one of the visible examples that indeed the heart is deceitful and wicked. When he was attracted to Bathsheba, he committed adultery with her and even planned her husband's death, his heart has corrupted his decisions. Even when Cain killed Abel, jealousy was in his heart.
So, we can really see that our hearts are the source of everything. It is the source of the good things we do and it is also the source of everything bad we do. We most of the time base our decision on how our hearts feel. Our choices are based on whether we feel right or wrong. However, we have to always remember that our hearts do not always give us what's best. It can easily be deceived and it will always deceive us. Therefore, there's always a call for us to guard it always. We should always feed it with the Word of God.
We must remember that our hearts might be deceiving but it can also be nurtured. The only way it can be nurtured is if we dwell ourselves in the Word of God. In the aspect of falling in love, we can also be deceived by our hearts. We might feel so good and flattered because of one person but little did we know, we will be hurt in the future. Our hearts most of the time really deceive us and take us away from the perfect plan God has for us. So, we really have to always guard our hearts above all else, for it is misleading and deceitful.
May we become like David that even if his heart has put him astray, he repented and asked God to create in him a clean heart. This just also shows that indeed it was his heart that led him to do what he did. So, it is also our hearts that made us do what is wrong but we felt right. Therefore, let us always guard our hearts above all else for everything we do flows from it. Let us nurture it with the Word of God so it will only store wisdom and righteousness. We should immerse ourselves in the Word and ask God to give us a clean heart so that we will be able to serve Him right.
---
For more daily reflection, verse and encouragement, you may follow us. You can also like, follow and visit us on: