Daily Bread
Good and Faithful Servant – Matthew 25:21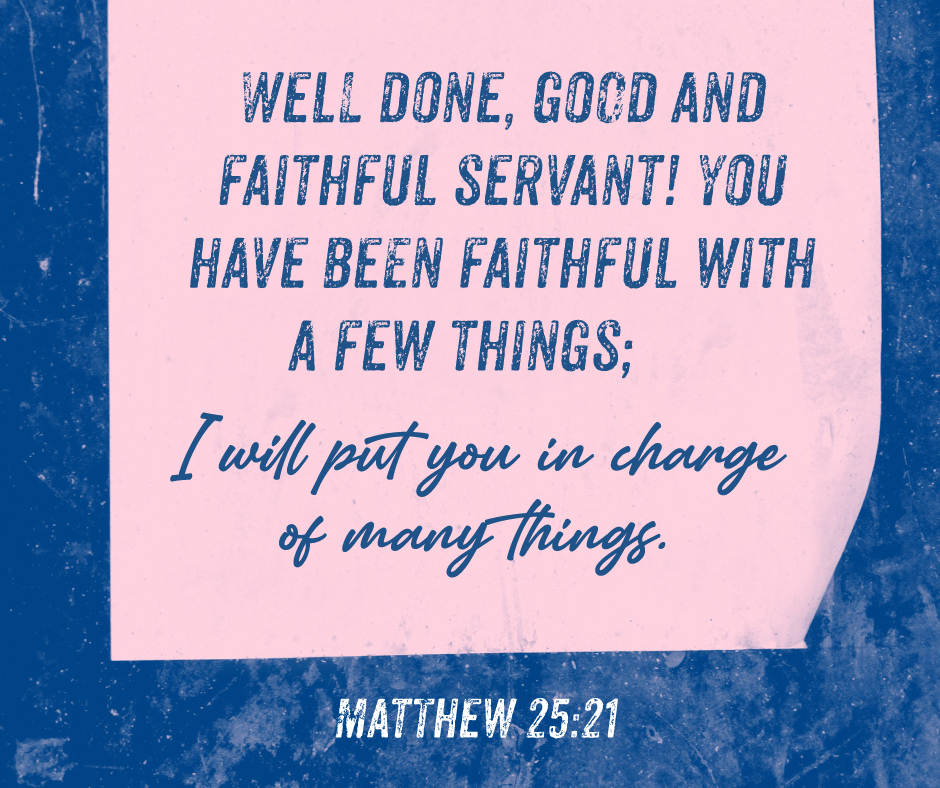 "Well done, good and faithful servant! You have been faithful with a few things; I will put you in charge of many things." – Matthew 25:21
We are all given by God different gifts and different calling. He has blessed us with so many things so that we will be able to use these gifts for His kingdom. God has equipped, blessed and gifted us talents, abilities and heart to excel because He wants us to live our lives glorifying Him.
Our verse today is taken from the parable that Jesus told the disciples about. The parable circles around a master giving three of his servants bags of gold. The two of the servants doubled the bags of gold given to them by their master and the other servant, he did not do anything with it and just buried it in the ground. The master commended the two servants and called them good and faithful servants. While the other one, the master called him lazy and had him thrown outside where there is weeping and gnashing of teeth.
In the parable we can see that Jesus compared the kingdom of heaven again in this. What did Jesus mean by this? How is this like the kingdom of heaven? How does this relate to us? What are the similarities in today's time?
For some reasons, this parable teaches us two things. First, Jesus wants us to understand that in the kingdom of heaven, laziness and hoarders are not welcome. Just like the servant who just buried the bag of golds and let it stay there. Jesus wants us not to hoard our gifts but to share it with other people and also for the furtherance of His kingdom. We are asked to not hoard but to share what we have.
Our gifts are for the glorification of God and just like the two servants, we are also asked to invest it properly to improve it and to double it. We must also remember that these gifts are not coming from us but all are gifts from God. Therefore, Jesus wants us to know that these are not for us to hoard and to just keep it for ourselves but it is for us to share and for God to improve.
Second, Jesus wants to teach us through this parable the importance of discipleship and in spreading the Gospel. The salvation that has been made possible by Christ's death and resurrection is a gift from God. It is a gift we don't deserve and more importantly we don't have the right to hoard. God has given us the gifts, and if we were too trustworthy, He promised to make us incharge for a more important thing and that is the spreading of the Gospel.
As Christians, we are blessed with these gifts so it is just relevant for us to know the importance of discipleship and sharing the Gospel. We should not hoard this and just bury it into the ground but instead, let us work together in multiplying it and increasing it. Through discipleship, we will be able to establish good relationships with young believers so that they will know God more. Also, spreading the Gospel should really be one of our main goals for we are also just saved and forgiven, we would also like other people to know that they are too.
So, Jesus wants us to understand that keeping the Gospel selfishly and not telling the people about it is such a bad move and a non-Christian thing to do. Indeed, this cannot save us and this cannot grant us eternal life for it is only through Christ. However, true Christians have the heart to serve and to share the Gospel. True Christians love to share the Gospel of God and love the people around them to the point of caring about their salvation.
Therefore, let us always remember these two lessons Jesus wants us to learn. May we remember that God has given us different gifts to use for the furtherance of His kingdom. Second, discipleship and spreading the Gospel is very important. May we always remember not to become lazy and hoard the good news, but instead become like the two servants who faithfully increased the gifts the Master has given to them. Let us not stop spreading the Gospel and in making disciples until Jesus will tell us, "Well done, good and faithful servant."
---
For more daily reflection, verse and encouragement, you may follow us. You can also like, follow and visit us on: