Daily Bread
God's Attributes – Psalm 103:8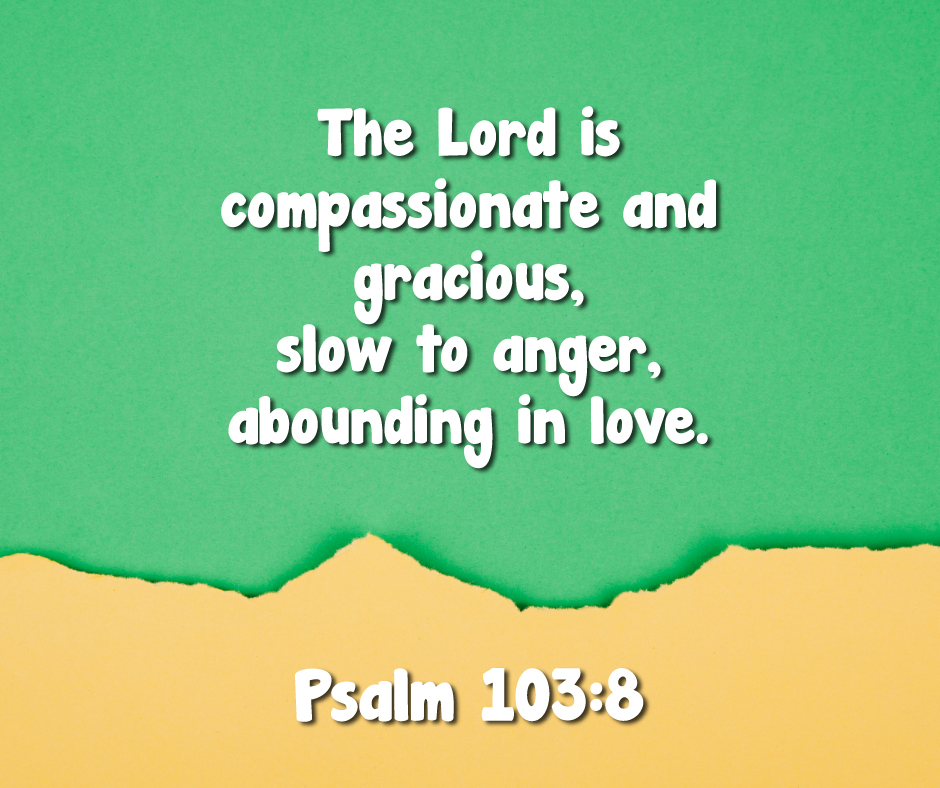 "The Lord is compassionate and gracious, slow to anger, abounding in love." – Psalm 103:8
God's attributes are so many that we cannot even say them one by one. He is the God of everything good and He is the God who always has our best interests in heart. David declared and described the Lord in three phrases that generally tells us the entire attributes of God. Despite David's atrocity, God remained faithful to him. Despite the Israelites' unfaithfulness, God remained gracious to them.
God shows David and the whole nation of Israel mercy and unmerited favor that they can never find in anyone. Not even the kings during their time or the Pharaohs during the slavery in Egypt. Kings during that time easily get so angry and they are impatient but the King of kings and the Lord of lords, the One who made the heavens and the earth was very patient to them and continues to love them despite their horrible attitude and their sinful being.
David felt God's grace and mercy toward his life when God withheld death from him after his affair with Bathsheba. David was beyond awe with God's goodness and grace that he was able to declare these words. He also saw how faithful God was to the nation of Israel because He still continued to deliver them from their enemies and continued to sustain them from the very start.
Now, as we reflect on this, we must also see how compassionate and gracious God is towards our lives. He remained compassionate even if we deserved to be condemned. His compassion towards us is overflowing because He still delivered us from our enemies and from our distraction. He is gracious because we don't deserve His blessings but still, He shows us favors that are incomparable. Despite our sinfulness, our unfaithfulness and our inconsistent hearts, He remains existentially good, gracious and compassionate. He is indeed the God of compassion and grace. We are undeserving but He made us deserving.
Our God is also slow to anger. Imagine all of the times we trespassed His laws and all the times we went to a different path, He was not angry at all. Instead, God showed us patience because He knows that we are still a work in progress. Especially for the Christians, we already know the truth and we have been given a new spirit and a new life but most of the time, we still sin and God deserves to be mad at us. He has saved us and died for us but still we continue to live our lives as people who still don't know the truth, God really deserves to be mad at us. However, because He is slow to anger, He is not. Again, He knows that we are a work in progress and that it is really a battle within us. So, He shows us patience that can only be found in Him, not from anyone.
He is also abounding in love. Everything He did for us was coming from the fact that He loved us so much. He is compassionate towards us because He loved us. He is gracious towards us because He loved us. He is patient with us because He loved us. He is indeed abounding in love. By existential, God is loving, compassionate, gracious and patient. No matter what we do, we can never take those attributes from Him because He will still remain the same no matter what state we are in or whatever we do. However, we will not exist and we are nothing if God is not existentially good. We are dependent on Him and we can never do anything apart from Him.
In the time of David, God's proof of love to them was through delivering the Israelites and through preserving his life. On the other hand, in our time, God showed His love towards us through sending His Son to save us. Through the birth of Christ, we have found our hope and the epitome of God's love. We can indeed testify that He is abounding in love and gracious because He sent His Son to the world to save the world. The final proof and the very visible of God's love is through His death on the cross.
Indeed that all of those phrases David declared what the Lord is, are true and inerrant. God is indeed compassionate and gracious; slow to anger and abounding in love. Those attributes are always present in our lives and God will continue to show those to us even if we continue to stray away from Him. However, we have to understand that He is also holy and just. He is still the God who disciplines and by that, we should know that even if He is loving, He will also discipline us so that we will learn from our mistakes and depend on Him more.
May we always remember how good our God is. We should always remember that the final proof of His love is Jesus Christ. The birth of Jesus is the season we celebrate now, and that season is just a proof that God is true to His Word, therefore, these attributes are true and inerrant. God indeed loved the world so much that He gave us His Son as our atoning sacrifice. He is indeed abounding in love and because He is also slow to anger, He has given us our atoning sacrifice which is Jesus. May the good Lord continue to be faithful in our lives as we seek Him always through His Word. Amen.
---
For more daily reflection, verse and encouragement, you may follow us. You can also like, follow and visit us on: