Devotional
Godly Grief – 2 Corinthians 7:10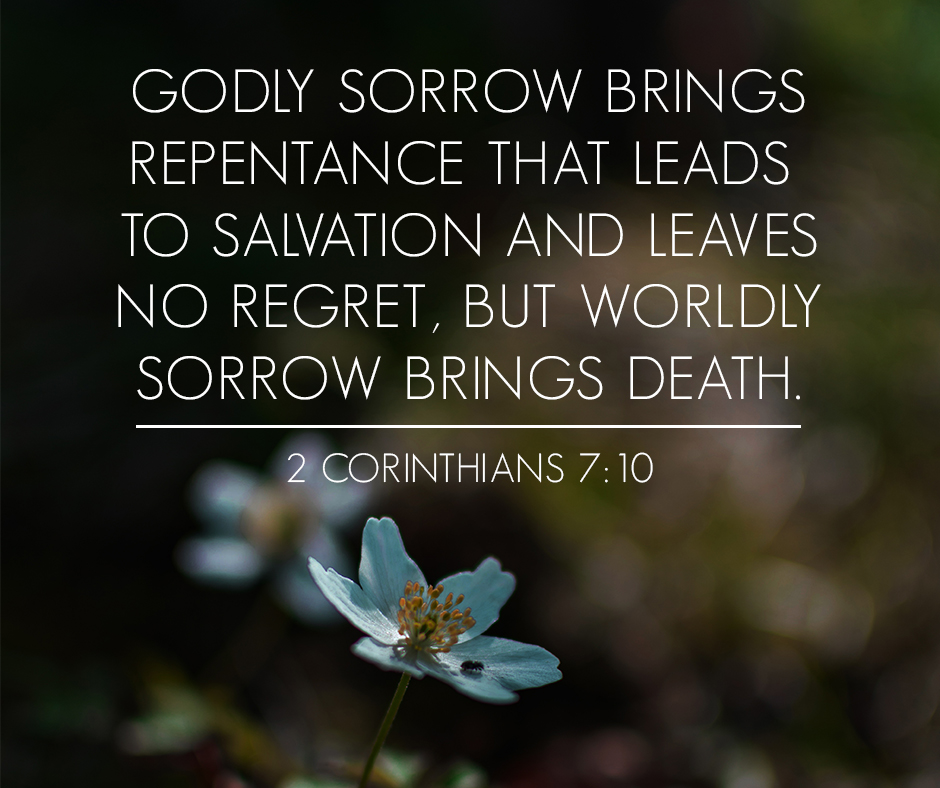 "Godly sorrow brings repentance that leads to salvation and leaves no regret, but worldly sorrow brings death." – 2 Corinthians 7:10
In our generation today, if a big group of people will release information, everyone will believe it. It is very easy for us to distinguish what things to normalize and what things that should not be romanticized. Everyone knows their rights and everyone knows how to defend themselves. Now, as we know our rights, we are also subject to sorrow, sadness and regrets. There are things that we did but now we regret doing it.
Just like in our verse today where Paul reminded the people in Corinth that it is indeed good that felt bad for all the things they did wrong. It is good that they felt sorrow and regret about their actions. However, Paul wants to remind them also that they should examine themselves. They should know that godly sorrow will bring everyone to salvation and no regrets but worldly sorrow will just bring them to death.
It is indeed true that Paul was very harsh to them on his first letter, listing all they did wrong and telling them to repent. Yet, through that they were able to see their wrongs and were able to reflect. Thus, this is the reason why Paul wrote this verse for them to also encourage them that what they were feeling at that time was valid and that it was good because they are being sorrowful for their actions. However, they have to understand that they must assess if it was godly grief or worldly grief.
Godly grief means to recognize our sinfulness and our irresponsibility. This grief hurts because it is not just because of the thought that we sinned but also because it is very hard for us to admit to anything. Now, Paul encourages all of us, not just the people in Corinth, but all of us to admit to our mistakes. Let us be sorrowful because we are sinful and irresponsible. We need to recognize our sinfulness and through that we will then experience godly grief— the pain we feel because of all the sins we did.
On the other hand, worldly grief is only the grief and the fear we feel of having to pay for our sins. Indeed there are two pains, the pain that we felt when we sinned or the pain of fear that we feel when we know that one day we will have to pay for all the things we did wrong. So, the latter was the worldly grief. We only think about the consequences that we will undergo in the future and this grief will indeed bring us to death.
However, the godly grief, the pain we feel because we did wrong is the one that will bring us into salvation. It is because through this grief, we will be able to see that we need a Savior and we want to live our lives pleasing in the eyes of God. Therefore, we must have this grief instead and not have the grief or only the fear for the punishment. Let us recognize our sinfulness and see that we need a Savior. We need Christ to save us because it hurts that we are sinful. It hurts that God created us as people who are perfect but now imperfect because of sin.
May we let this godly grief drive us into full submission to Christ and into true repentance. Let us use this opportunity to reflect and repent from our sins and let God control our lives that is according to His will. We should remember to live our lives holy and pleasing to God's eyes and we can only do that if we admit that we are wrong and we need Jesus to change us. May the grace of God and His love abound and control us as we live our lives battling against the enemy, in the mighty name of Jesus. Amen.
---
For more daily reflection, verse and encouragement, you may follow us. You can also like, follow and visit us on: