Daily Bread
God Revealed Himself – Romans 1:20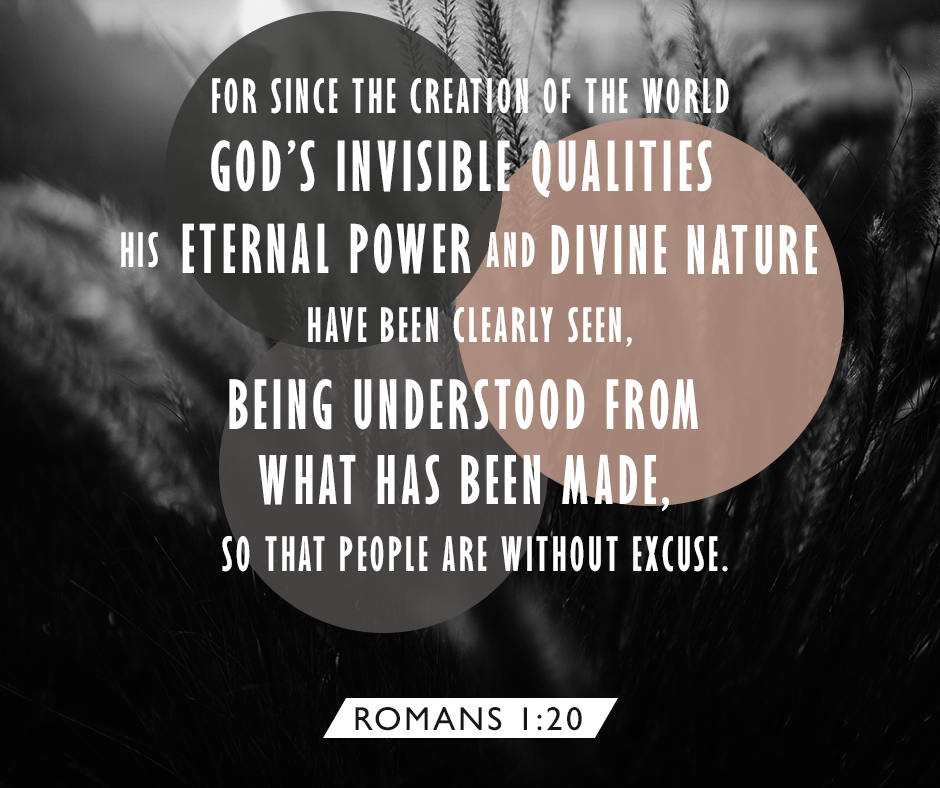 "For since the creation of the world God's invisible qualities—his eternal power and divine nature—have been clearly seen, being understood from what has been made, so that people are without excuse." – Romans 1:20
We all know that God has revealed to us Himself in two specific ways: through the creation and through His Word. However, as human as we are we tend to look beyond it until we can conclude that there is no God. We deny ourselves the truth that is already laid on the table for us because we just want to reject it as long as we can. Yet, deep down inside us, we can never deny that with all these marvelous and wonderful creations, that there should be a Creator.
Our verse today answers the questions we have always been asking ourselves: Is there a God? Is God real? — Paul confidently declared that since the creation of the world, God has given us enough knowledge to recognize Him. He has given us enough wisdom to understand that He is the Creator of all things and that no normal being can ever make the whole universe except Him— who is God, holy and divine. Then again, we often reject this truth and would always resort to what we call "more understandable" information. Although God has given us enough wisdom and knowledge for us to recognize Him, our shallow mind would not want to dive into that waters.
Even if we deny it or not, we often choose the easiest part. The part where people just feed us some information so that we will not have to seek the truth. So, we rather chose to believe there's no God than to believe there's God and seek Him. We are lazy and we don't want to discover something on our own so we just let other people discover it for us, so that is why we just believe what they will say. However, God has given us again enough knowledge and wisdom for us to understand that He is God and that we should seek Him.
Through looking at the creation, we can never deny that Someone great made that. Indeed God has revealed Himself to us in many ways. In the beginning, He has revealed Himself as the creator and personal Lord who walked with Adam in the garden of Eden. Then, He has revealed Himself as the deliverer and also a just God who saved the family of Noah from the flood and has brought judgment to the unrighteous. Yet again, man continued to reject that truth and continued to be strangers with God. Even to the point of building the tower of Babel to reach the heavens. Oh just how ignorant we can be!
Now, with all those bad records of humankind being ignorants deliberately, God has not stopped revealing Himself to us. In the present days, He continued to reveal Himself with the given creation, His Word (which is the Bible) and through His Word made flesh who is Jesus Christ our Lord and Savior. Since then, God knew that we all needed a Savior. He knows that we are sinful and we are unrighteous so He has already promised us a Savior that will strike down the serpent's head and will heal all of our diseases which includes the disease of sin and death.
So, the only way for us to be saved is through Jesus Christ alone. Through faith in Jesus Christ because of grace, we will be restored to God and our relationship with Him is mended because of the sacrifice of Jesus. Thus, we will then come to an understanding that God is indeed God and He is the creator of all things. We should recognize Him for He has given us lots of opportunities to understand Him and to know Him. May we always remember that He will always give us the opportunity and enough wisdom to recognize Him, so we just only have to listen to those and then from there, we shall seek Him. The only way to seek Him is through His Word, especially through Jesus Christ. Indeed, people don't have any excuse to say that God has not revealed Himself to them because He has!
---
For more daily reflection, verse and encouragement, you may follow us. You can also like, follow and visit us on: