Daily Bread
God Chose Us – John 15:16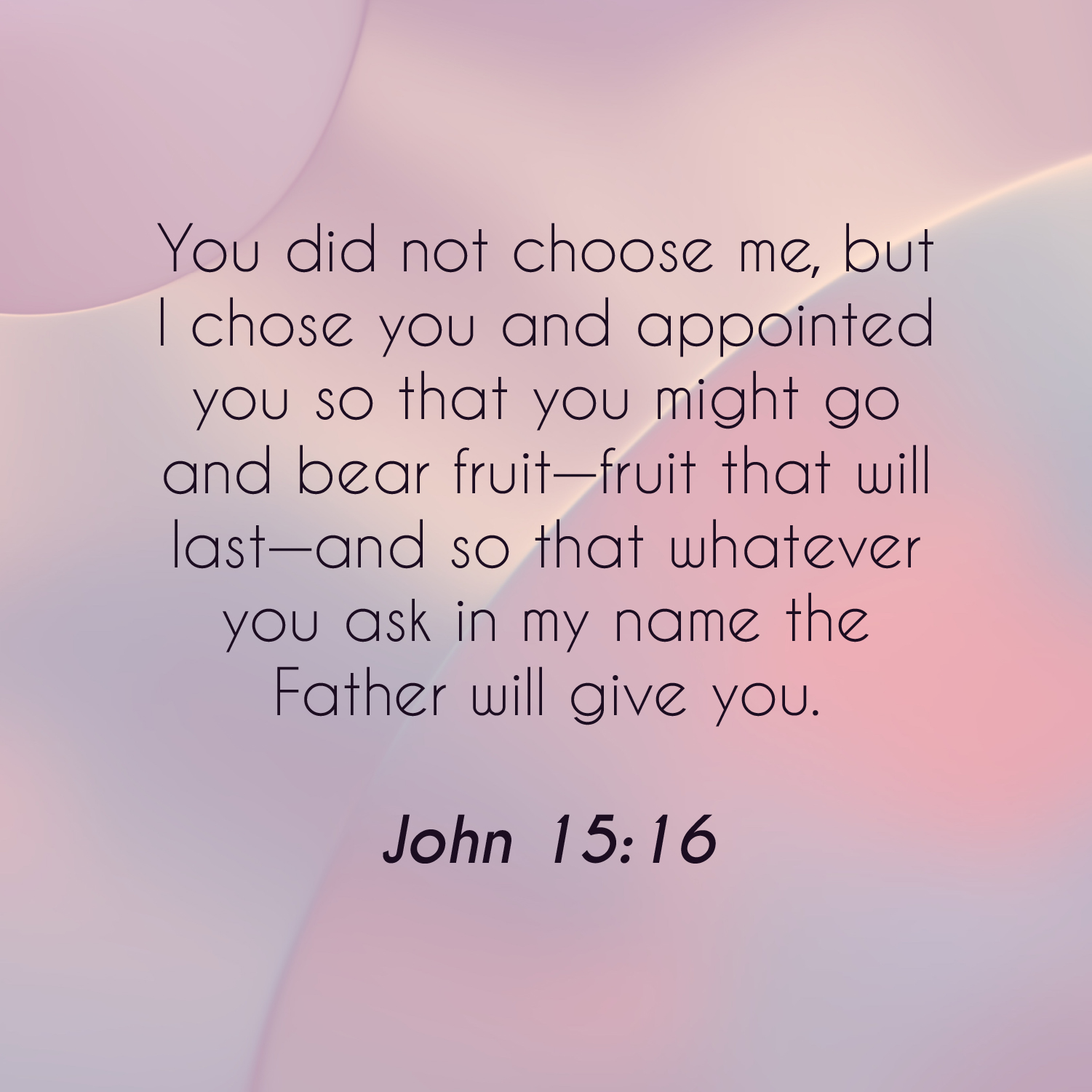 "You did not choose me, but I chose you and appointed you so that you might go and bear fruit—fruit that will last—and so that whatever you ask in my name the Father will give you." – John 15:16
Before everything else, this verse is somewhat used in a wrong interpretation, thinking that God has already chosen those people He wants to save. As Jesus said in our verse today, "You did not choose me, but I chose you," clearly gives our simple minds the wrong thoughts. However, we have to first deal with the fact that Christ did not just randomly pick who to save, whoever He already chose (without us having the knowledge of it) are the only ones who are saved no matter what we do. That is a very wrong concept and it's like we are limiting God's power, grace, and love. That is not who our God is, our God is gracious, compassionate, and loving. He does not show partiality either.
So, we must understand that what Jesus meant by this verse is that we did not choose Him, but He chose us. However, we have to understand that this concept is just like being the chosen people. We become the chosen people once we believe in the Lord and Savior Jesus Christ. It is not the one way around that God chose us to save us, and then leave the others to be unsaved. We have to remember that God has given everyone the chance to come up to His throne of grace through Jesus Christ our Lord. One best example to correct this idea of God just choosing anyone to save while leaving the others to be unsaved is Judas. He was chosen by Christ, He was given faith because even our faith comes from God. 
However, he still chose to walk away from Christ, and he did not let his faith grow even if the 12 disciples were hearing the same Gospel. Thus, this shows us that indeed, God has chosen all of us and has given us all the opportunity to be saved. He brings us to His throne and has given us Jesus to become our Lord and Savior. However, not all of us that heard the Gospel will grow the faith and will believe in Jesus. Thus, some people are not saved. Therefore, God indeed has called us into His loving arms of salvation, but few are chosen because few are the people who believed. Now, those people that are chosen, will bear fruit. 
We, people, who are saved by grace through faith and have known the salvation of Christ are called to go and bear fruit. Since this chapter started with Jesus building the understanding that He is the vine and we are the branches, in connection with that, our verse is also telling us that indeed, we are the branches of Christ that will bear fruit. Then our Father is the gardener who oversees everything. Therefore, we are asked to abide in Christ, to go and bear fruit, and whatever we ask in the name of Jesus the Father will grant it according to His will. Thus, let us always remember to bear fruit, and that we must be grateful to God for choosing us through Jesus Christ's salvation. Now, may we live our lives as chosen people– sharing the Gospel with a lot of people so the population of "chosen people" will be added.
---
For more daily reflection, verse, and encouragement, you may follow us. You can also like, follow and visit us on:

Facebook: 

https://www.facebook.com/yd153

Twitter: @YD153

Instagram: @youngdisciples2020

Tumblr: youngdisciples

Pinterest: Young Disciples International