Daily Bread
Fullness in Christ – Colossians 2:10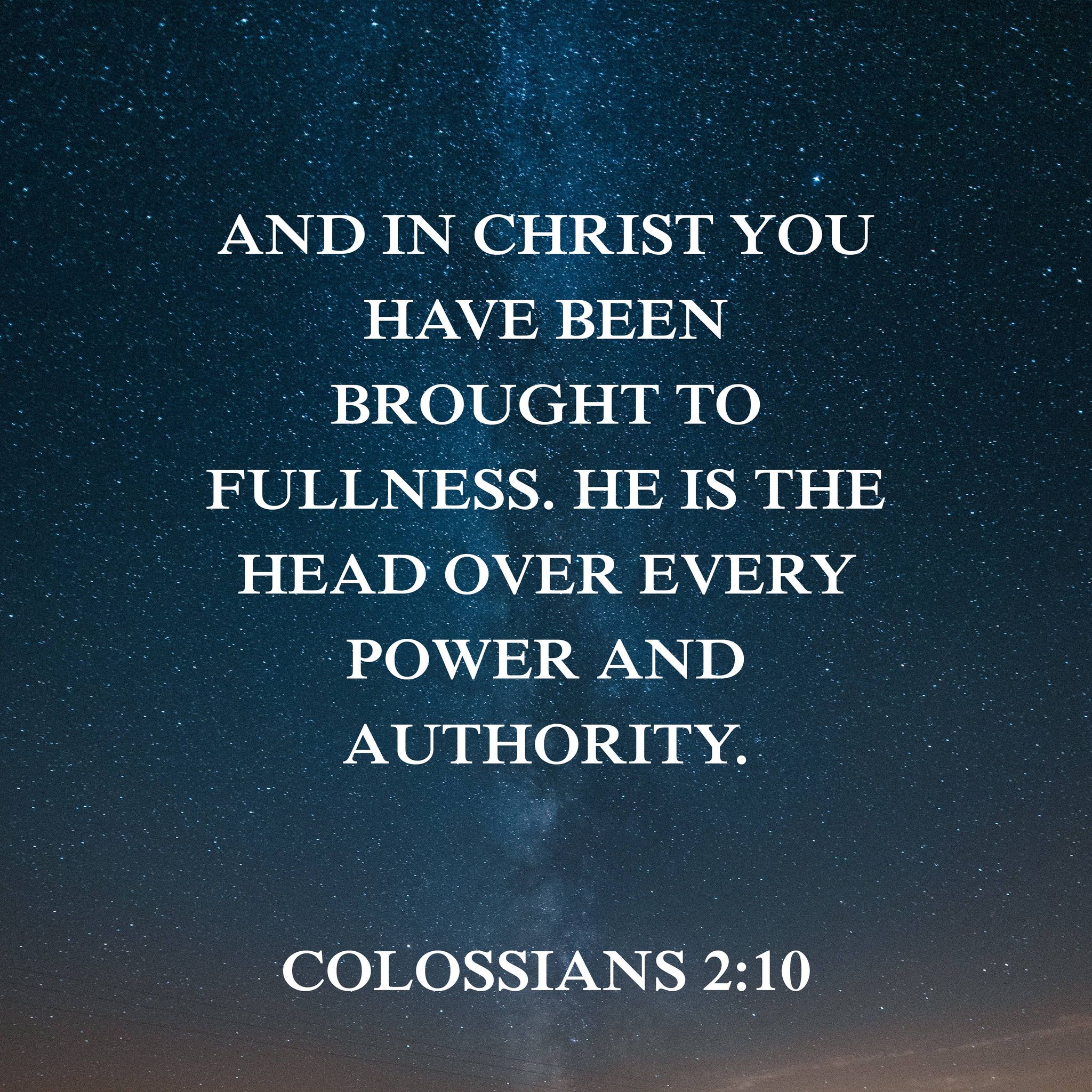 "and in Christ you have been brought to fullness. He is the head over every power and authority." – Colossians 2:10
In the verse preceding, Paul has mentioned the full deity of Christ. With that verse, it proves the supremacy of Christ and His mighty power and authority. As Paul continued to write his letter, he then clearly states that in Christ we have been brought to fullness for He is the head of every power and authority. Since we are brought into the fullness through Christ, we are then given by Him the authority. 
Christ's supremacy is being revealed in this verse so that everyone will know that He is God and He was there since the beginning. Now, since we cannot question the divinity of Christ, we will also have to understand that Christ is fully human. We cannot say that He is not man for He came into the world, dwelt among us. He is the Word incarnate, He is the Word that became flesh. Thus, we must understand that Christ is indeed fully God, one true God and fully man who came into the world to save us. 
As He came into the world to save us, He gave His life so that we will gain life. He trades His righteousness to sinners like us so that we will be wrapped with His righteousness. Jesus left the heavens just so He can suffer here in this cruel world so that we will experience heaven. His life for our eternal life. Therefore, we are really made full through Christ. All the things we lack, have been filled with Christ. Only through Him, we will have our salvation and our eternal life. 
Therefore, let us not be swayed to the lies of this world about giving Christ a different name of a different nature. We have to remember always that Christ is one hundred percent man and God. All authority and power belong to Him. Our salvation belongs to Him and that our salvation will not be possible if Christ is only half of one nature. He must be one hundred percent man and God. Thus, He is! Only through Him, we can be full and we will be full. 
Let us remember that the fullness of the deity lives in bodily form in Christ. He is the God of salvation and forgiveness. He has saved us from our sins and He will continue to rule over our lives as long as we receive Him as our Lord and Savior. Our fullness, our identity, and our life can only be found in Him. Therefore, we must always put in our minds how blessed we are that Christ who is above all power and authority came for us and saved us.
---
For more daily reflection, verse, and encouragement, you may follow us. You can also like, follow and visit us on:
Facebook:  https://www.facebook.com/yd153
Twitter: @YD153
Instagram: @youngdisciples2020
Tumblr: youngdisciples
Pinterest: Young Disciples International