Daily Bread
From Disobedience to Obedience – Romans 5:19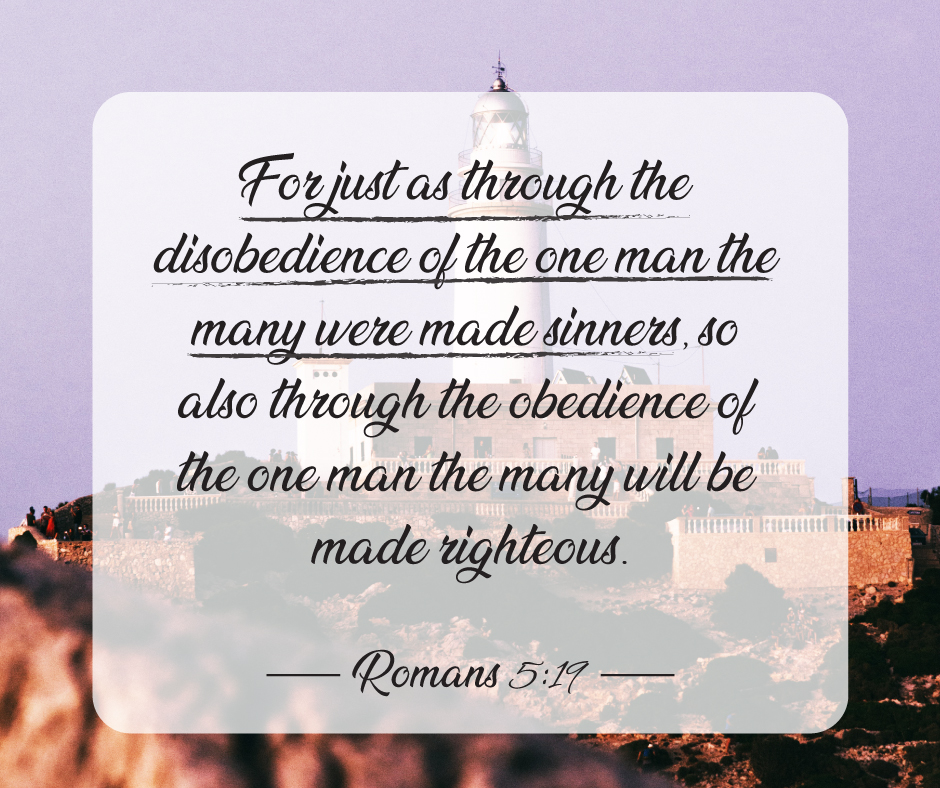 "For just as through the disobedience of the one man the many were made sinners, so also through the obedience of the one man the many will be made righteous." – Romans 5:19
We might wonder why this kind of verse keeps on repeating and preachers will always repeat this kind of message. We might think that it has always been the same; the news keeps on repeating and "is there anything new?". For some reasons, our stubborn self will always reject something so redundant and something that is repeating in cycle. 
Little did we know that this is what we need. We must be thankful that the message is on repeat and keeps on denoting the same thing; instead, we must be alarmed if the message of the Gospel has been changed for God's grace and mercy has always been the same yesterday, today and forever. So, as for our verse today, we reflect on Paul's letter in Romans when he repeatedly distinguishes the difference between Adam and Christ.
Through this verse, God wants to address the confusion about Adam bringing sin into the world. We must understand that in his time, there was no written law yet. It was just God commanded them not to eat the fruit from the tree God prohibited them. However, due to Adam's disobedience, he ate and let sin enter the world. We must understand that before the fall of man, we were existentially good for God made us in His own likeness.
However, as the man fell, we were made inherently evil. People may not grasp the thought that we inherited Adam's sinful nature but we cannot deny the facts. We can see it in how we live our lives. This is the reason why the law was made, it was to show us our sins. Without the law, we will always have that possibility in our head that we are not sinful but through the law, we can finally admit that we have trespassed so many laws of God.
Though there was no written law on the time of Adam, death continued to reign over their lives which also continued to reign in our lives today. Because of Adam's one offense, we are placed into the cycle of death that can never be stopped by any of us. It was only through Adam's disobedience that brought death the power to reign over us. It was through Adam that death was passed to his descendants for it is the consequence of sins. It was through Adam that we desire to sin and we always love to sin.
However, God also promised to stop death's lordship over our lives by sending One Man that can also be our one way ticket to everlasting life. It will be through Jesus Christ's obedience that death could no longer hold us. It was through Jesus Christ's death and resurrection we can finally say that death has been defeated.
For Adam let sin enter the world through his disobedience, but Jesus Christ ended death through His obedience. When we were still glorifying sin, God's grace and mercy has always been there. His grace and mercy has always been available for us to receive. Where there is great sin, His grace and mercy is greater.
Therefore, as our race comes to crumbling, we must depart from this race and claim the race God has given to us. We must not cling to our old, disobedient and sinful race but we must hold on tight to the righteous, obedient and holy race that Jesus Christ procured on the cross for us.
This might be an on-repeat news for you but as sinful as we are, we need to be reminded of this message— the message of God's grace towards mankind, the message of reconciliation, the message of the cross, the message of the defeat of death only through our Lord and Savior Jesus Christ. We are already clothed in His righteousness, purified and made anew because of His death and resurrection.
Let us therefore hold on to our truth and remember that Adam's race was defiled and distorted and because of his disobedience we are deserving of condemnation but because of the grace and mercy of our Lord and Savior Jesus Christ we have been saved through faith.
---
For more daily reflection, verse and encouragement, you may follow us. You can also like, follow and visit us on: