Daily Bread
Fearful and Faithful – Joshua 24:14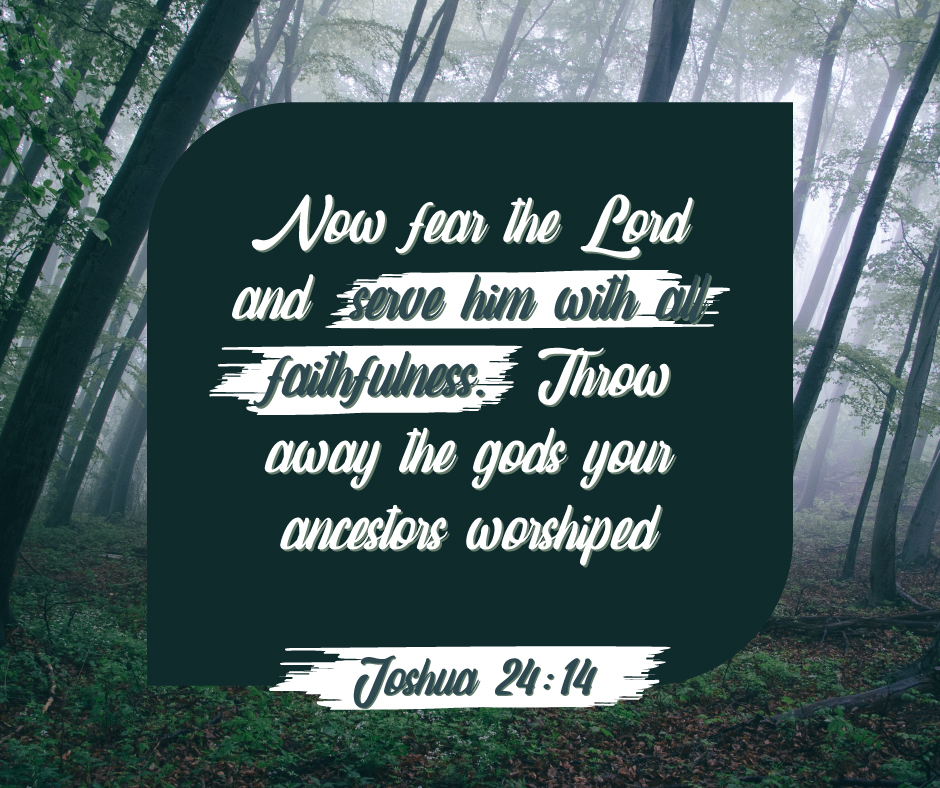 "Now fear the Lord and serve him with all faithfulness. Throw away the gods your ancestors worshiped" – Joshua 24:14
Our verse today comes from the story in the Old Testament, from the time of Joshua. He led the children of Israel to the promised land to claim their promised inheritance. So, as his death drew near, he said farewell to the nation, a farewell speech. He reminded the chosen people of God about everything that God has done for them.
Joshua reminded the Israelites about God's promises to Abraham, Isaac and Jacob and that God does not break His promises. He reminded them how God is faithfully increasing their descendants. Reminded them about how God saved them from the bondage of Egypt and how God made the parting of the Red Sea possible for them to cross so the army of Pharaoh will not be able to stop them. Joshua reminded how God slew Pharaoh's army during that time. He also reminded them about how God led them to Canaan and how God provided for all of their needs during the trip.
Despite all the murmurs, the unbelief and their sinful acts, God has continued to bless them and to provide everything that they needed. There are many times when the Israelites turned away from God and continued to forget all that God has done for them but God is a faithful God so He also kept on reaching out to them to bring them back into His arms. So, Joshua also reminded them of all the time God has delivered Israel's enemies to their hand. Joshua kept on telling them that it is very foolish and ungrateful for them to serve other gods for it is God who took them out of Egypt. Finally, he told them to fear the Lord and serve Him with faithfulness. He told Israelites to ditch all of their created gods and just fear the Lord and serve Him faithfully.
Joshua said these exact words to them to remind them to throw away the gods their ancestors worshiped for it is the Lord, the God of Abraham, Isaac and Jacob is the only God and the only one who only deserves their praises and adoration. Joshua told them to fear the Lord because they knew firsthand how God slay His enemies and how just He is. They knew that they should be afraid in a sense that God has been faithful to them but they are not. Also, Joshua reminded them to serve Him faithfully for their hearts tend to wander. Their hearts tend to worship other gods that are not alive and real. So, Joshua wants them to remember who is the real, only and alive God. He wants to open their eyes so they can see how faithful God is into their lives and how God has completely shield them from anything. This is why this part of the chapter is called 'The Covenant Renewed'.
In connection with Joshua's story and the Israelites, this calling and reminders extends to the church generally. This hardcore calling is for us all. This covenant renewal is for us Christians who are in the same situation; in the same heart and mindset with the Israelites. We are asked to fear God and to serve Him faithfully also. We should also throw away all of the gods we worshiped because we have only one and real God that deserves all praise and adoration.
Just like the Israelites, we are too saved from slavery— sin and death's slavery. We have been rescued and made new by God who is always there. We no longer die and we can receive eternal life through Jesus Christ because He has already died and defeated sin for us. The ransom that sin and death has demanded was already paid by the precious blood of Christ in the cross.
Therefore, as Christians who are already saved by grace through faith in the Lord and Savior Jesus Christ, we should be reminded also about this. We should always look back to all the time God rescued us from our problems, may it be financial problems, physical problems, mental problems or emotional problems. Let us always remember all the great lengths God was ready to do for us. We should also always remember all the time He saved us from ourselves and how He struck down our enemies for us.
So, we should also fear Him and serve Him faithfully. He deserves to be feared not because God wants us to fear Him so He can force false faith and belief in Him but because it is for our own good. Once we start to fear Him, it is really not fear towards Him, but to fear God means to revere and respect Him— being in awe of His holiness. In such a way, we become submissive and we surrender to His discipline for we do not want to be separated to Him. This will be able to become our start-up desire not to sin. As we fear Him, we are fearing that we are crucifying Him again on the cross because of our sins and it will really help us not to sin. As Christians, we are already clothed in Christ's perfect righteousness so we already have the desire to obey God and obeying God means also fearing Him.
We will be too afraid that we will not want to sin and it will definitely help our spiritual maturity to deepen. If we fear that we will sin against God, it will bring us closer to Him for the only way to keep us in check is to always meditate on His Word and to talk to Him every time. Therefore, as we fear God, we also desire to obey Him and His commands. So, fearing doesn't mean tyranny but it is God's way of keeping us in-check and to keep us on the right path.
We are asked to serve Him faithfully also. Being faithful is really a hard thing to do because this requires deeper commitment. However, this is why Joshua recapped all of the things God has done for the Israelites and how he wants us to remember all the things God has done for us to prove to us that God is faithful in us in the first place. He wants us to understand that serving Him faithfully is nothing compared to the love God has lavished us faithfully.
God showed faithfulness in us first, so it is just right to serve Him faithfully also. So, God wants us to be faithful in serving Him only. He wants us to understand the importance of commitment because He has committed to us first. He wants us to understand that by serving Him faithfully, we will then develop dependence on Him which will lead us to always meditate on His Word and to always base our actions according to what glorifies Him. In the end, this reminder is still for our own good.
So, as Christians who are clothed and beloved by our Lord and Savior Jesus Christ, let us always remember this story of Joshua and remember also all the great things God has done for us. Remember that He has saved, redeemed and rescued you from the bondage of sin and death and that we have no contribution to our salvation. Let us always remember that God has shown us first faithfulness, and it is just right to serve Him faithfully with our lives as our living sacrifice. Let us all throw away the gods we are serving and worshipping, instead let us direct all our praises and adoration to the only God who lives and reigns since from the creation of the world.
---
For more daily reflection, verse and encouragement, you may follow us. You can also like, follow and visit us on: