Daily Bread
Fear to Trust, Serve Faithfully and Remember the Great Things He has Done – 1 Samuel 12:24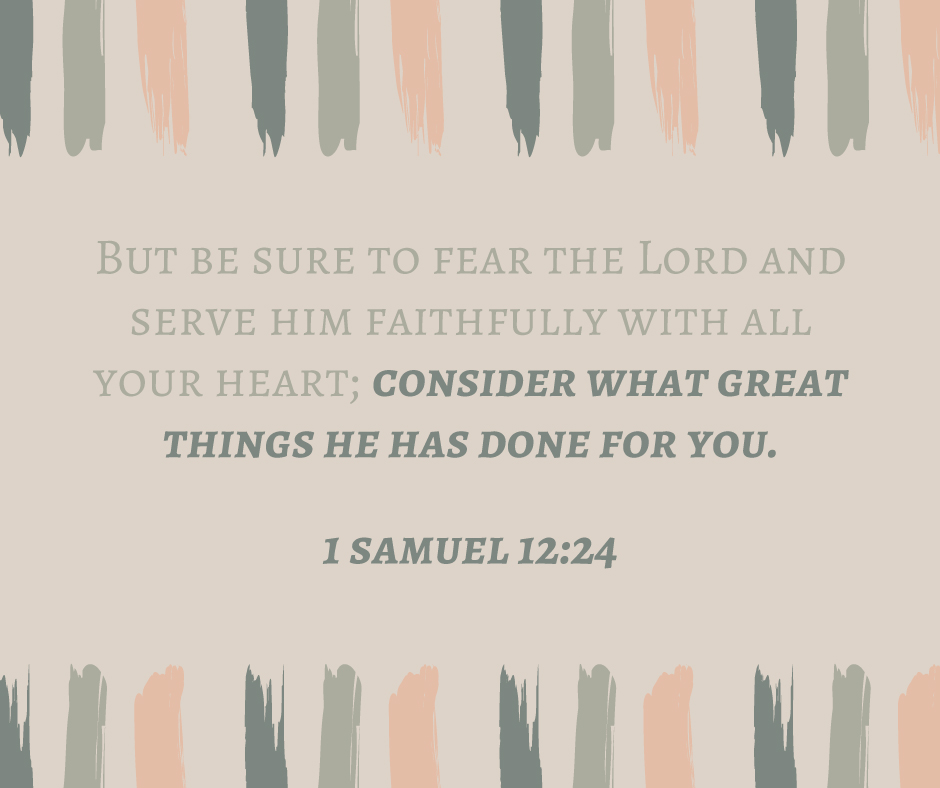 "But be sure to fear the Lord and serve him faithfully with all your heart; consider what great things he has done for you." – 1 Samuel 12:24
As Christians, our walk in this cruel world as people who are made holy and righteous in the sight of God has become overwhelming and hard. This is why there are Christians who renounce their faith because life beat them so hard, so this is the reason why we must always hold on to God's hand and never let it go. 
Today's verse is a reminder for us to fear the Lord and serve Him faithfully. After reading this reminder, there will be a question that will come to mind, "Why does God want us to fear Him?" Then we have to understand that the fear of the Lord will make us honor Him. He doesn't need our fears to be honored for He is existentially honorable. However, it is just our response to Him.
He wants to remind us that as we fear Him, we will also fear to disobey Him and not disobeying Him means that we will be conscious with our deeds, thoughts and words and in that way we will be able to avoid sin. He also wants to remind us to serve Him faithfully with all our hearts for it is written that we should love Him with all our heart.
Therefore, as Christians who are beloved and saved by our Lord and Savior Jesus Christ, God wants us to continue to fear and serve Him wholeheartedly because He knows that we will face extreme hardship in this world. He knew that this cruel will really beat us down and would try to steal us from Him. So, He wants us to put our fears to Him instead of putting our fears into this world. For fear in Him will help us overcome what this world will throw at us because fear will develop and strengthen more our trust in Him.
We are also ought to serve Him with all our hearts and whenever this world will try to shake us, we will run to Him and serve Him more as we hold on to His hand for refuge. God's grace is sufficient and will always be there to save us from all of our troubles. Indeed He is so gracious that He sent His Son to the world to save us. Thus, as Christians, we should always fear the Lord for this breeds unshakeable trust in Him and we should always serve Him wholeheartedly.
It is indeed a very hard thing to do for as human as we are, we always doubt and we always want a specific intervention— something we can see to stimulate our visual satisfaction so we will be able to fully trust and God knows this. God knows our hearts and minds. He knows that we are very clever and that we really want proof so this verse didn't only stop when He said that we have to fear Him and serve Him wholeheartedly but He also continues to say that we should consider all the great things He has done for us.
Therefore, if we are really having a hard time trusting God with our future— our whole life particularly, we must always remember this verse and reflect on this. We must consider and remember all the great things He has done for us. For all the times He saved us from troubles, for all the times He comforted us, for the times He stretched out His hands to steer us away from our sinful nature and even for the best thing He did for us— saving us from our sins through dying on the cross for us.
Let us always remember all of these things because through this, we won't need any visual proof that He will take care of us or a miracle that will happen at the moment, because we being alive right now is a miracle already. We being called Christians who are made holy and righteous in God's sight is already a miracle. So, we must always hold on to this and surrender to God all our cares and trust Him our future because He will indeed take care of us.
May we always be reminded of the great things He has done for us and for our ancestors so that we will not doubt Him for doubting will stumble us. Let us always remember that He died on the cross for us and that He left the comforts of heaven just so He can save us from our sins and restore our relationship with God. We must always remember to fear Him for this will breed unshakeable trust and to serve Him faithfully and wholeheartedly for God is also faithful in our lives. May the peace and grace of God be with us all in Christ Jesus our Lord. Amen.
---
For more daily reflection, verse and encouragement, you may follow us. You can also like, follow and visit us on: