Daily Bread
Everything Comes from God – 1 Chronicles 29:14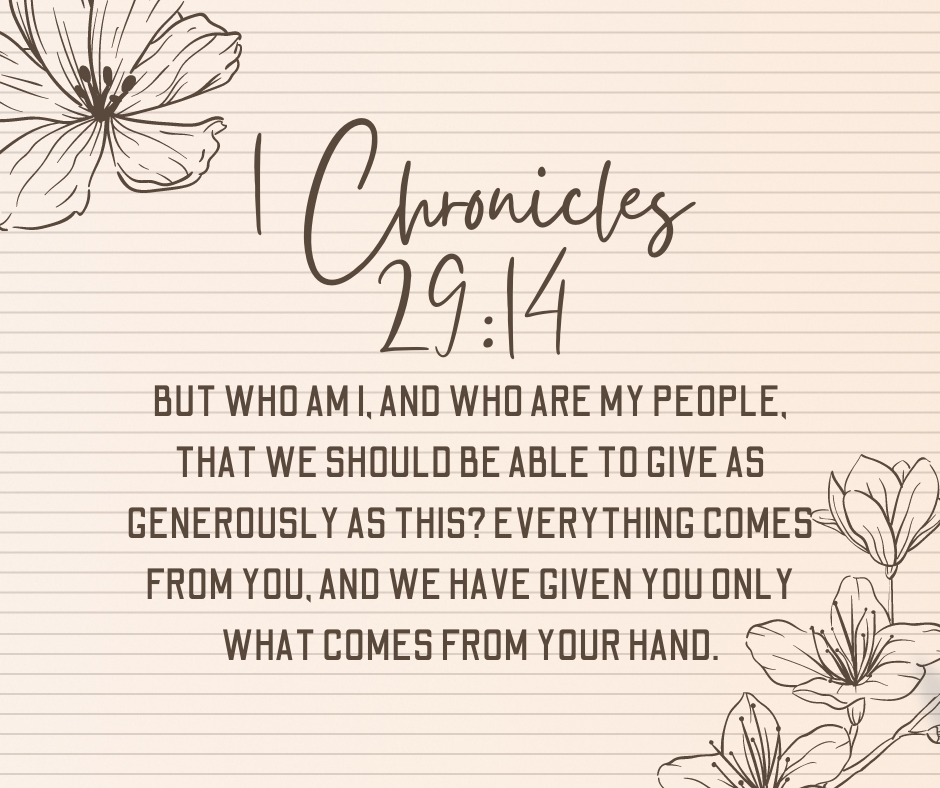 "But who am I, and who are my people, that we should be able to give as generously as this? Everything comes from you, and we have given you only what comes from your hand." – 1 Chronicles 29:14
Since last time, we reflected on how we are always foolishly worrying about things that are already provided by God. We worry about our food, our safety, our financial problems, our health when we know that we only have to depend on God and trust Him that He is always there for us. After all, all things work together for the good of His people. Now, we will then look back to the time of King David. Our verse today is King David's prayer. This is such a nice verse because it reflects both our dependence and our awe of God. 
This verse points us to the right mindset that everything we have right now is not ours, but of God. David was a good king, and we all know that a king almost has everything. However, he was able to declare and question what he had during that time. He was able to see and understood that everything he can offer and everything he has, came from God. He knows that the faithfulness, the faith, the generosity, in short, everything he had was a gift from God. Even his faithfulness and obedience are still grace and mercy from God. So it is just fully right to give God what is rightfully His. 
Therefore, we must always remember to be good and to always remember that everything we have now is from God. What we own, what we call our own comes from God. Even David, who was a good king recognized that his achievements and everything he own came from God. Thus, may we be like David, may we always put in our mind that our achievements and everything we own came from our God. We did not achieve all of these on our own, but it was because of the grace of God, and only because of Him we can have all these things. So, let us not forget to thank Him and to give Him everything that is rightfully His– glory, honor, praises, adoration, and more.
---
For more daily reflection, verse, and encouragement, you may follow us. You can also like, follow and visit us on:

Facebook: 

https://www.facebook.com/yd153

Twitter: @YD153

Instagram: @youngdisciples2020

Tumblr: youngdisciples

Pinterest: Young Disciples International